Sourdough Rye With Caraway Seeds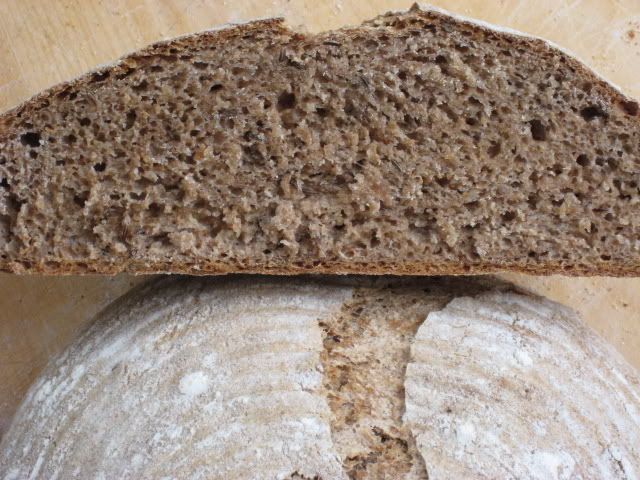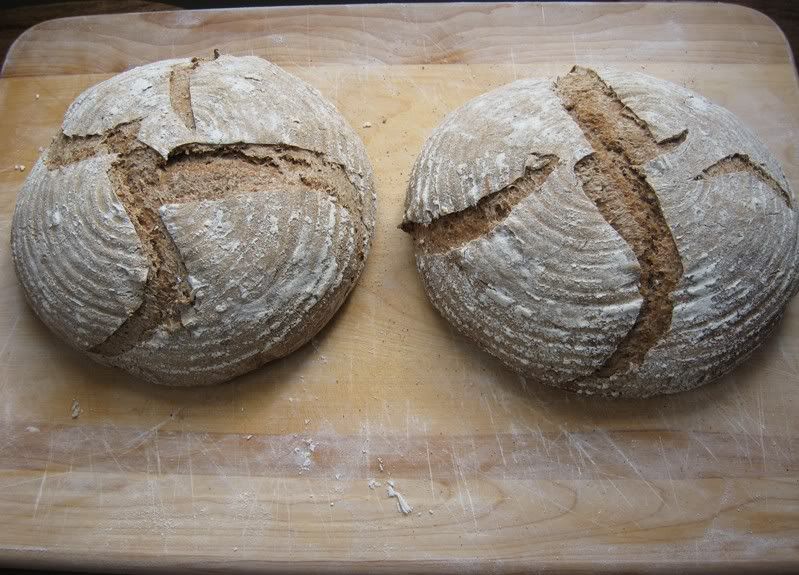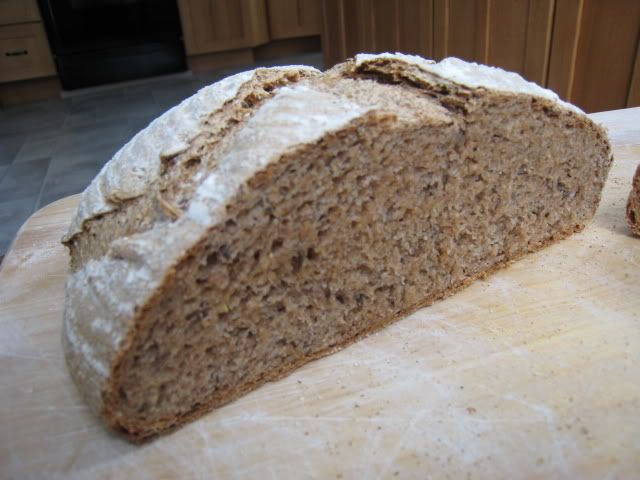 This is my first attempt at sourdough rye although I have been experimenting with sourdough since Sept and have baked some rye bread using yeast.
 I started the rye chef on Monday using 3 oz. of rye, 4 oz. of water and a pinch of starter that was dried and frozen in Oct. 06.  The rye was organic that was grown in my state, Maine.  The grain was stone ground and felt quite silky and its aroma was really pungent.  It was kind of expensive even for grain that's organic but Maine isn't really a grain producing kind of state.
What activity!  The first day the chef produced a lot of bubbles and increased in volume.  I was surprised and really didn't expect that much activity. On Tuesday and Wed I continued the feedings of the same ratio on Monday and the chef doubled in volume on both days.  The chef had a very strong beery smell that filled the room when I opened the container. Thursday I put the chef in the refrigerator to avoid having to feed it again and brought it back out early Friday morning giving it enough time to warm up for a final feeding at noon. The final length of time from the last feeding until I built the starter is 8 hours to ensure enough activity for a good starter.  At 9p Friday I mixed the starter planning on 8 to 10 hours of fermentation and final dough making at 5am. 
For the starter I mixed 9 oz. of chef, 5 oz. of rye and 4 oz. of water.  After mixing well I sealed the container and put it on the top shelf of the pantry to maintain the temp at around 74 degrees
Sourdough Rye with Caraway Seeds 
Rye sourdough starter                                                                       18 ounces
Water                                                                                                   24 fluid ounces
Rye flour, medium ground                                                                   9 ounces
Whole wheat flour                                                                                  9 ounces
Fine sea salt                                                                                         ¾ ounce
Caraway seeds                                                                                    ¼ ounce
20% bran wheat flour                                                                        20 -25 ounces    
Mixing the dough:
Add the starter to the water and stir until bubbly.  Add rye and mix completely, then fold in whole wheat flour and caraway seeds. Once mixed add enough  20% bran wheat flour until difficult to mix.  Turn out to well floured board and let rest for 10 min. then kneed.
Add salt while kneading in several small amounts. Kneed for approximately 15 to 17 minutes or when a little dough pulled from the mass springs back quickly. Shape the dough into a tightly shaped ball and return to the cleaned and oiled mixing bowl, cover bowl with towel or plastic wrap and let ferment for 2 ½ to 3 hours.
Divide the dough and shape:
Once dough has almost doubled in volume, deflate dough and transfer dough to floured board. Divide the dough and shape loaves to your own preference.  Place dough in a couche or benneton and proof for 1 ½ to 2 hours or until loaves have almost doubled in size.
Bake the loaves:
One hour before baking Preheat oven to 450 degrees, with hearth stones as close to center as possible.  Gently move loaves or rounds to floured board or peel and slash tops.  Transfer loaves to oven and mist interior repeating mist again in three minutes.  Bake loaves at 450 degrees for 20 minutes reduce heat to 375 and bake for another 20 minutes.