February 3, 2011 - 1:13pm
Sourdough Biscuits: trying for the real thing, Take 2
I've been thinking about the Yukon Gold Rush miner. You'll recall, to preserve his sourdough mother--he called her Maude, after the first girl he'd ever kissed--and caught in a Yukon white-out, miles from camp, weak from having not eaten for four days--he'd boiled the last of his dogs, King, six weeks earlier--he'd kissed Maude one last time, placed her next to his heart, curled his emaciated body around her, and lay down in the lee of a a twelve foot drift. His last thought--really a final hallucination--he was lyin' in a tub, just like the one he'd had his last bath in, seven months past, in San Francisco, the night before he'd boarded the ship, Lily Longstockings, that brought him on the first leg of this, his final journey. The woman scrubbing his back was named Shirley. For a fleeting moment he'd considered changing Maude's name to Shirley, but in the next moment he'd berated himself for being so fickle. The tub, the one in his hallucination, was foaming with sourdough starter--only his knees poked above its writhing, bubbling surface. The  woman scrubbing his back this time, was...yep, Maude, but all growed up, an purty! He died a happy man. And, as we know, Maude survived --his starter, not the girl he'd kissed behind the one room school house they'd attended. She, was still in Kenosha, Wisconsin, the mother of seven children, four girls and three boys--and, rumor has it, Maude, the starter, is still alive today.
I fed my (unnamed) starter yesterday. I keep two versions. Once again I had about 200g of discard. My wife asked me to make biscuits with it. On my first attempt, http://www.thefreshloaf.com/node/21536/sourdough-biscuits-trying-real-thing ,  I felt the dough was a little dry, could stand more autolyse time, and would benefit from baking in a hotter oven. I tweaked my original recipe.
Here it is. The tweaks are in bold type.
Ingredients:
356g (12.5 oz.; 2 cups) sourdough starter; 100% hydration; refreshed 12 hours earlier, and left to develop in the refrigerator.
76g (2.7 oz.; 1/3 cup) 50/50 mixture butter and lard (yep, lard: probably Cookie's first (only?) choice). Cut in to 1/2" cubes and chilled in the freezer for 15 minutes
275g (9.7 oz; 2-1/4 cups) AP flour
14g (1 tbls) sugar
7g (1 tsp) salt
I mixed the flour, sugar, salt, and butter/lard cubes together with my hand, squeezing the fat cubes between my thumb and fingers until they were all flattened and well coated with flour. I added the sourdough starter, mixed it in, and kneaded the dough in the bowl, until it formed a ball. The dough felt a little dry, but I didn't add any additional liquid.
I rested the dough, covered and chilled in the refrigerator,  for 45 minutes.
I turned the ball out onto an unfloured dough board, and rolled it to about 1 inch thick, folded the dough in half, and rolled it out again. I repeated this three times more. Each time I rolled it out the dough got more flexible, and felt less dry. I was glad I hadn't added additonal liquid.
On the final roll-out I went to 1/2 inch thick, cut out 10, 2-5/8 in. biscuits, arranged them on a Silpat pad lined half-sheet pan, covered them with a dry tea towel, and put them into the proofing box (76°F).
They proofed for 2 and 1/2 hours. They had expanded, but not doubled.
Baked in a 425°F oven for 15 minutes (light golden brown). They more than doubled with oven spring. Lifting the first one to the cooling rack I knew, from its light feel, I had a success.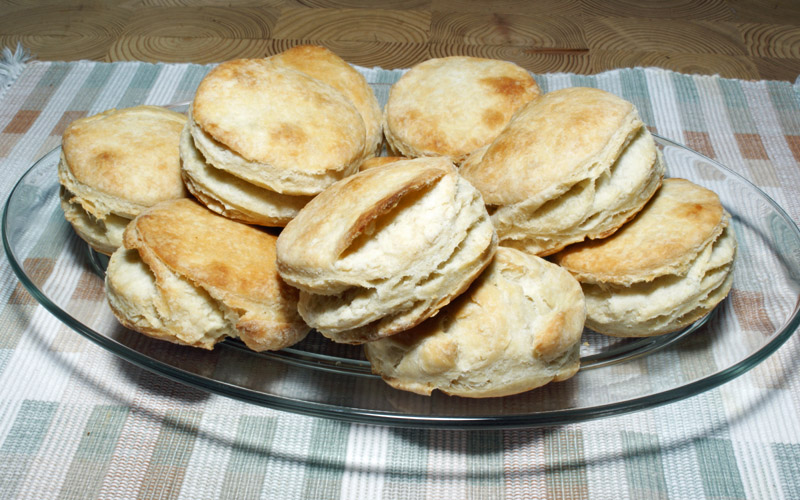 Reducing the flour amount slighty; caressing the dough, not mauling it; increasing the post-mix rest (autolyse?) three-fold, and baking at a hotter temperaure each contibuted to a lighter, tastier biscuit. I don't see a need to tweak further. I've named this recipe: Biscuts ala Cookie. Truth is however, with my  relience on chilled, shortening and dough, I've moved further away from "the real thing". That said, I'm sticking with this one. If Cookie had had a refrigerator/freezer he would have used them.
David G
An Update:
I've recently developed a new starter, and along with bread bakings decided to give it a try in Biscuits ala Cookie.
I followed my recipe to the letter with three exceptions in procedures.  I developed the levain and rested the dough (autolyse) at room temperature, and I hand-mixed the flour and butter/lard mixture into a finer mixture: sunflower-seed-sized bits. This resulted in less layering than in the earlier tries.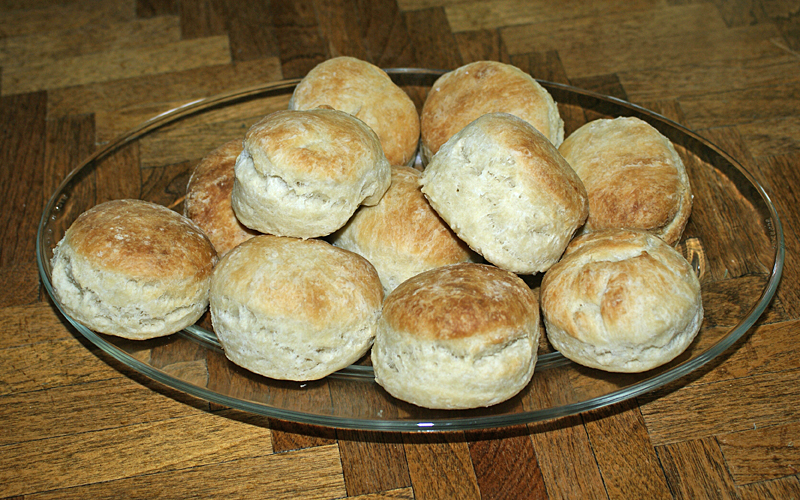 These are the best yet: light, and very flavorful
David