The Easiest German-style Spelt Recipe, Ever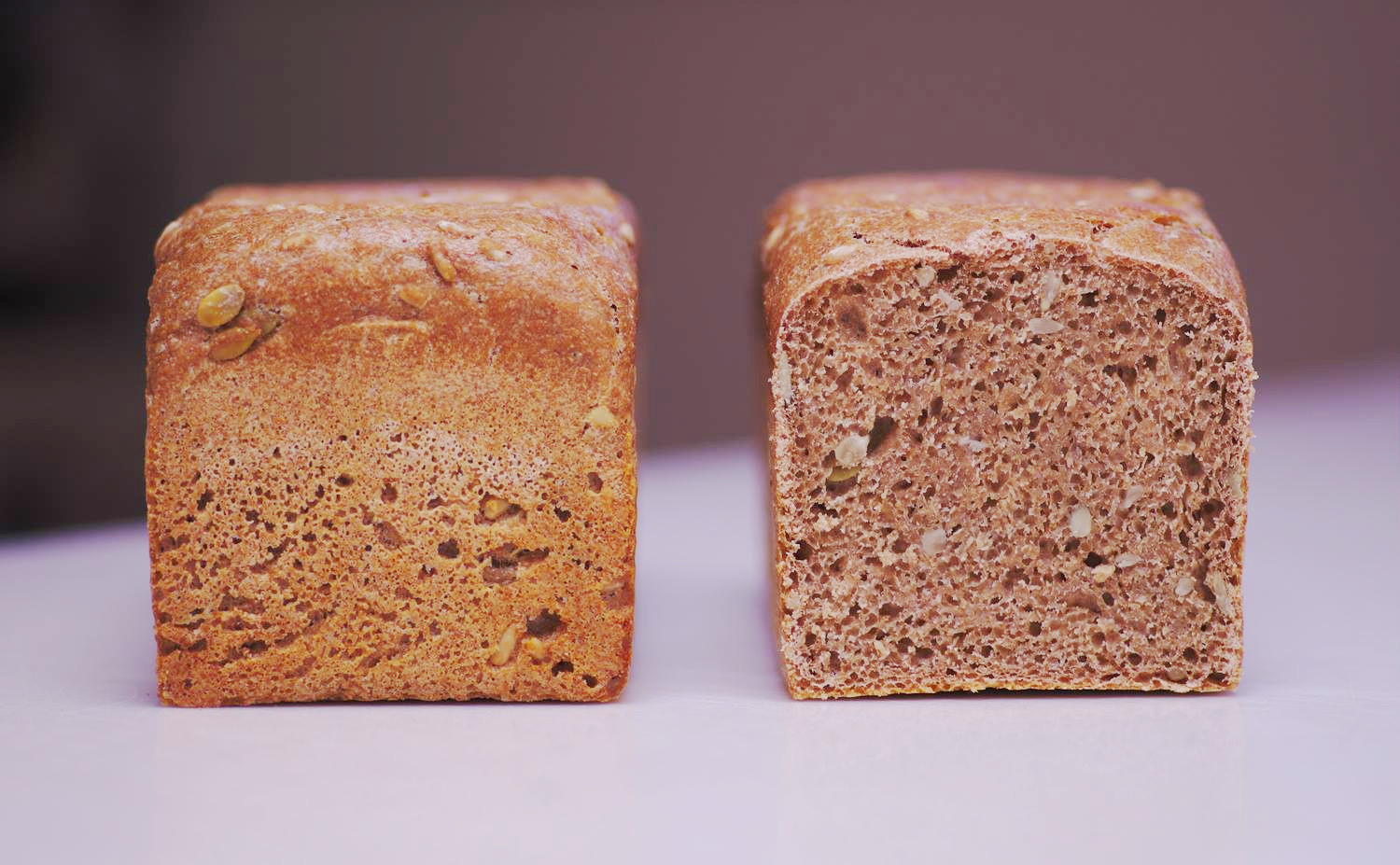 Well, that's the idea anyway.  I've been working on this one for years and didn't want to post it until I felt that I'd mastered it.  That came sooner than expected this year, when I switched to using pullman loaf pans and things got immediately easier.
The goal of this recipe is to be something that I can bake every week for the rest of my life, no matter how crazy things get.  So far, so good.  The recipe features:
No kneading
No shaping
No sourdough starter maintenance
Flexible rise time
Short ingredient list
Authentic German crust, crumb and taste
I studied abroad years ago in southwestern Germany, where Spelt bread (aka Dinkelbrot) is very popular. I was given a recipe for a no-knead, 100% whole grain sourdough spelt bread while I was there.  Over the last few years I've been trying to perfect the recipe by making it simpler, more full-proof, and easier to fit into a busy lifestyle.  The last batches I've made are the closest I've come to reproducing the Dinkelvollkornbrot from my favorite bakery in Stuttgart [1].
Begin by adding (per loaf) 600g of whole grain spelt flour, 15g salt and 3g guar gum [2] (optional, see notes) to a mixing bowl. EDIT: I now use 20g of ground flax seed per loaf in lieu of the guar gum). Take your sourdough starter out of the fridge and mix it in too. I don't measure the starter but it's usually about half a cup [3]. Add 600g of hot water (I run my tap until it's hot) to the bowl and mix until combined. If needed, add extra water to hydrate all the flour without resorting to kneading - I usually end up adding 50-100g extra. But I would start around 100% hydration and go from there.
Once the dough is mixed, take a cup or so of it and put it back in your sourdough starter jar. Put it straight back into the fridge. It'll ferment and be ready for your next bake. As long as you bake at least once a month, this is all the sourdough maintenance you'll need to do with this recipe, no need to feed your starter.
Now, cover with a towel and go to work. Or go to bed. Or, whatever. Just give the dough 8-15 hours to rise. The dough will be waiting for you any time within that time period. How long you wait will effect on the level of sourdough flavor in the final product, but the effect is minor and I worry more about my schedule than the flavor. Whenever it's convenient, move on to the next step.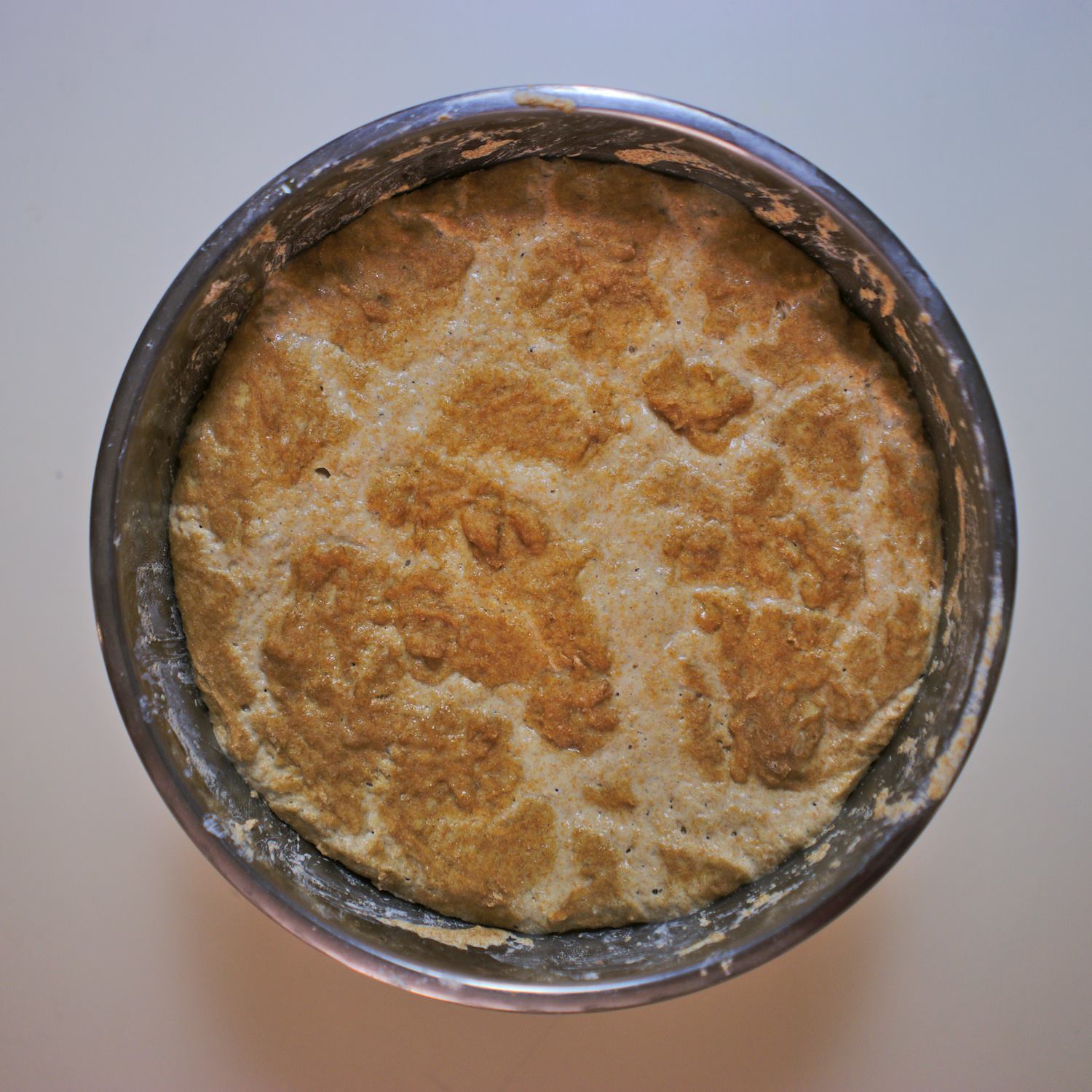 After the long rise, the dough should have risen quite a bit (maybe close to double in volume).  Optionally add 35g of sunflower seeds and 35g of pumpkin seeds per loaf to the bowl [4]. Stir well and remove large air bubbles. This should only take 1-2 minutes, don't get too enthusiastic and start kneading.
Now grease your loaf pans (I use an oil mister, because it's easy and fast) and divide the dough between the pans. It should be far too wet to shape, so don't even try. Let it rise about an hour before putting it in the oven (with the lid on, if you're using a pullman pan).
This step is where the pullman loaf pans really come in handy, because they have a lid.  The tight-fitting lid results in more predictable oven spring, which gives you a much bigger margin for error when proofing the dough. I have yet to underproof or overproof a loaf when using these pans.  Even when I was sure I'd screwed up, the loaves turned out fine. With regular loaf pans I found that the optimal window of time to put them in the oven was very, very short. See notes for more on this, plus tips on using a regular pan with this recipe [5].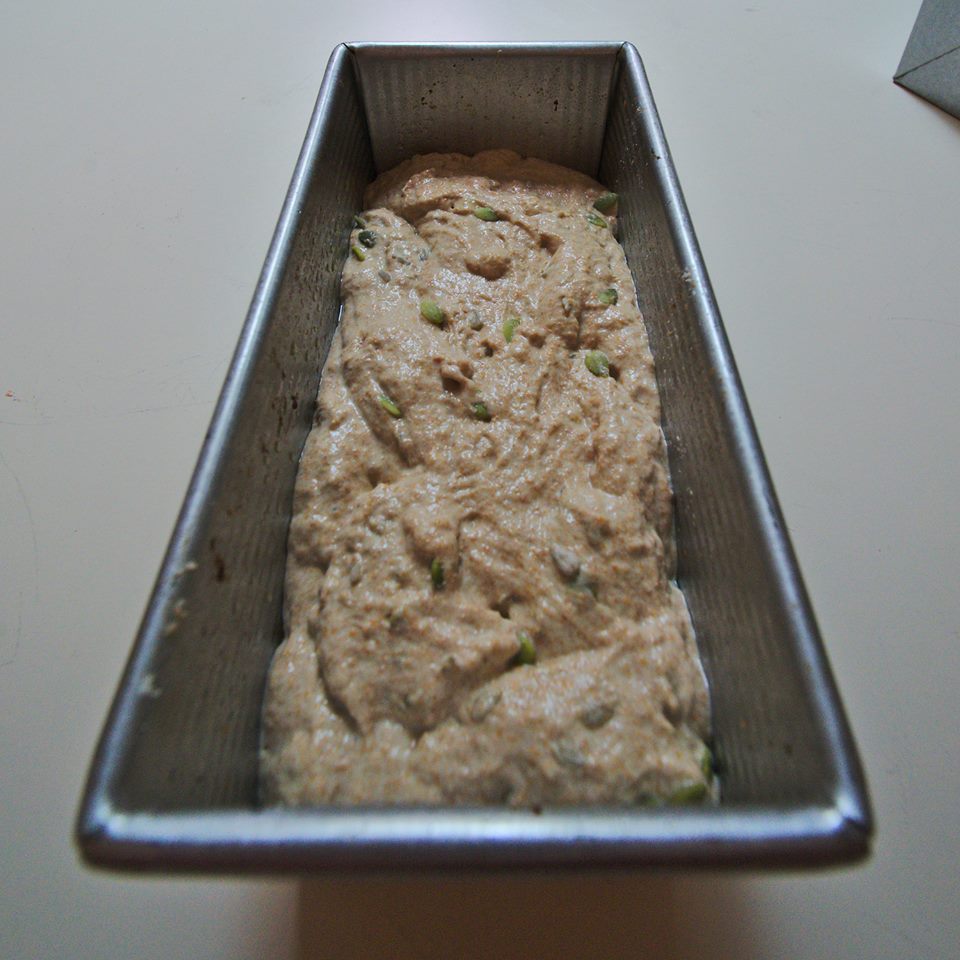 Once the bread has proofed, put it in a 420 degree oven. I then bake it for an hour, in my oven at home[6].  Take the bread out of the oven, place onto cooling racks, and wait for it to cool.  For best results, wait overnight before starting on the loaf.  Then slice thin and enjoy! The bread will last a long time - at least 10 days. It's great for open face sandwiches with cheese, cold cuts, or other spreads.  Or for PB&J (I may love German bread but I'm still American...). Or, you know . . . butter. Open face butter sandwiches. Is there anything better?
I've also made a version with white spelt flour, for making grilled cheese and BLTs. That one's a work in progress.  I'm going to try adding potato water to soften up the crust next time.  And I have yet to master the rye version as well.  But this whole wheat spelt version is good and consistent for me now.
Here are links to the pullman loaf pans that I'm using, on Amazon:
Affiliate link (for those who aren't familiar, gives the link poster, AKA me, a little kickback at no extra cost to the purchaser)
They also make a 13" long version, which would be more economical if you're trying to maximize the amount of bread made per dollar spent on loaf pans.  But I like the shape of the 9" loaves better.
Notes:
[1] Hafendoerfer, for those who are curious. If you *ever* get the chance to go there, do it! It might be the best bakery in the entire country of Germany. Definitely the best in Stuttgart.
[2] The guar gum improves the texture when used in small quantities. Using much more than this will result in an unpleasant gummy, bouncy texture. The loaf will be fine without it, but won't hold together quite as well.  EDIT: I now use 20g of ground flax seed per loaf instead.  It works just as well as the guar gum, plus it's good for you!
[3] By having a long initial fermentation, there's no need to have an active starter. It'll have several hours to wake up and get going. I've used starter straight from the fridge that hadn't been fed in a month, and the bread rose just fine. Using hot water also helps kick-start the fermentation.
[4] I *highly* recommend adding the seeds, they do a lot for the texture and flavor. They also tone down the fluffiness of the bread and make the crumb more authentically German - I found that my bread was rising a bit too much without them. If you omit them, you may find that 600g flour makes a bit too much dough for a 4x4x9 pullman pan.
[5] With a regular pan, I found it really hard to figure out the ideal time to put the dough in the oven to get a good rise. Overproofing results in a lot of oven spring, but then the loaf collapses in the oven. Underproofing results in the crust rising above the crumb, and a cavity between the two. Or weird shapes bursting out of the top of the loaf.  I found the sweet spot between the two to be short and hard to catch.
There may be other solutions to this problem - adding steam to the oven might help. Or you could put a sheet pan on top of regular loaf pans and put a skillet on top for weight. But the pullman pans work for me and I like the size of the loaves they make.  I spent years trying to figure out the proofing stage of this recipe and I finally feel like I've figured it out, thanks to the new pans.
[6] If I'm using a new oven, I'll bake for 45 minutes, then remove the covers off of the pullman pans and stick a probe thermometer into the center of one loaf. I then continue baking until the center reaches 205-ish degrees Fahrenheit (I live at 7000 feet elevation, so I actually go to 195, but at sea level you'd want 205). Once I've figured out the oven I don't use the thermometer anymore and I just set a timer.