I like pizza quite a lot, but my wife loves it. She told me last night that Pizza is the one food she can "over-eat." I could not start to list the foods I will predictably over-eat given the opportunity, but my wife has this super-human self-control. So this confession tells you that pizza is really special to her.
I've made some pretty good pizze and some not so good. Last night I made the best pizza I've ever made by a long shot. In fact, I do believe it was the best pizza crust I've ever eaten.
The crust was based on the "Overnight Pizza Dough with Levain" from Ken Forkish's Flour Water Salt Yeast. I say "based" because, while the ingredients and procedures were pretty much as Forkish prescribes, the timing of many steps was different. Some of those differences were planned, and some were …. accommodations. I'm not going to claim that the crust turned out so well because of my baking genius, but I am going to try to capture what I ended up doing so I can do it again … on purpose next time.
| | | |
| --- | --- | --- |
| Total dough | Wt (g) | Baker's % |
| Levain |   | 10* |
| Caputo 00 flour | 980 | 98 |
| Giusto's fine whole wheat flour | 20 | 2 |
| Water | 700 | 70 |
| Salt | 20 | 2 |
| Total | 1720 | 172 |
* Percent of total flour that is pre-fermented.
| | | |
| --- | --- | --- |
| Levain | Wt (g) | Baker's % |
| Mature, active levain | 25 | 10 |
| Caputo 00 flour | 100 | 80 |
| Giusto's fine whole wheat flour | 25 | 20 |
| Water (90 ºF) | 100 | 80 |
| Total | 250 | 190 |
Dissolve the levain in the water.

Add the flours and mix thoroughly.

Ferment at room temperature until expanded by 2 to 2.5 times. (Note: Forkish specifies fermenting for 8 to 10 hours. My levain was ripe in 6 hours. So, I went to step 4.)

Refrigerate overnight or for up to 2 days.
| | |
| --- | --- |
| Final dough | Wt (g) |
| Caputo 00 flour | 900 |
| Water (90-95 ºF) | 620 |
| Fine sea salt | 20 |
| Levain | 180 |
| Total | 1720 |
Take the levain out of the fridge 1-2 hours before mixing the final dough.

Mix the water and flour to a shaggy mass and allow it to rest, covered, for 20-60 minutes (autolyse).

Sprinkle the salt over the dough and add 180 g of the levain divided into 4-6 pieces. Mix using the "pinch and fold" procedure described by Forkish.

Bulk ferment for 5 to 14 hours, or until the dough has expanded 2 to 2.5 times. Do stretch and folds at 30 minute intervals 2-4 times . Then just let the dough ferment undisturbed. (Note: I know this time range (5 to 14 hours) sounds absurd. Forkish's instructions are to ferment overnight for 12 to 14 hours, but my dough had doubled in 5-6 hours and was very bubbly. If I had let it ferment for another 6 to 8 hours, I would have had soup.)

Transfer the dough to a well-floured board. Dust the dough and your hands with flour. Divide the dough into 350 g pieces. (You will get 4 pieces of 350 g and one that is larger.

Shape each piece into a fairly tight ball and place them in ZipLoc-type sandwich bags with a tablespoon of olive oil in each.

Refrigerate for at least 2 hours and for up to 3 days.

When you are ready to make your pizza/e, 2 1/2 to 4 hours before shaping the pizze, take the number of dough balls you will need out of the fridge. Let them warm up at room temperature for 1 1/2 to 2 hours. The balls should expand by a third to a half.

Put the dough balls back in the fridge for the last half hour to an hour before shaping them into pizze. This is because the dough is a bit more elastic and less fragile when cold.

Take one ball of dough at a time out of the fridge. Shape it. Top it. Bake it. Enjoy!
This "in and out of the fridge" stuff may seem unduly complicated. It happened because we changed our minds about going to a concert a couple times before finally deciding to stay home and make pizza. See, if we had decided to go, there wouldn't have been time to make pizza and eat it beforehand. But, in hindsight, this procedure makes a lot of sense. A longer fermentation improves flavor, but retarding the dough in the fridge was needed to prevent over-fermentation. The warm-up in Step 8. just completed the fermentation to an optimal degree. I could have just let the bulk fermentation go a bit longer – say about an hour – and then not needed Step. 8 and 9 at all.
This dough was a delight to shape. It had just the right balance of elasticity and extensibility. When baked at 500 ºF for 10 to 11 minutes, the edges puffed up beautifully. They were crackling crispy. The dough under the toppings was moderately chewy but not at all "tough." The most remarkable feature was the flavor. It was mildly sour but very wheaty, sweet and complex. It was astonishingly delicious. My wife, who often leaves pizza crust un-eaten, actually left the center part un-eaten and ate the outer crust in preference.
How much of this was the procedures and how much the use of 98% Caputo 00 flour? That's hard to answer. I suppose I need to make this dough again using a good AP flour to find out.
I made two 10 or 12 inch pizze. One was a classic Pizza Margherita made with olive oil, fresh mozzarella, fresh, locally grown San Marzano-variety tomatoes which were par-boiled, skinned, seeded and cut into strips and fresh basel leaves from our garden, added after the pizza was baked.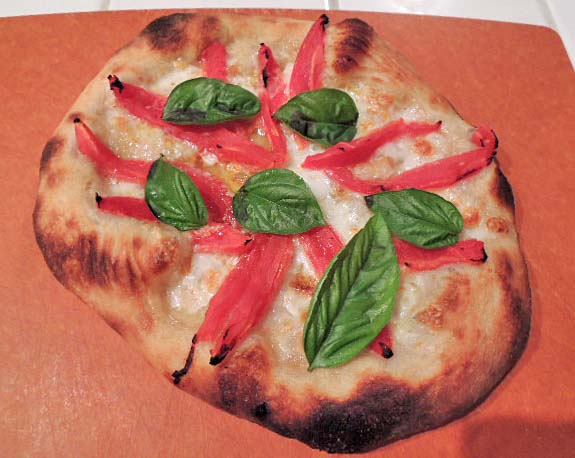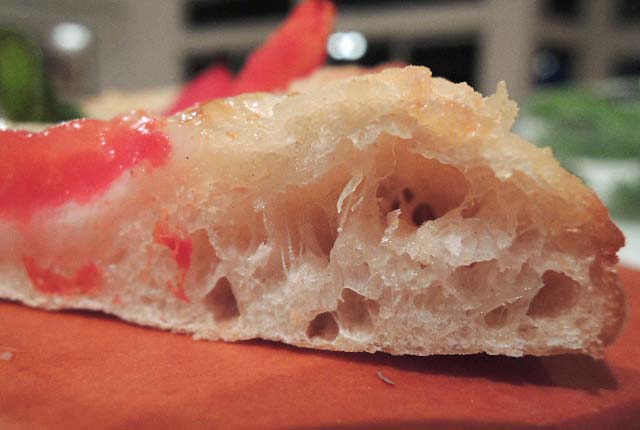 The other pizza was topped with a heavy spread of good olive oil, fresh, finely chopped rosemary and fleur de sel. After baking, the top was rubbed with a cut San Marzano tomato which was then hand-shredded and spread over the pizza. (Note to self: Lose the salt, if you don't want Susan to complain. Substitute thinly sliced garlic.)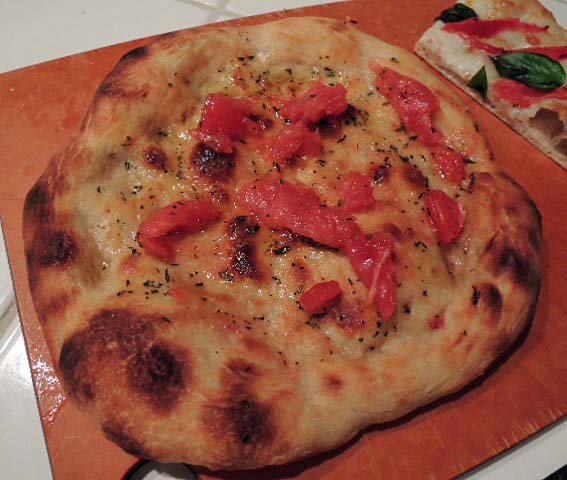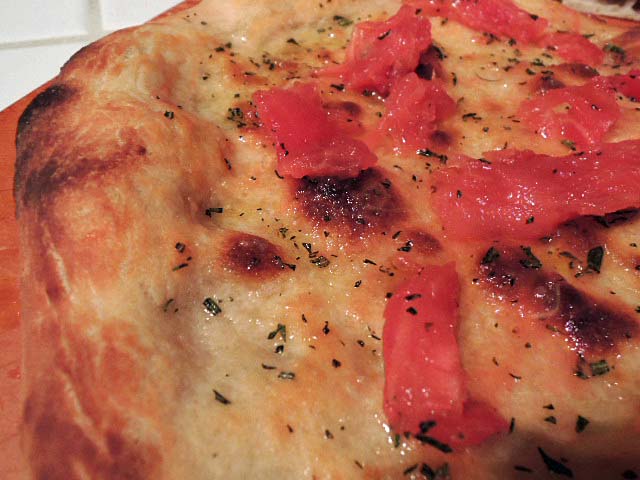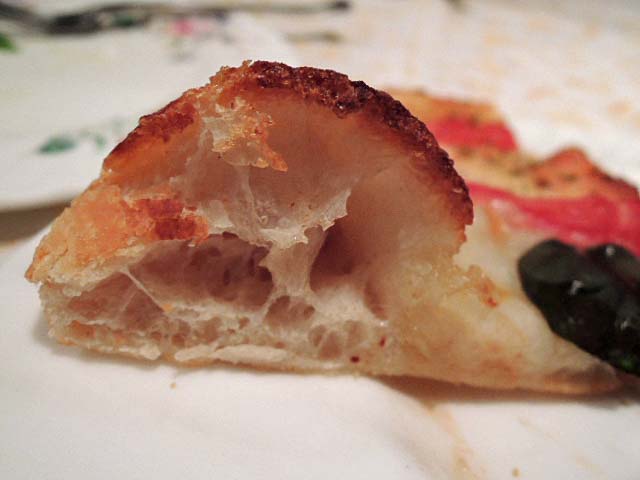 Well, we do have 3 pizza dough balls left, including a 380 g one. I am going to make a potato pizza that's been on my "to bake list" for a few years, ever since I first read about it in Leader's Local Breads then again in Maggie Glezer's Artisan Breads.
Yum!
Happy baking!
David
Submitted to YeastSpotting