Hokkaido Milk Bread with Tangzhong
Every now and then you learn a new technique in the kitchen that really knocks your socks off.  Tangzhong is one of them.
Tangzhong
Tangzhong is the technique of heating a portion of the flour and liquid in your recipe to approximately 65C to make a paste (roux).  At this temperature the flour undergoes a change (gelatinizes?).  Adding this roux to your final dough makes a huge difference in the softness and fluffiness of your final dough.
It is really easy to do a tangzhong.  Take 1 cup of liquid (milk or water) to 1/3 cup flour, or a 5 to 1 liquid to solid ratio (so 250g liquid to 50g flour) and mix it together in a pan.  Heat the pan while stirring constantly.  Initially it will remain a liquid, but as you approach 65C it will undergo a change and thicken to an almost pudding like consistency.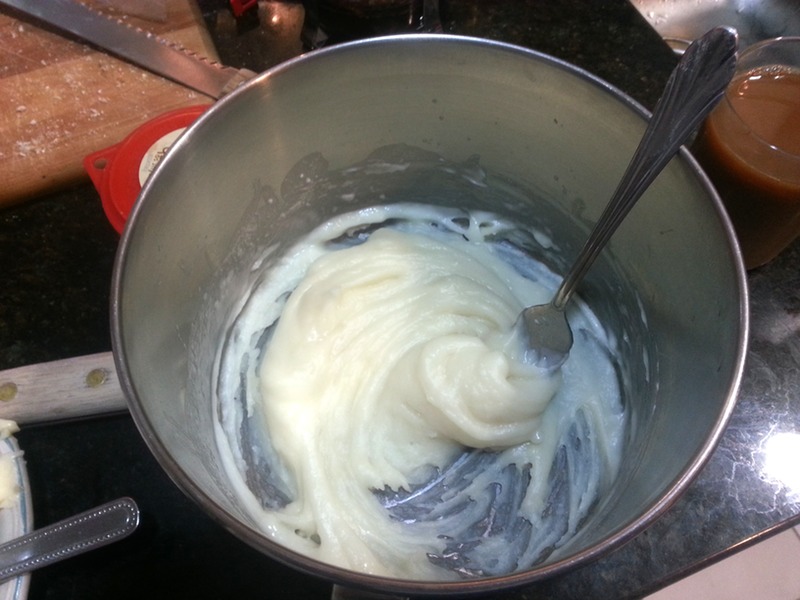 Once it is evenly thickened, remove from heat and allow to cool down some before making your final dough.  
Reportedly you can cover it and keep it in the fridge for a few days before using it, but I baked with it immediately.
Hokkaido Milk Bread
We have some great Asian bakeries in Vancouver and they all make some version of a Milk Bread.  Soft, slightly sweet, often baked in pullman pans so that the slices are perfectly square, sometimes containing raisins or a swirl of red beans or cream cheese, milk bread is the ultimate comfort food. It has a tenderness I've never reproduced at home until now.  I always figured it was a ton of oil or some other artificial conditioner that gave it that consistency, but now I think Tangzhong and heavy kneading were the secret. 
My recipe is a hybrid of a bunch of different recipes I found online and credit below.  What I offer here is a good place to start but certainly not an authoritative version or one I'd suggest is the best.  Still, it was awfully good.
Tangzhong
1/3 C all purpose flour
1 C liquids (I used 2/3 C water and 1/3 C milk)
Final Dough
800g (around 5 C) all purpose flour
1/2 C sugar
50g (1/2 C) milk powder
1/2 C half and half
3/4 C milk
2 eggs
4 T butter
4 t instant yeast
1 t salt
all of the tangzhong
Combine all the ingredients in a bowl or standmixer and mix the heck out of it, 10 or 15 minutes, until the dough is silky and smooth.  I didn't initially add enough liquid so my dough was quite dry, but by adding more to the bowl and using wet hands I was able to work more milk and water into the dough.  
Once you've kneaded the dough well, cover the bowl and let the dough rise until doubled in size, roughly an hour.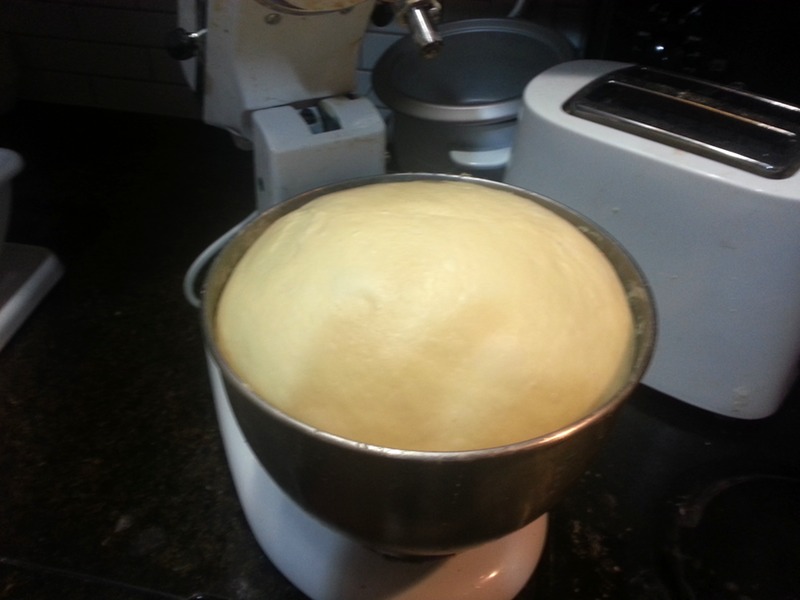 Divide the dough into smaller portions.  I divided it into 8 ~210g pieces, which I baked 4 to a pan in 2 pans.  As you can see, that was a bit much for the pans I have!  Next time I think I'll divide the dough into 12 pieces and bake it in the 3 pans.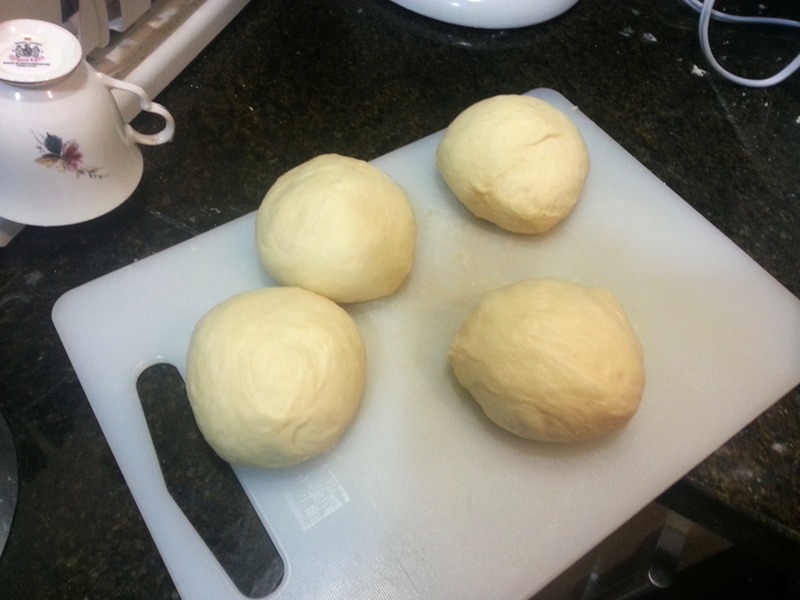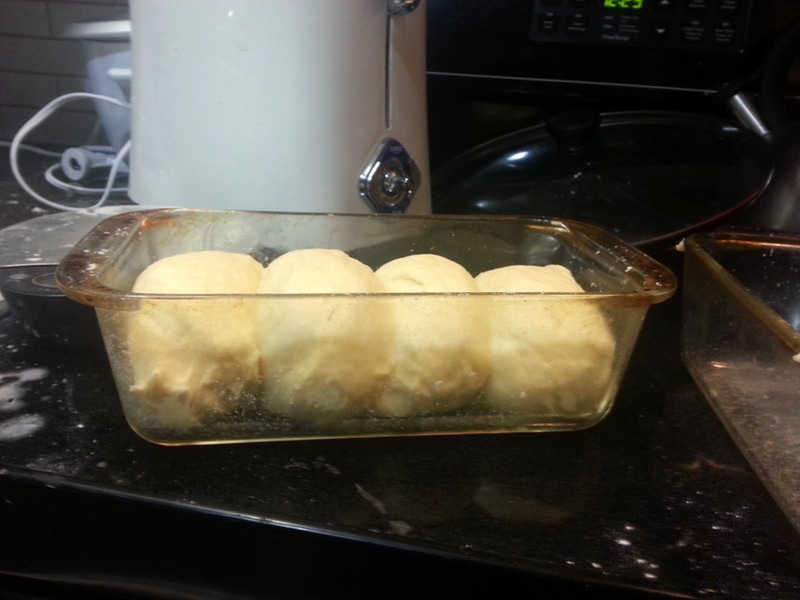 Cover the pans loosely and allow to rise for half an hour, then glaze with milk or an egg wash.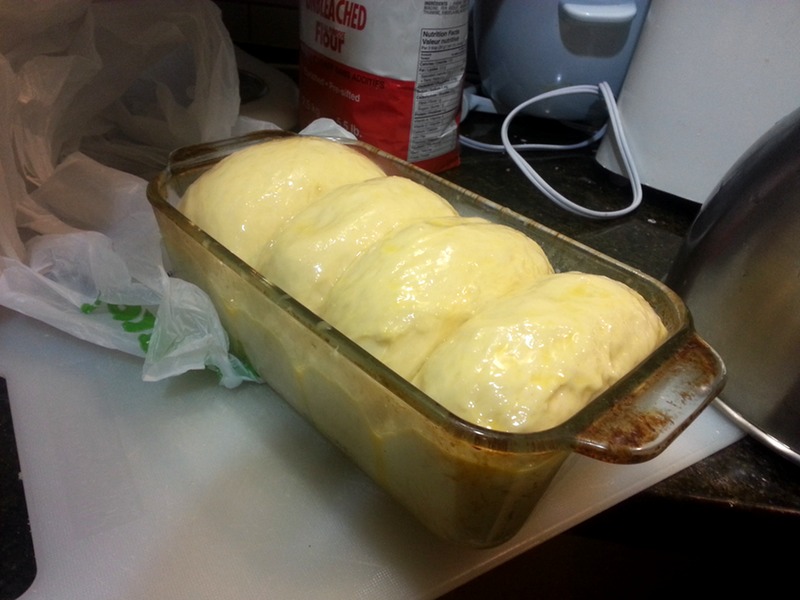 Heat the oven to 350F while letting the loaves rise another 15-30 minutes.  
Baking the loaves at 350F for approximately 40 minutes.  If they are browning too much, you can cover them loosely with foil.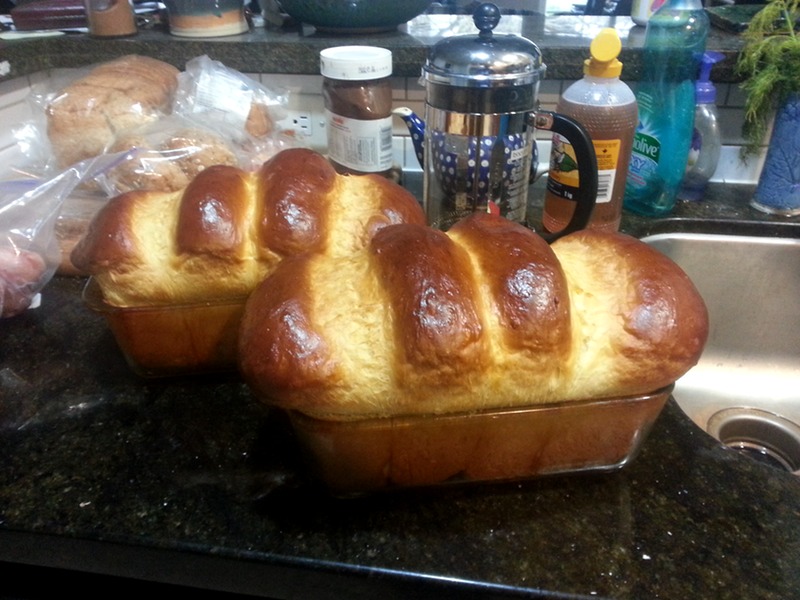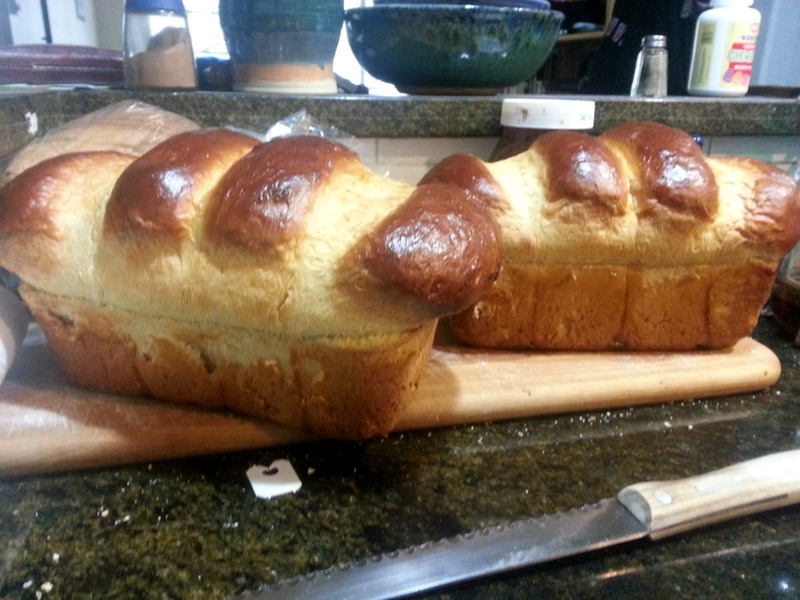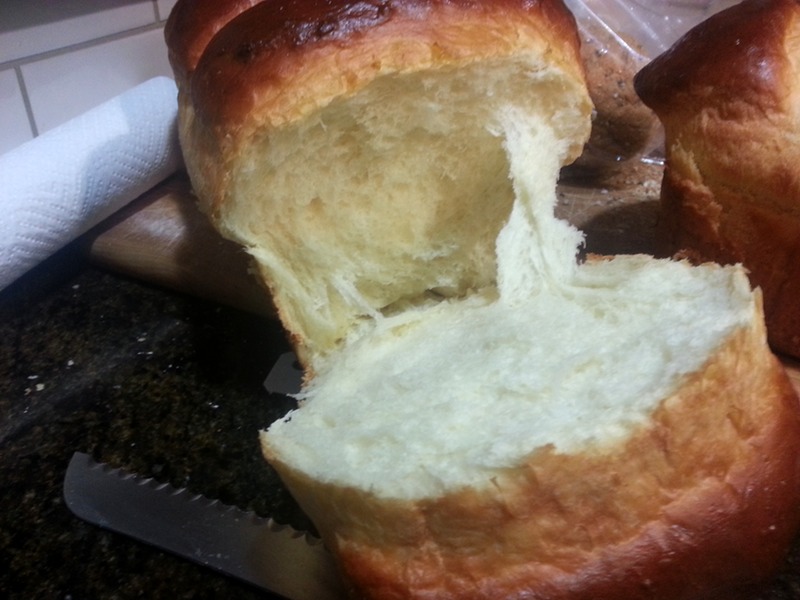 Look at that crumb!  Absolutely the softest, silkiest loaves I've ever made.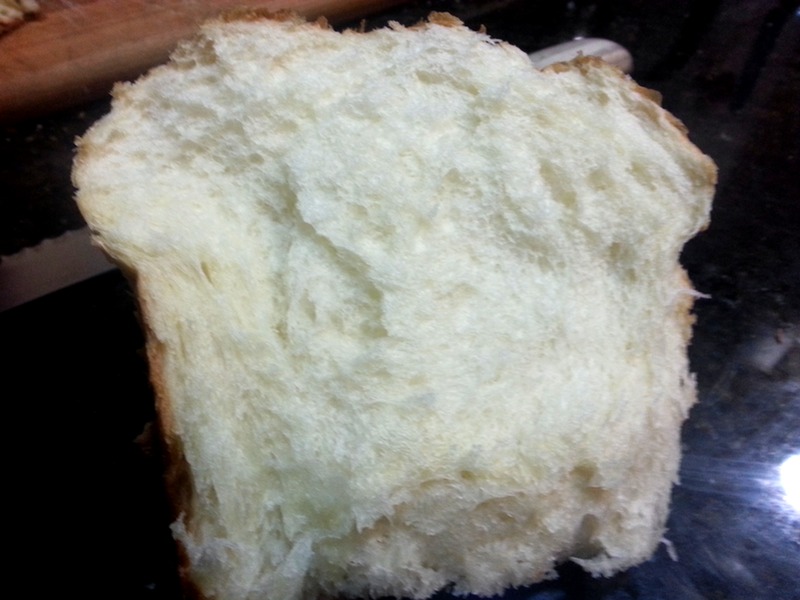 Further reading/discussion about Hokkaido Milk Bread and Tang Zhong: