December 19, 2008 - 11:05pm
Holiday Treats from the Back Home Bakery!!!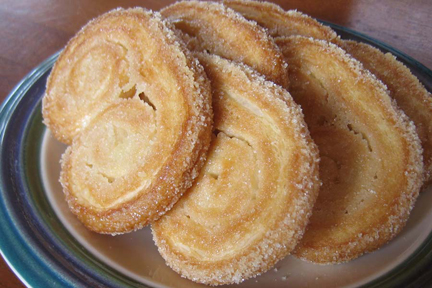 There are some things that take a special touch and experience to master.
Palmiers are a good example of something that looks so simple I could do it, yet so complex and delicate that I'll be lucky, without a sheeter, if I ever got a good batch. And, they are to die for with coffee. I know the process for making these delicious gems but this time I decided to purchase some from our friend Mark at The Back Home Bakery. As you can see they are the most fragile looking puff pastry treats with a buttery sweet crunch. Baking these perfectly seemed like a task I could wait until after the holidays to learn. Eating them and sharing with my family couldn't.
So today my box of Palmiers arrived from Montana and I'm thrilled to have them. It only took 2 days for the USPS to find our home in Wisconsin and they are perfect! Thank you Mark for all you do here and for shipping these goodies in time for Christmas dinner or New Year (haven't decided yet).
Is this the first time someone has posted another bakers work? Hope so!
Eric