December 14, 2008 - 5:13pm
Sometimes when you find a recipe, it takes a little adjusting to make it turn out how you would like.  Sometimes after lots of adjusting, you come back to the original recipe and find out it was great how it was.  This is the latter.  If you'd like to find the recipe, and method, both Jane (janedo) and David (dmsnyder), among others, have written about it quite a bit here, and have both had much success with this recipe and variations of it.  Anyway, using that as a baseline, I'll mention the adjustments I made to the method, and/or explain the pics.  Oh, and just as a reference, i made (4) 16 oz baguettes in 24" wide pans.
-pic 1 during the first 60 minutes when it is mixed/folded 3 times, I left it in the mixing bowl for the entire period.  After the initial mix, I scraped the hook and bowl and covered them to rest for 20 minutes.  At 20 minutes, I put the hook back on and let it 'mix' for 5 seconds to allow the machine to do the folding.  I repeated this process for all 3 folds.  I was trying this in an effort to avoid adding any extra flour late 'into the game'.
-pic 2 shows the 4 baguettes after scaling and 23 hours in the fridge
-pic 3 directly after preshaping, they were placed on a canvas, seams up,  for 45 minutes and into the proofer (78 degrees, low humidity)
-pic 4 final shaping them 45 minutes later.  I shape them the same way I shape my loaves with the seam away from me.
-pic 5, 6  To experiment, I final proofed two on a canvas and two directly in the pans.  All 4 were placed in the proofer together and all 4 baked on the baguette pans at 415 for 23 minutes (convection).
-pic 7 The top two rose in the canvas, the bottom two in the pan.  It's hard to tell from the picture, but the bottom two are slightly wider with flatter bottoms, the top two look a little more 'uncontrolled'.  Probably could've used a longer final proof to mellow them out a little more.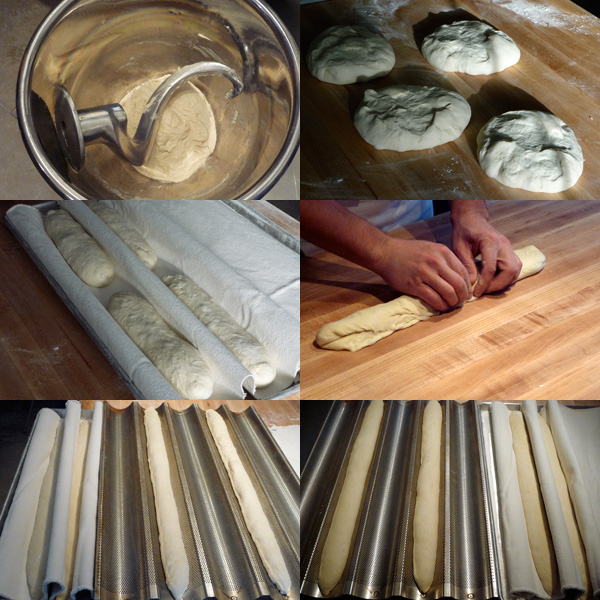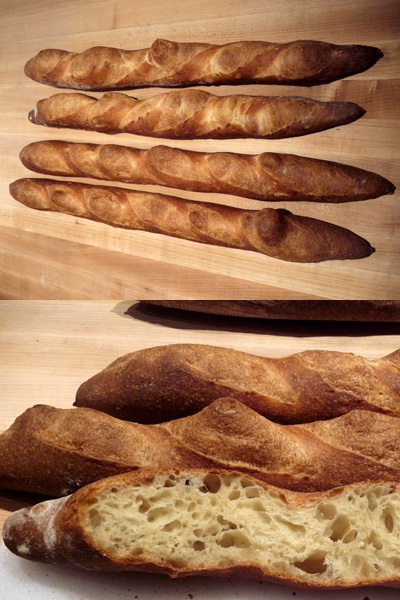 Anyways, the flavor is great with these baguettes and they have replaced my previous recipe as 'The Back Home Bakery' baguette.  Thanks to Anis, Jane, and David for making this possible.
-Mark
http://thebackhomebakery.com [1]
Pre Shaping and Final Shaping