Accidental (really!) all-night baking
In addition to baking bread, I have another obsession: The ancient Asian game of Go [1]. As the game is well over 3000 years old, a whole host of proverbs has grown up around it. One of my favorites is the following:

"Just one game," they said. That was yesterday.
Friday night, I may as well have said to myself,
"Just one loaf ...."
(Photos in the full post)
I really didn't intend to bake all night. Really, I didn't. But I'd gotten home a bit early, and I knew it would be a busy weekend. Besides, the day before I'd worked from home surreptitiously so that I could cook a special meal for my wife's birthday and our fourth anniversary (we didn't intend to get married on her birthday, but she's got a family full of academics, and it was the only Saturday in June when none of them had a conference). Of course, the meal included bread. Ciabatta to be exact.
Nevertheless, aside from a quarter loaf of ciabatta, we needed more bread to last the week. But it was going to be a busy weekend. "Hey!" I said to myself. "Here's a brilliant idea! Let the dough rise after you get home from work, shape it, pop it in the fridge and bake it in the morning! Work is done!"
I'd soaked some wheat berries, flax seeds and rolled oats that morning, so as soon as I got home from work, I set the whole-wheat flour to autolyse and started dinner. I was ambitious: two loaves of my weekly whole-wheat sourdough sandwich bread [2] and then another two loaves of seed and oat whole wheat sourdough hearth bread.
My wife had come home early, so she had taken a ball of frozen pizza dough out from the fridge to thaw (from the BBA, though I'm finding I prefer the King Arthur Flour Baker's Companion "Now or Later Pizza" recipe better. It uses 1/2 semolina flour.)and cranked up the oven to the max. No pics of the pizza, alas, but it was tasty.
After dinner, I kneaded it up and set it to rise. I figured it starts rising at 8, two and a half hours for the first rise, a little over an hour for the second -- I'll be in bed by 11:30. Woo hoo!
I was clearly snorting something.
After all, it was 68 degrees in the house and I didn't let the water warm up after it filtered down into the Brita pitcher from the faucet. We're talking cold, cold dough.
Around 11pm, the dough was 3/4 of the way to doubled. I had some explaining to do.
"Er, honey, I believe I'll be up until about midnight and ... um ... I'll have to set the alarm to get up around 2am to shape the dough after the second rise and ...."
Her reply: "Couch."
Of course, I was dead tired after a long week at work, so did I hear my alarm? Nope. I woke up at 4:15 AM to two buckets of dough that had more than tripled. Ah well. I degassed and shaped them anyway, and threw them in the fridge. I then crept into bed with my wife and slept like a stone.
They turned out OK. In fact, I got some of the best oven spring I've ever gotten from 100% whole wheat loaves.
Sandwich loaves in front. Hearth seed boules in back.
A close-up of the boules.
As it turned out, though, it wasn't a busy weekend at all. My 2-year-old came down with a nasty cold, so I made bagels (her favorite) for Sunday morning using Peter Reinhart's formula. Six poppy seed and six garlic: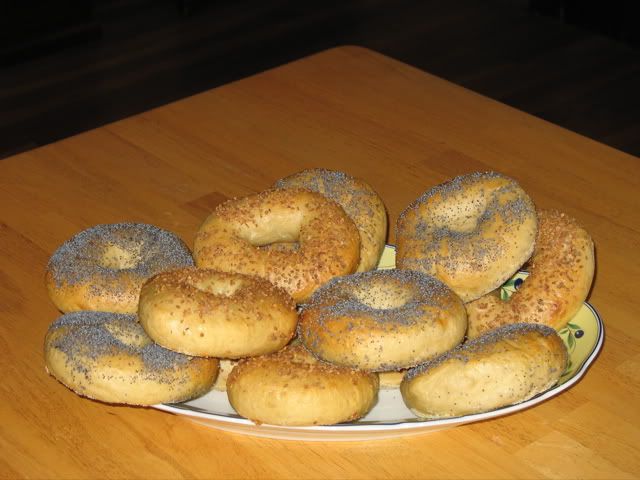 Cream cheese is off-screen.
Bread in the morning works great for bagels. But I won't try this trick with sourdough again on a Friday night unless I get home at 5pm or earlier.