December 10, 2008 - 4:56pm
Honey Wheat Braid - the one positive thing that's come from my unemployment.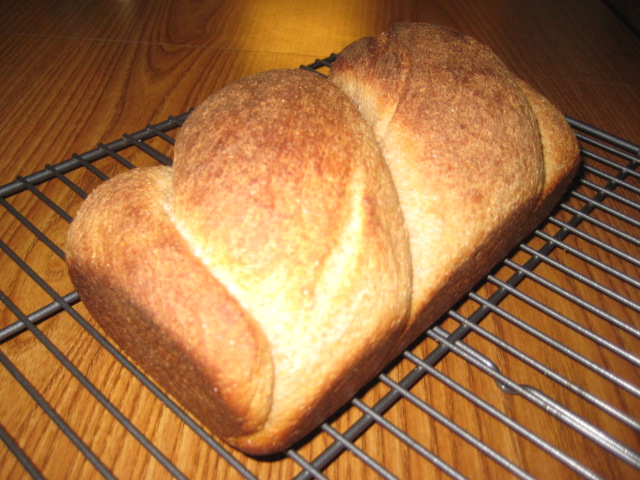 Ah, the elusive honey wheat braid. Now that I'm 21, engaged, a college graduate with no hope of a job thanks to the financial crisis, I've finally had time to reach this sacred goal.
I freaked out when I first bit into it. I finally got the right amount of sweetness, the right amount of heartiness, the right amount of everything! Finally!
Though, honestly, it could have had more time to proof, but I grew impatient and wanted it done by the time my fiance, Britton, got home for dinner. Maybe I shouldn't have made asian cuisine to go with such a European country bread, but he didn't complain. Both agreed it's the best bread I've made in the past few months.
The recipe is from Taste of Home's The Complete Guide to Country Cooking, a gift from my mother. Totally never expected a winner like this to come out of it, but the bread section is really pretty impressive.
It makes two loaves, though I only make one at a time when I first try them. Britton and I can only eat so much bread in a day. Really wish I had gone with the two loaf recipe for this one!
Wheat Bread Braid
2 packages active dry yeast
2 1/4 c warm milk
3 tbs sugar
1/3 c butter
1/3 c honey
1 tbs salt
4 1/2 c whole wheat flour
2 3/4 - 3 1/2 c all-purpose flour
In large mixing bowl, dissolve yeast in milk. Add sugar, butter, honey, salt and whole wheat flour; beat until smooth. Add enough all-purpose flour to form a soft dough. Turn onto floured surface; knead until elastic, about 10 minutes. Place in a greased bowl, turning once to grease top. Cover and let rise for 60 minutes.
Punch dough down. Divide in half and shape into traditional loaves, or divide in fourths and roll each portion into a 15-inch rope. Twist two ropes together, and pinch each end to seal.
Place in greased 9 in x 5 in loaf pans. Cover and let rise for 30 minutes. Preheat the oven during last 5 minutes of rising.
Bake at 375 for 25-30 minutes. Remove from pans to cool on wire racks.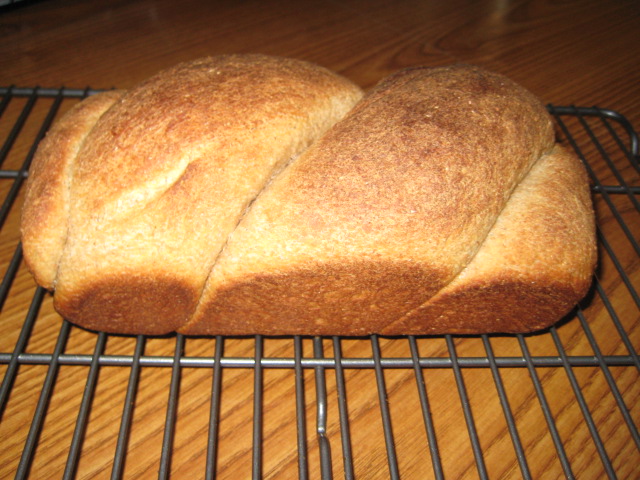 It's easier to cut when cool, so try to hold off as long as you can before tearing into this mother of a loaf.
Expect many more posts from me in the future, as the job market grows smaller and smaller...
Anyone happen to be looking for a baking assistant in Milwaukee? :)