Realised how time flies when you're having fun when trying to explain to a friend what I had been doing whilst on 8 weeks sick leave. Well I said, I've been soooo busy ... doing what? hard to say. Of course she said, you're one of those ... HOME BAKERS!!! I've never thought that it keeps me busy but I am still surprised that other people don't bake all their family's bread and cakes. Mind you I don't know where the time has gone but I know that going back to work will be difficult to fit in!
So I thought it was about time I did some "housekeeping" and started with the serious en of things - sorting through digital pics (essential for a tidy life!) and came up with some of my recent exploits.
Firstly pita breads - I am so pleased with my efforts as- touch wood - they seem to come up every time now even with wholemeal four. I still love peering through the oven door to watch the pocket rise and get the greatest sense of achievement (and wonder!) at how well it works.
My husband likes them to be quite crusty for eating straight away so I leave the last ones in a little longer and they stay puffed up for ever. The batch in the photo are 50% wholemeal for eating with chilli and rice.
[1]
Even quicker are chapatis which are so quick and I find best made with 100% wholemeal - I stll "puff" them over a naked flame but am working on the girdle technique.
[2]
Finally I had forgotten this but a happy accident meant I "found" 3 hot cross buns lurking in the bread crock a day too late - so a perfect excuse for a late "Easter" bread and butter pudding.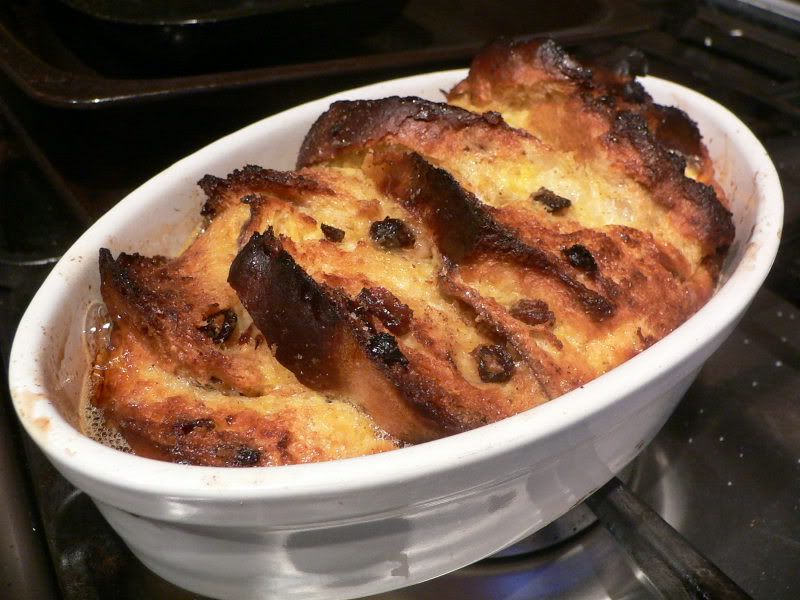 [3]
I am still experimenting with my own rustic bread recipe especially for spelt flour and hope to perfect it yet ... well maybe one day.
So another batch of oat, raisin, cherry and chocolate chip cookies have gone, as has the brack and chocolate loaf cake. Guess I'd better go do "one of those" things in the kitchen again. :)