November 20, 2008 - 10:05am
Cara's White Sandwich bread with garlic topping
So here is how my bread ended up coming out.  I used the same old recipe used a bit less yeast, took the dough out of the bowl to knead when it was still a little "wet".  I worked in flour untile it felt ready.  Let it rise once normally, then put it out on the counter and spread it out and did the folding method, let it rise again for about half an our or so, then took it out, flattened it again and formed the loaf............the let it rise in the loaf pan for a lot longer than I usually do.
Overall I am happy with it, the crumb taste really really good.  It is a LOT more fluffy than my previous loaves.  The crust has just the right amount of chewinesss (yes that is a word..........when you are talking about bread...lol).  I am happy that I got a few holes in the bread.........not sure if it's enough though, since i am still new to this.
If anyone has any suggestions they would be appreciated.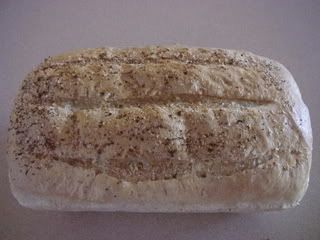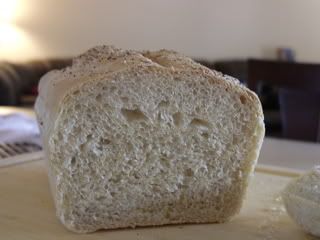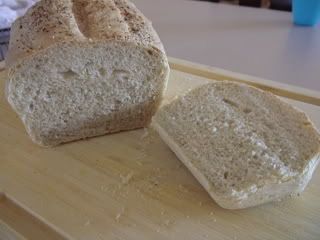 In case you want to know how i got here i used this recipe http://www.sourdoughhome.com/bakingintro3.html#windopane [1]
I used Publix brand unbleached AP flour
6g of bulk active dry yeast
Baked for 20 min in over with steam then took it out and brushed with egg white and put Lowry's garlic salt on top of it.
I also baked it in a regular pyrex glass loaf pan.......that's it.