Help with trouble shooting crumb issues with part WW?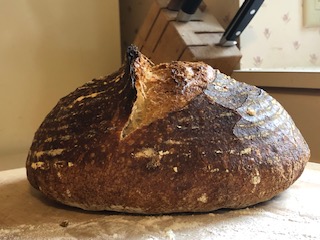 Hello,
        I've been baking yeasted bread since the beginning of the year (mostly using Forkish book) and making SD since March. I am not following his recipes for SD but I guess an using his techniques/dough handling. I am using/maintaining a stiff bread flour starter I received when taking a SD class at a great local bakery. 65% hydration. I am generally getting decent oven spring but have not been able to get much of an open crumb. I'll detail my process and then include photos for reference.
Day one at 9-10 PM: Make levain with 50 grams active starter, 65 grams water at 70 degrees and 100 grams bread flour. I let this rest at 72 degrees until 8 AM the next morning. It more than doubles in volume overnight.
Day two at 8 AM: Autolyse 100 grams bread flour, 200 grams unbleached AP flour, 75 grams WW, 25 grams rye and 310 grams water at 75 degrees. After 30 minutes mix in levain and 1/2 TBSP salt. Do three sets of stretch and folds over the next hour and a half. Bulk fermentation is usually done around the five hour mark. Pre-shape, let rest for 30 minutes, do final shape and place in 9" banneton. Sometimes I bake that day in which case the final proof normally takes 1-2 hours but sometimes, like in the case shown in the photos I retard over night for 12-16 hours and bake the following morning.
Bake procedure: I bake at 475 in a Lodge 4 qt dutch oven. 25 minutes covered, 10 minutes uncovered and 10 minutes out of the DO and placed directly on the rack.
In the case shown I think the loaf was over proofed. I let it sit in the banneton for 30 minutes at 72 degrees before retarding in the frig. I don't include a photo of the loaf in the banneton after the final proof before it went in the oven but the loaf had risen to the top of the banneton coils. I believe it was over proofed and didn't have as much oven spring as I normally get.
I have a few questions.
1) Is it more difficult to get an open crumb the more whole wheat you use? Between WW and rye I'm at 25%. I have tried different levels of hydration from 70-80% and honestly have not notice huge differences in crumb. I have had more open crumb in the past but not by a large degree.  I have not changed much with regard to dough handling. Open to suggestions here. I don't think with my dough I could begin to utilize a slap and fold or lamination, maybe coil folds.
2) On the right side of the baked loaf you should notice crack marks. Does this indicate anything noteworthy? All my loaves end up with these cracks, yeasted or SD.
In summary, I like the crust and taste however I think a more open crumb would provide a different/nicer mouth feel? Note that while I do like to bake dark, the lighting on this loaf shows it off to be a bit darker than it actually was.
Anyway, great forum and love reading and learning. Hope some folks will chime in with opinions. Not really sure how to label photos but I think everyone will k
Best,
        wvdthree