February 19, 2008 - 8:56pm
Two holidays (and off-topic pictures)


Sourdough chocolate cherry bread [1] has become a Valentine's Day tradition around our house. This time around, I reduced the chocolate a bit to make it a bit more manageable to toast (molten chocolate all over the toaster oven is a real pain in the neck) and used some of Carl's 1847 Oregon Trail Starter [2] that Leemid was nice enough to pass along at the Oregon Fresh Loafers' Meet-up [3] back in September.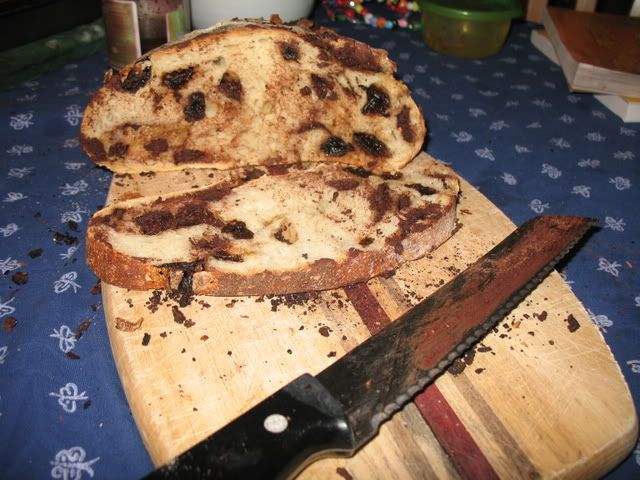 Awfully tasty stuff.

For the President's Day weekend [4], I did a bit of baking, but was most satisfied with the whole grain sourdough hearth bread [5] that I set up Monday night and baked this morning, which went very well with some chicken soup and a salad this evening. This time around, however, I forgot about folding the dough and so, just before I went to sleep, I remembered that I'd not done a thing with the bread, beyond hydrating it. Out of necessity, I jumped out of the sheets and did the "French Fold." [6] It turned out very well indeed, flavor-wise, at least.




OFF TOPIC NON-BREAD PHOTOS AND CONTENT FOLLOW

Not that anyone cares about that, of course, but this is a bread forum, after all. Anyway, on Monday, I had the day off while my poor academic wife had to teach class. My daughter was taken care of at her school, so I had ... gasp ... a day to myself!

From my house ... well, actually, from down the street, you can see Dimple Hill towering over the valley, a bald hill that stands just five feet shy of 1,500 feet tall. It's probably not a mile from my house as the crow files, but if you have to hoof it like most mortals, it's nearly a 4 mile hike. And it's lovely. Until today, we had 5 or 6 straight days of clear skies and brilliant sun, which soaked all the way down to my bones. On Monday, I was itching to hit the trail.

I walked through the Timberhill Open Space, into Chip Ross Park [7], and then took Dan's Trail [8] to the top. It's a lovely walk through meadows, old orchards and managed forest. It's not old growth by any stretch as it's smack in the middle of the Oregon State McDonald Research Forest, but it does pass by at least one old growth stand.

The scenery is nice.



But the view from the top is a real treat. Here's a view to the east of the snow-capped Cascades and the Three Sisters [9]. Snow pack in the Cascades is about 190% of normal, so the sisters are all decked out in wedding attire.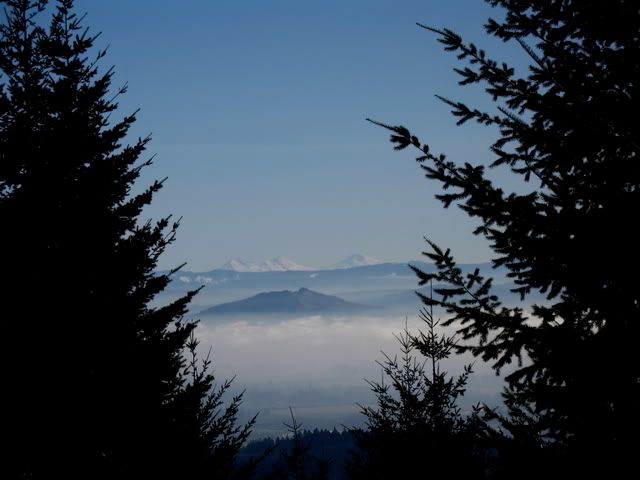 To the West a view of Marys Peak [10], which, at 4,097 feet, is the tallest mountain in the Oregon Coast Range [11].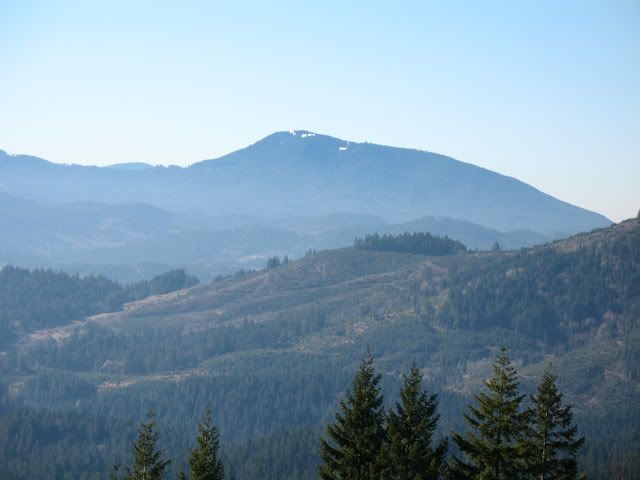 And right before me, Corvallis' little corner of the southern Willamette Valley.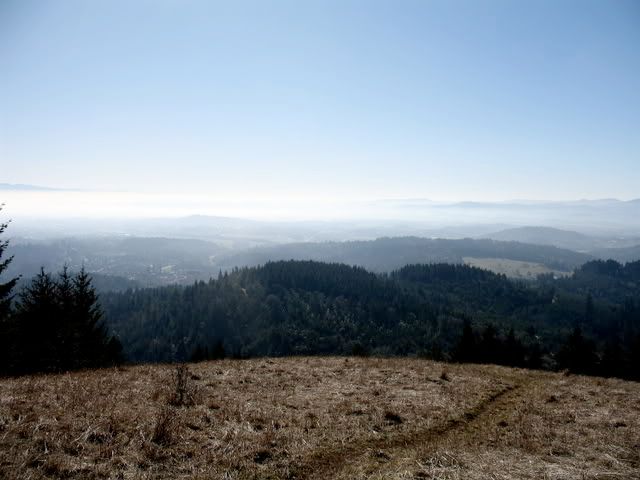 The rain does get to me a bit when it goes on, uninterrupted, for weeks on end. But it sure is fun discovering what a beautiful part of the country I now live in.