The Fresh Loaf Is Six Months Old
The Fresh Loaf is six months old today. Thank you to everyone who has visited, emailed me, or posted on the site.
I'm still very much open to suggestions on what people would like to see on this site. If you have any ideas or recommendations, please let me know.
Also, as I've said before, if anyone other than me would be interested in writing an article or lesson to post on the front page of the site, please contact me (even if your written English isn't great... I'd be happy to help proof your article). This site was never intended to be about my baking: it was intended to be for, by, and about the amateur artisan baking community. Additional voices would enrich the content of this site immeasurably.
One thing that is obvious, looking back: practice makes perfect. I've still got a long way to go before I become a truly proficient baker-- a number of the folks who read this site have years more experience than I do and are much better bakers than I am-- but six months of constant practice has improved my baking remarkably.
Click "Read more" for a comparison of my breads six months ago and now.
Six months ago: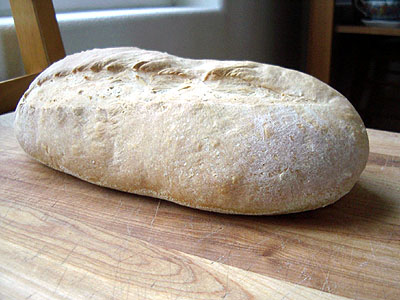 Now:

Yeah, I'd say I'm getting better.
Thanks again to everyone who has shared their experience, knowledge, and enthusiasm. I'm looking forward to more.