February 9, 2008 - 10:42am
Whole wheat sticky buns for the morning
Even though these are 100% whole wheat, I'm not even going to try convincing anyone (though I've tried to convince myself) that these are remotely healthy. But since whole wheat flour is what I've usually got on hand and since using whole wheat flour does make them somewhat less unhealthy (maybe), when I make sticky buns, I make them this way. The dough is an amalgamation of many recipes, but the filling and topping are from King Arthur Flour Whole Grains Baking [1].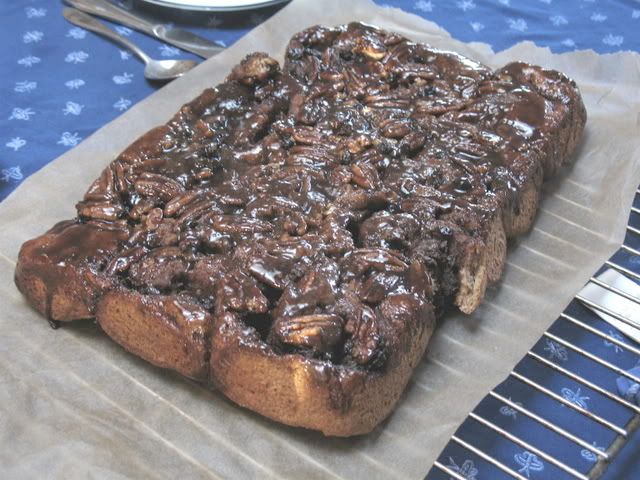 In any case, however detrimental they may be to the body, these warm sticky buns are awfully good for the soul on a chilly weekend morning.

Dough Ingredients
Whole wheat flour: 450 grams; 1 lb; 3-4 cups
Lukewarm milk: 275 grams; 9.75 ounces; 1.25 cups
Egg: 1 large, lightly beaten
Honey: 85 grams; 3 ounces; 1/4 cup
Butter, melted: 28 grams; 1 ounce; 2 Tbs
Salt: 9 grams or 1.25 tsp
Instant yeast: 6 grams or 2 tsp
Filling ingredients
Brown sugar: 210 grams; 7.5 ounces; 1 cup packed
Egg White: 1 large
Cinnamon: 14 grams; 1/2 ounce; 2 Tbs
Salt: Just a pinch
Currants or raisins: 100 g; 3.5 ounces; 2/3 cup
Topping Ingredients
Brown sugar: 140 grams; 5 ounces; 2/3 cup packed
Cinnamon:2 to 3 grams; 1 tsp
White flour: 3-4 grams; 1 tsp
Salt: Just a pinch
Melted butter: 56 grams; 2 ounces; 4 Tbs
Corn Syrup, honey or brown rice syrup: 39 grams; 1 3/8 ounces; 2 Tbs
Chopped pecans: 106 grams; 3.75 ounces; 1 cup
If the honey's cold, I like to put the butter and honey in the same bowl and heat it for about 1 minute on medium power in the microwave. But, however you do it, first mix the milk, egg, honey and butter. Mix the flour, salt and yeast in a separate bowl, and then add to the liquids. Mix until everything is hydrated. If you wish, you can knead it now, or do as I do and use the
stretch and fold
[2]
method starting at 1/2 hour after mixing, and doing two more folds 20 minutes apart. You may have to adjust the flour or add some water -- the dough should be lightly tacky, but not sticky. In any case, if you've kneaded, the dough will be ready in 60-90 minutes and, if you've done the stretch and fold, it'll be done in about 2 hours.
Meanwhile, for the filling, mix everything together until smooth
except
the dried fruit. Likewise, mix the topping ingredients together
except
for the pecans (corn syrup will give you a better consistency because it prevents the sugar from crystallizing, but I don't often have it on hand, and have had good results with both the alternate ingredients).
Grease a 9x13 inch pan and spread the topping on the bottom, placing the pecans on top. Then, roll out the dough into a rectangle that's roughly 12x16 inches. Spread the filling over the dough, leaving a margin of about 1 inch on the edges. Then scatter the dried fruit over the filling.
Roll the dough into a log and then, using a serrated knife or some dental floss, divide the dough in half. Next, cut the two halves in half. Finally, divide each of these sections into three so you end up with 12 buns. Place the buns in the pan.
If you want your buns now, let them rise for about an hour or so until they're just barely touching each other, and then bake. But, if you want to bake them the next morning, simply cover the pan tightly with plastic or aluminum foil, and pop them in the refrigerator. The next morning, let them warm up for about 1 hour before baking (though, you can also pop them right in the oven if they look fully risen).
Bake at 350 degrees for about 30 minutes. When they're done, put foil or parchment paper over the top of the pan, and quickly invert it onto a cooling rack. Scrape any topping left in the pan on top of the buns.
They should probably cool a bit before you dig in, but I'll leave that to your discretion. While they cool, it's important to watch them, otherwise, within minutes, they may end up looking something like this: