December 5, 2017 - 1:28pm
1849 Gold Rush SD Whole Wheat Fruitcake and Pecan, Prune and Cranberry Sourdough
Lucy did finally back to what we would call normal so it was time to get some holiday baking done.  We managed to get a fruitcake baked off and then we did a 25% whole wheat fruit and nut holiday bread to make up for a few weeks of blandish white bread bakes.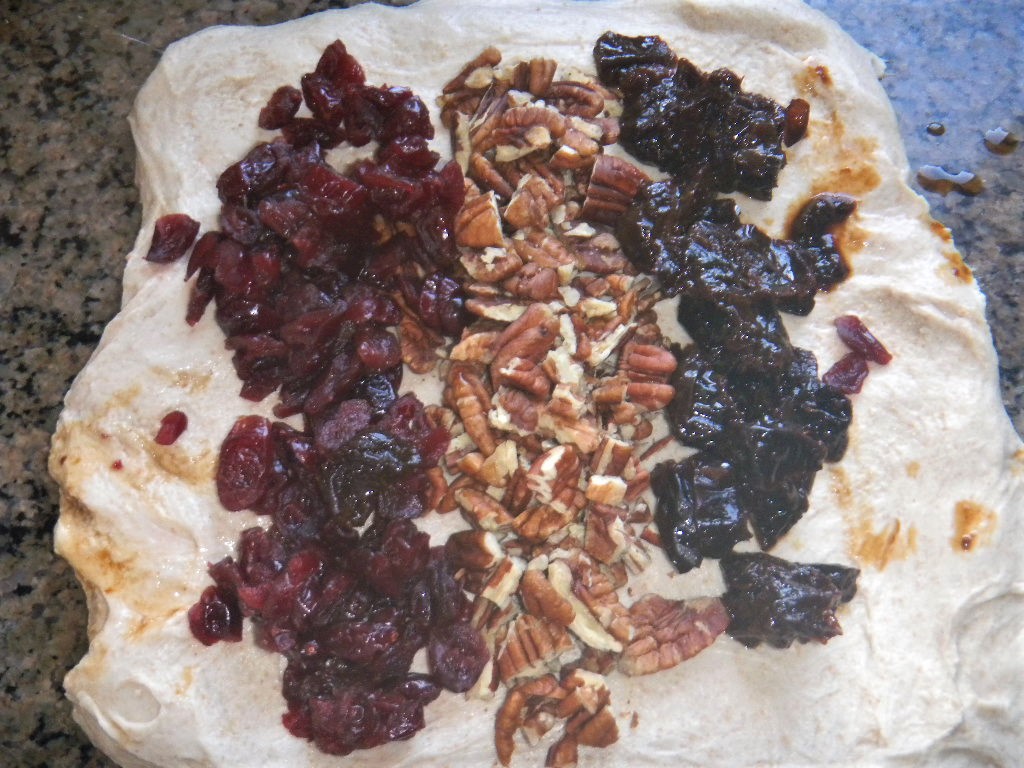 We come up with a slightly different version every year.  This one was special because it was whole wheat, what little amount if flour there is in it and the fruits have been snockering away, in bourbon, in the fridge, for more than a year…. so they are very tasty ….almost too tasty for fruitcake.  We used pecans for the nuts this year instead of a mix with walnuts.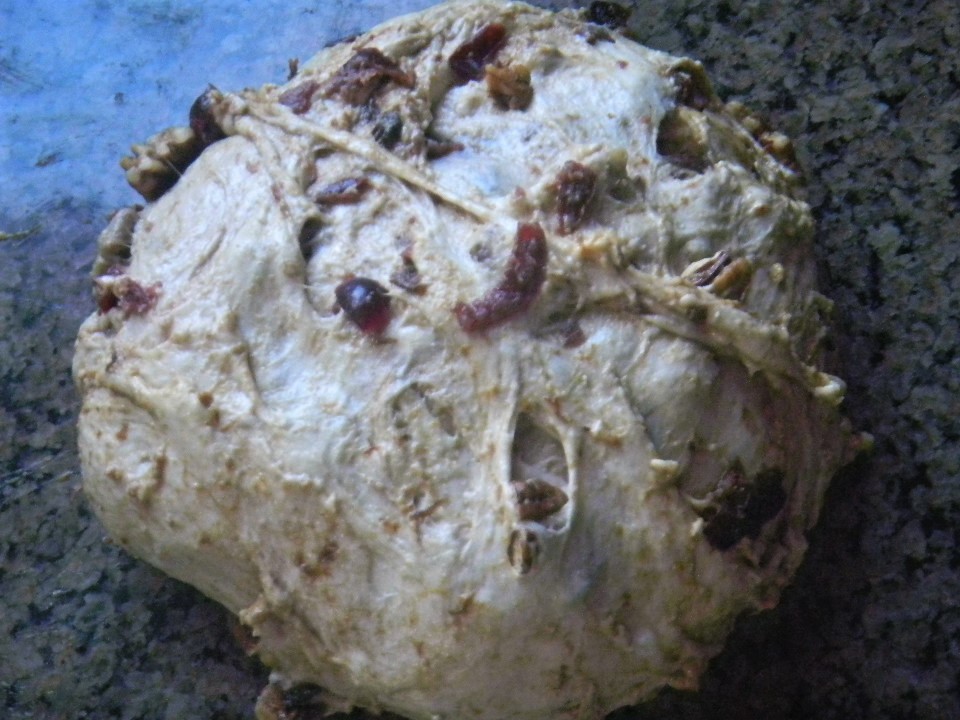 We upped the butter a bit, dropped the molasses and upped the brown sugar to compensate.  We upped the spices to a full tablespoon of a mix of: cloves, mace, nutmeg, ginger, allspice, cardamom and cinnamon with cinnamon double the amount if the others.  We baked it at 32f for an hour and 5 minutes instead of 300 F for 2 hours.  Here is the recipe
25% Pre-fermented whole wheat, 100% hydration levain made with 10 g of NMNF rye starter
75% Whole wheat dough flour
25% Water
2% Pink Himalayan Sea Salt
65% Eggs
65% Butter
225% Snockered glace and dried fruits
65% Walnuts
65% Brown sugar
65% Chocolate chips
I T of mixed 7 spices.
The holiday bread bake was made for the centerpiece of the table but I forgot to Chacon it so I just dumped it into the flat bottomed, Goodwill 50 cent cloth lined basket, seam side down, hoping it would look nice.  It came out unique enough for sure but, since I still have to bake a Chacon for the challenge holiday bake anyway, I decided to eat this one.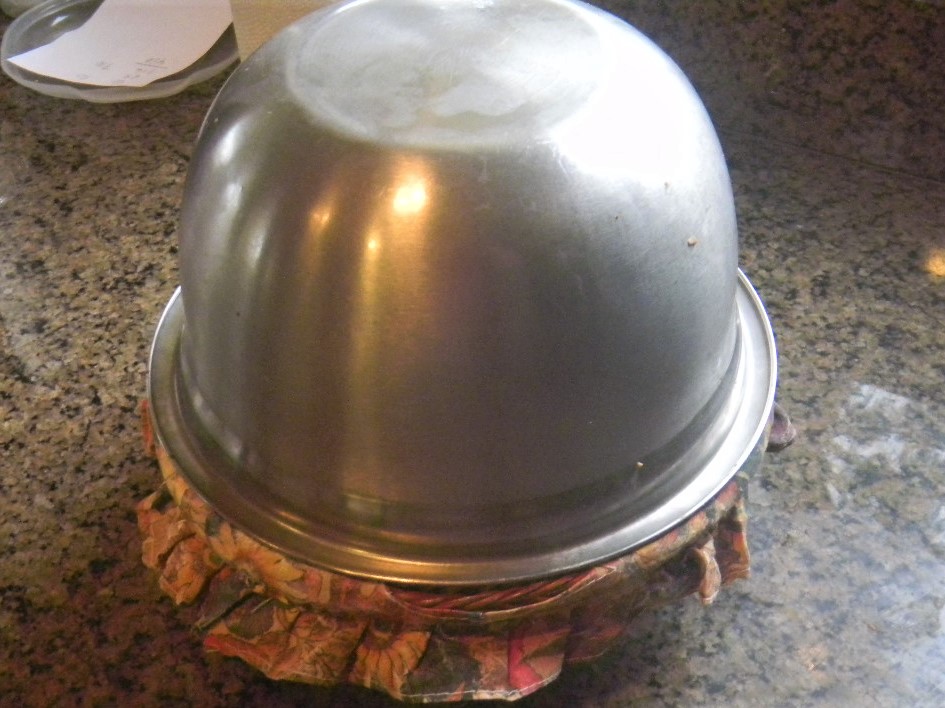 This one had a 10% preferment flour, whole wheat (white and red), 100 % hydration levain.  Overall whole wheat was 25%.  We did 1 set of 50 slap and folds and then 4 sets of stretch and folds – all on 30 minute intervals.  The prune and cranberries were rehydrated with the liquid squeezed out and reserved to make yeast water.  The fruits with the pecans went in during the first set of stretch and folds.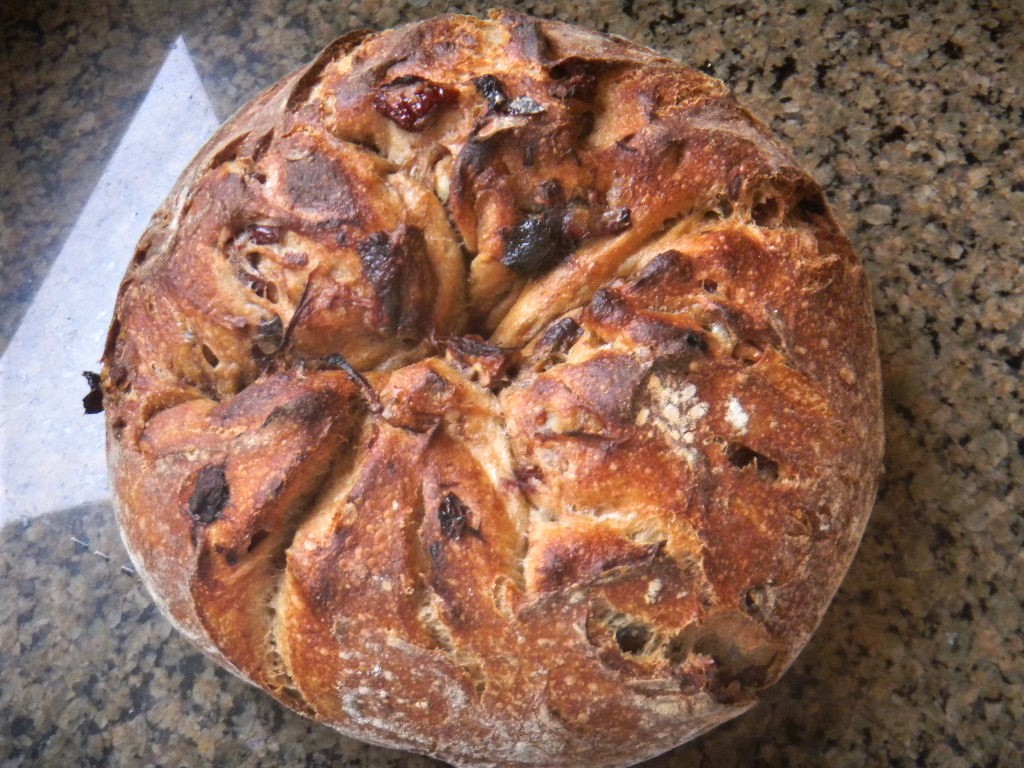 This started out at 80% hydration but the reh-ydrated fruits brought some extra water with them so it was quite a bit wetter than that in reality.  We let it rest for 30 minutes before bulk retarding it for 14 hours.  We let it warm up 2 ½ hours before shaping and basketing seam side down.  It proofed for about 2 more hours before it hit the hot DO for 20 minutes of steam at 450 F and 15 minutes of dry convection air at 425 F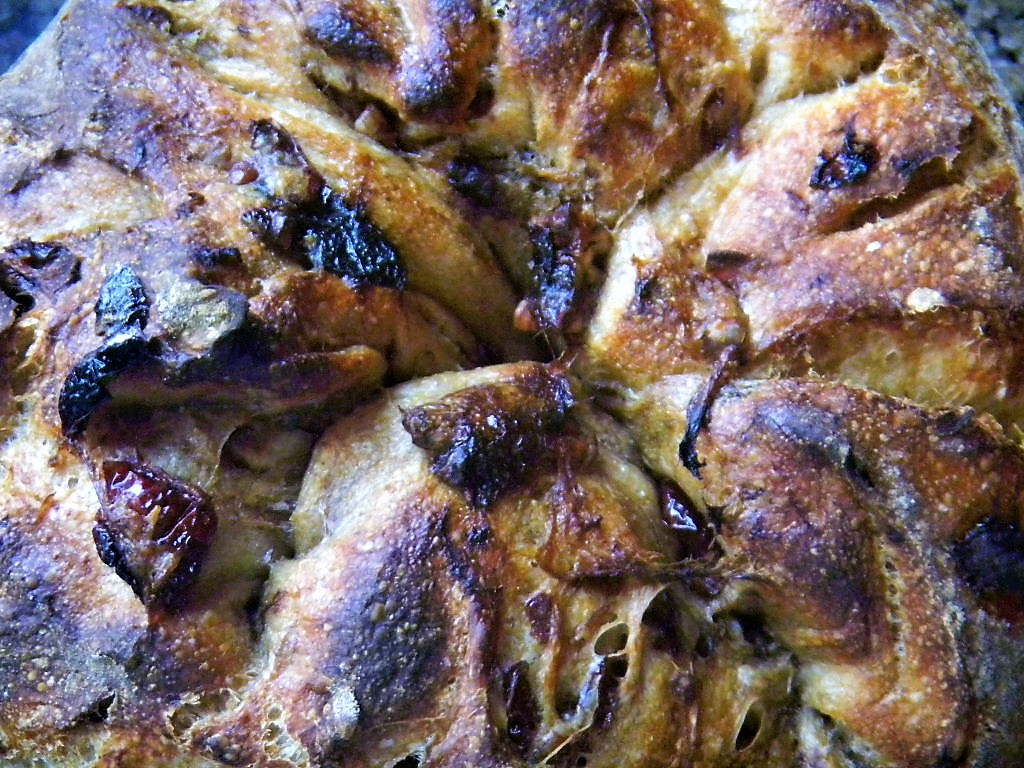 It read 208 F when we took it out of the oven.  It browned nicely due to that extra sugar in the re-hydration water and it opened up in a unique way even for a seam side up baked boule.  We think it should be fair open when we cut into it later.  Here is the formula
10% Pre-fermented flour, red and white whole wheat, 100% hydration levain
15% Red and white wheat dough flour
75% LaFama AP
2% Pink Himalayan sea salt
80% overall hydration
15% each pecans. prunes and cranberries dry weight.
Happy holiday baking to all!