November 20, 2017 - 11:14pm
Trevor Wilson's Champlain sourdough
Following on from reading Trevor's Crumb Mastery I continue my quest to improve the crumb on my bread and up my skill level with wet dough and shaping.  We had eaten the Hamelman 5 grain levain so the freezer was nearly empty of bread.   Trevor had mentioned his "Premix" method so decided to have a go at Champlain sourdough, a 70% hydration.  should be a piece of cake!  yeah right! 
I made enough dough for 2 x 800 g loaves & 1 x 600 g loaf
 So 7:30  pm I weighed the flours 
Bread four 1055 g, wholegrain spelt flour 102 g, freshly milled rye flour 51 g, added 25 g salt.  added  827 g water and mixed to a shaggy dough, covered and refrigerated. 10:15 pm removed from fridge and left on bench overnight.
Levain also mixed at 7:30 pm 64 g bread flour, 64 g water and13 g refreshed starter. covered and left overnight on bench.
the final dough has only 5% fermented flour! 8:30 am add levain to premixed dough, dimple it in and fold dough gently until levain incorporated .  After 10 minutes, rested dough for 10 mins then did another round of gentle folds, then rested 10 minutes then the last set of folds.  the dough did tear at the end of first mixing so was extra careful after that.  I did hourly gentle folds over next 6 hours. Dough quite sticky but not slack.  Gently tipped dough onto floured bench to scale and preshape and this is when I had problems.  It was really sticky, even sticking to bench knife and I stuggled to get good preshape.  rested 30 minutes only!  final shaping was difficult, the dough was quite slack and my initial tuck and fold did not give enough strength so I did an extra roll and some more cloaking.  The 2nd loaf went a little better, and the 3rd (600 g loaf) a little better again.  Room temperature was 24°c.  After an hour, i turned on oven and put DOs in to preheat.  Just as well, an hour later dough was ready.  I popped the 600 gm loaf into fridge. The first loaf unmoulded spread a bit and 2 scores were not good. loaded it lopsidedly into DO and into oven.  2nd loaf I thought do it easy, so 1 single score, into DO and oven with the other at 250°c for 20 minutes lid on, 25 mins lid off at 240.  bold bake!  reheat oven, unmould last loaf, score into oven and bake only 15 mins lid on, 16 minutes lid off at 230.  a better bake!
I was really disappointed with the shaping, proof and scoring. Quite down in fact.  Before bedtime I gathered my courage and sliced 2 of the loaves. Wow, way better than expected (top slice) and even the double scored, lopsided loaf (lower slice) is not too bad.   Went to breadwerx website to look at Trevor's crumb.  mine is not at open as his, but for a first shot at this method, not too bad. I am encouraged.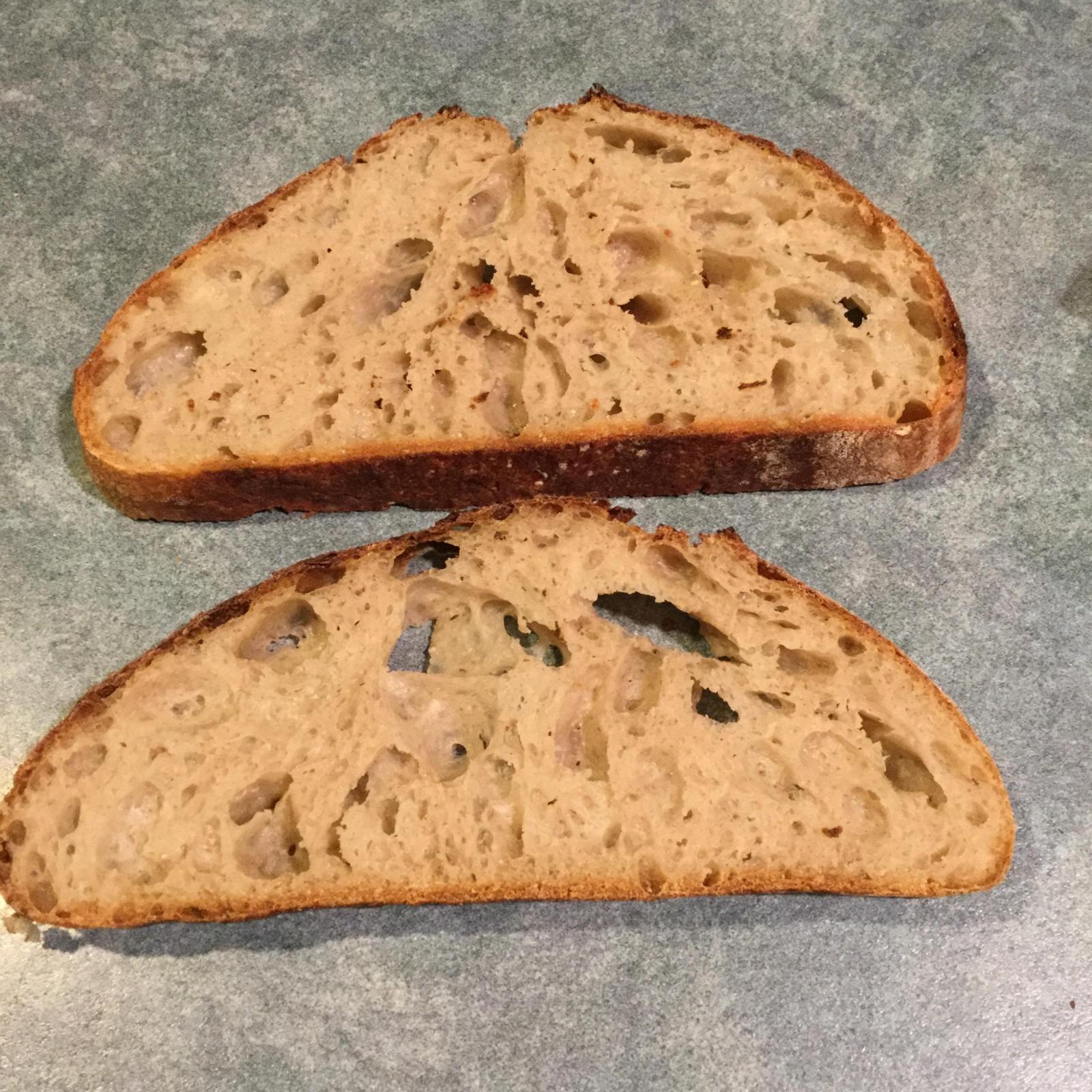 Visitors for lunch tomorrow so we will defrost and cut the 3rd loaf and see how it is.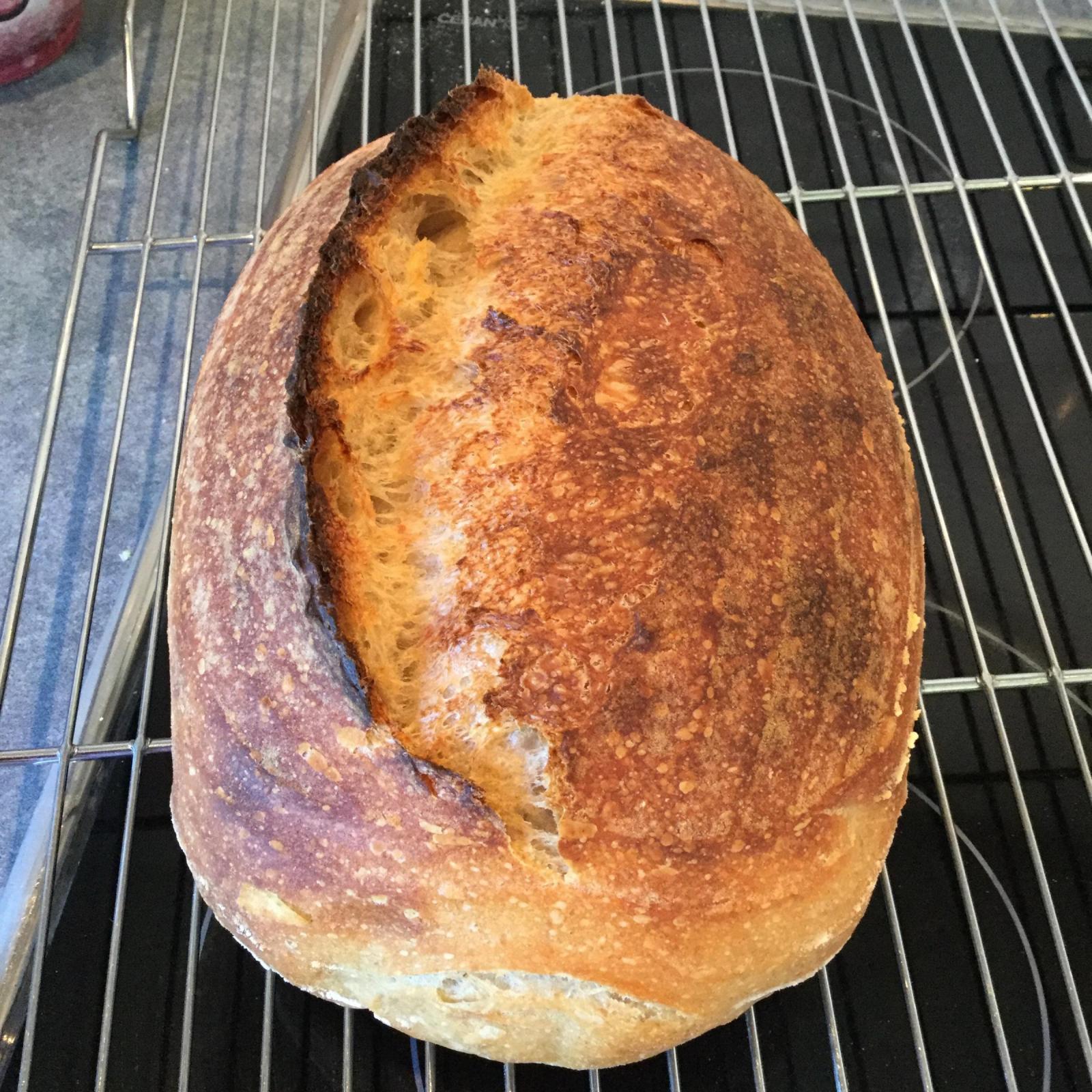 Leslie