I decided to take (Canadian) Thanksgiving weekend 'off', meaning I won't be baking for either retail outlet for Saturday nor am I doing a regular bake for the subscribers on Sunday. Of course, I'm baking ten dozen Sweet Potato buns for them tomorrow, including half a dozen gluten free ones, and four loaves of Heart Bread for my special customer as well, but you know, relatively 'off'. Which means, of course, that we didn't have any bread for ourselves either (no leftovers to nick from the bread shop on Saturday).
So I whipped up an all-purpose kind of batch of dough yesterday and baked it this morning. I started with the 1-2-3 formula and changed it up a bit - the '1' was a poolish made with stout and stone-ground whole wheat, the '3' was bread flour, stone-ground Red Fife and whole rye, and so the '2' was more like '2.25'. Specifically:
Poolish
50 grams stone-ground whole wheat
50 grams home-made stout
1/8 tsp ADY
Dough
100 grams of poolish
225 (ish) grams of water
200 grams unbleached bread flour
75 grams stone-ground Red Fife
25 grams stone-ground rye (coarse)
25 grams sunflower seeds (just raw; too lazy to toast them)
6 grams salt
1/8 tsp ADY
All dough ingredients were mixed in the Ankarsrum (just because). It was interesting to observe the different action using the roller and scraper with dough for only one loaf instead of the usual four to six. Once the dough was relatively smooth (and I added a bit more water, hence the 225 (ish) grams), I put it into a flat container - easier to stretch and fold. I did three S&Fs about half an hour apart, then after about three hours on the counter I put the dough in the fridge for the night.
This morning I took it out and pre-shaped, rested, then shaped into a ball and put it into a floured basket to proof for about two hours overall (including the bench rest). I popped it into a cast iron pot pre-heated to 475F and turned the oven down to 450F, then baked for 25 minutes with the lid on. I took off the lid, turned the pot and reduced the temp further to 425F for another 20 minutes. The interior was 205F so it was done!
Oven spring was great...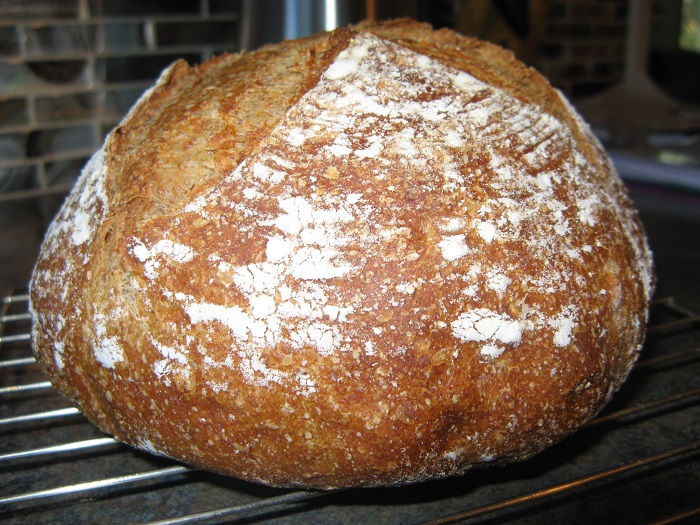 The crust is lovely and shattery, and the crumb is moist and springy.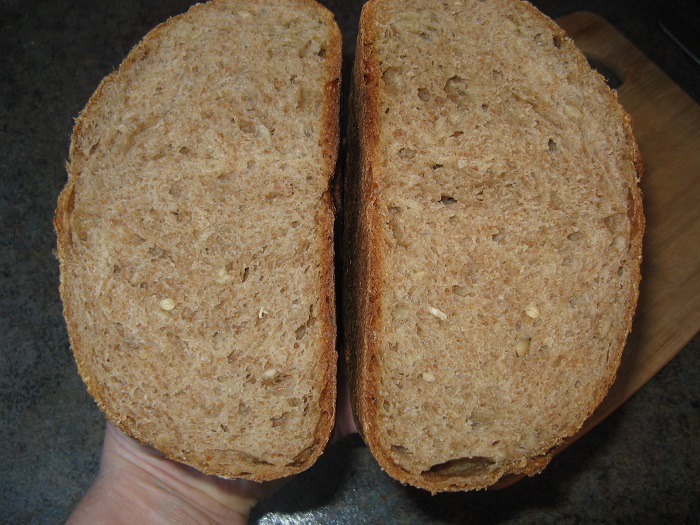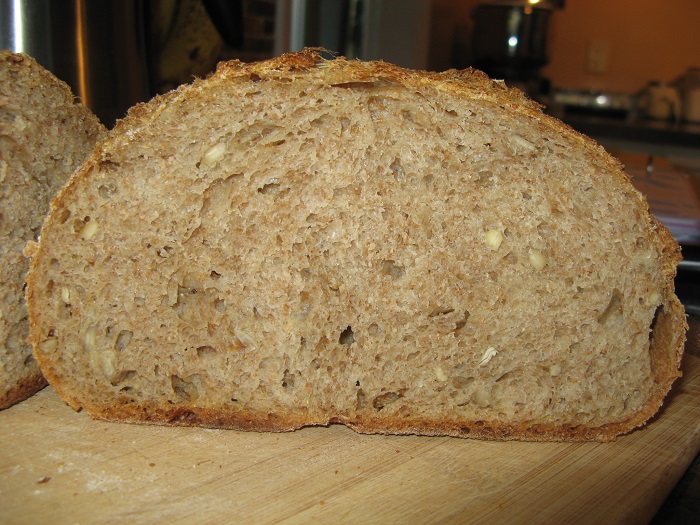 I'm happy with this bread, and even more happy that my bread-making skills have progressed to the point where I can whip up a bread like this with no recipe and no angst. Makes me feel like a real baker! :)