San Joaquin sourdough two ways
San Joaquin Sourdough Two Ways
David Snyder
September 28 and October 2, 2017
Background
My San Joaquin Sourdough originated in Anis Bouabsa's baguettes which had won the prize for the best baguette in Paris in 2008. Bouabsa's baguettes departed from convention in utilizing a 21 hour retardation after bulk fermentation and before dividing and shaping. Jane Stewart (Janedo on TFL) and I initially modified Bouabsa's formula by adding a bit of rye flour and some sourdough starter for flavor. I then omitted the commercial yeast altogether and began using the modified formula to shape as bâtards. Over time, I have tweaked the formula and method in various ways, but have settled on the current one as providing the best product.
I most often make my San Joaquin Sourdough as bâtards of about 490 g, but I have used the same dough for baguettes quite often. I have also modified the formula in minor ways to make an "Italian bread," and have used it for pizza too.
This week, I made two batches of San Joaquin Sourdough. One I used for bâtards. The other I made as "pains rustiques."
Professor Raymond Calvel, the renowned French baking teacher and bread scientist, was the man who taught Julia Child to bake "French Bread," the author of "Le Gout du Pain" and the inventor of the autolyse. Shortly before his passing in 2005, Professor Calvel visited the United States and taught at the Culinary Institute of America in upstate New York. The C.I.A. and the Bread Baker's Guild of America produced a series of videos which included interviews with Professor Calvel and documentation of his baguette formula and methods. These were available for downloading and also as VHS tapes at one time. Now, they are available on youtube. They are well-worth viewing for any serious baker.
On one of the tapes, almost as an aside, the narrator said Professor Calvel's personal favorite bread was what he called "Pain Rustique." He made this with baguette dough, but, rather than shaping it in the traditional manner, the dough is simply cut into rectangular pieces with a bench knife, proofed and baked. I made this bread once a number of years ago, and it was very nice. It was similar to ciabatta in that it was very puffy with large air pockets.
Today, I made a variation on pain rustique, using San Joaquin Sourdough dough and methods, except for the shaping. Note: The formula used for these pains rustique was actually only 72% hydration. Based on my results, I would increase the hydration to 76% hydration (as in the formula below) or even higher for my next bake of this bread.
Formula 
| | | |
| --- | --- | --- |
| Total ingredients | Wt (g) | Bakers % |
| AP Flour | 479 | 89 |
| WW Flour | 33 | 6 |
| Medium rye Flour | 29 | 5 |
| Water | 412 | 76 |
| Salt | 10 | 1.8 |
| Liquid starter | 17 | 3 |
| Total | 990 | 180.8 |
9.2% of the flour is pre-fermented
| | | |
| --- | --- | --- |
| Liquid Levain ingredients | Wt (g) | Bakers % |
| AP Flour | 29 | 70 |
| WW Flour | 8 | 20 |
| Medium rye Flour | 4 | 10 |
| Water | 42 | 100 |
| Liquid starter | 17 | 40 |
| Total | 100 | 240 |
 1. Mix the levain by dissolving the liquid starter in the water, then add the flours and mix well.
2. Ferment at room temperature, covered tightly, until the surface is bubbly and wrinkled. (8-12 hours)
| | |
| --- | --- |
| Final dough ingredients | Wt (g) |
| AP Flour | 450 |
| WW Flour | 25 |
| Medium rye Flour | 25 |
| Water | 370 |
| Salt | 10 |
| Liquid levain | 100 |
| Total | 990 |
Method
Dissolve the levain in the water, add the flours and mix to a shaggy mass. Cover and autolyse for 30 minutes.

Add the salt and mix to incorporate.

Transfer to a clean, lightly oiled bowl and cover tightly.

Bulk ferment for 3-4 hours with stretch and folds in the bowl every 30 minutes for the first 2 hours, then a stretch and fold on the board after 2.5 hours. The dough should have expanded by about 50% and be full of small bubbles.

Refrigerate the dough for 18-24 hours.

Take the dough out of the refrigerator and transfer it to a lightly floured board.

For Pains Rustiques

Divide the dough into 6 equal pieces and pre-shape as logs or round.

Cover the pieces and allow them to rest for 60 minutes.

Stretch each piece to a rectangle 8-12 inches long, depending on the weight of each piece.

Proof for 45 minutes, covered.

Pre-heat the oven to 500ºF with a baking stone and steaming apparatus in place.

Transfer the loaves to your peel. Turn down the oven to 480ºF. Score the loaves, if desired, and load them onto your baking stone.

Bake with steam for 10 minutes, then remove your steaming apparatus and continue to bake for another 10-12 minutes.

Remove the loaves to a cooling rack, and cool for at least 30 minutes before serving.
For Bâtards
Divide the dough into two equal pieces.

Pre-shape as rounds, cover and let rest for 1 hour.

Shape as bâtards.

Proof on linen or parchment, smooth side down for 45 minutes.

Pre-heat oven to 500ºF with baking stone and steaming apparatus in place.

Turn down oven to 460ºF.

Transfer loaves to peel.

Steam oven and transfer loaves to th baking stone.

After 12 minutes, remove steaming apparatus.

(If you have a convection oven, turn switch to convection bake and turn the temperature down to 435ºF). Bake for 18 minutes more in a dry oven.

Transfer loaves to a cooling rack and let cool thoroughly before slicing.
Photo Gallery
San Joaquin Sourdough Pain Rustique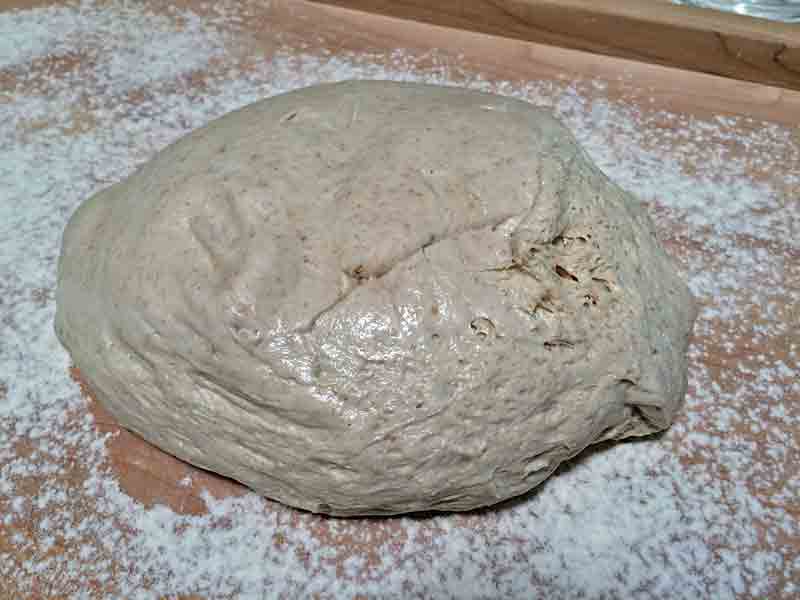 SJSD dough, fully fermented and ready to divide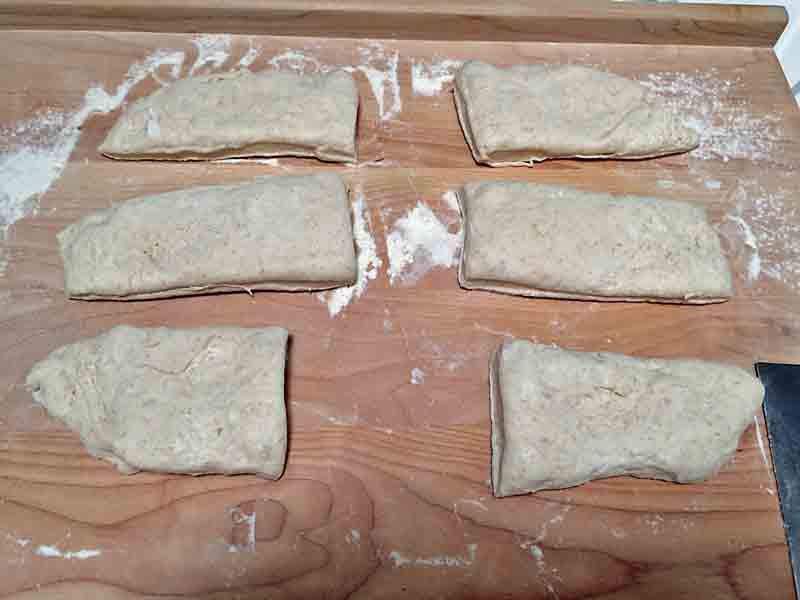 Dough divided for Pains Rustiques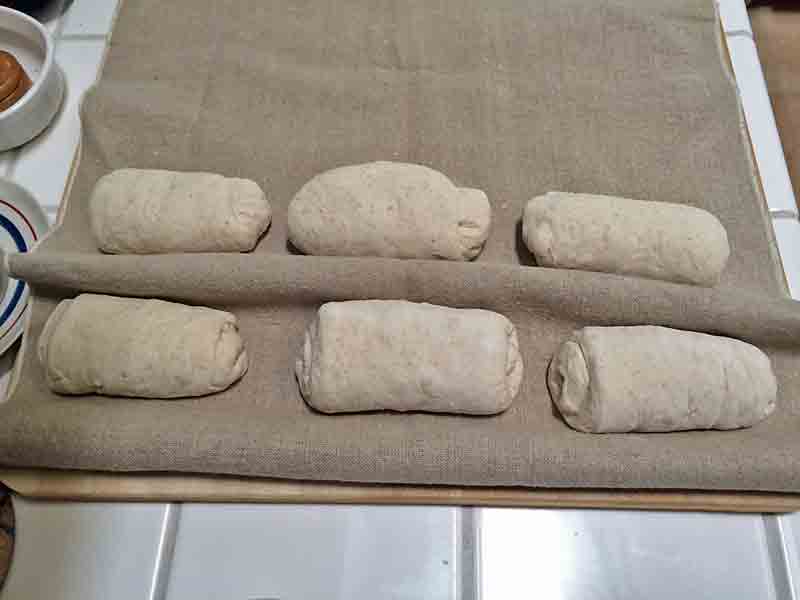 Pre-shaped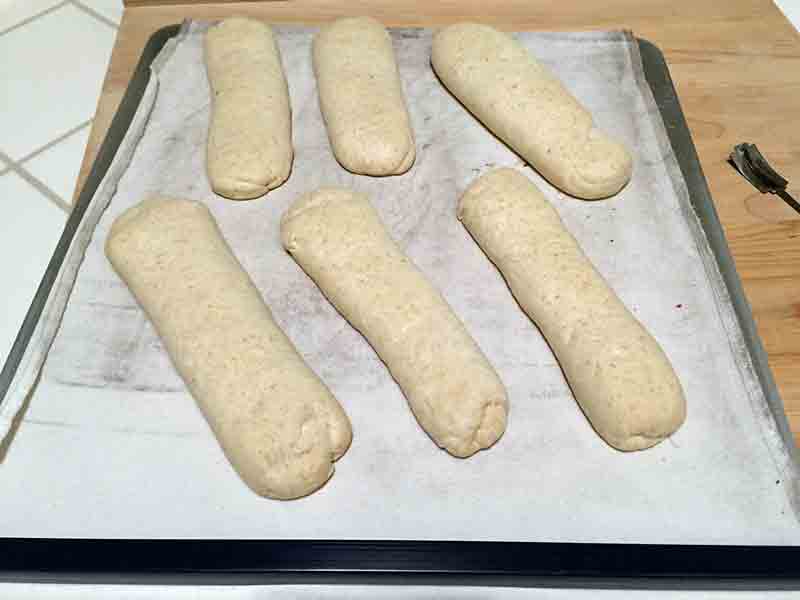 Shaped and proofed, ready to bake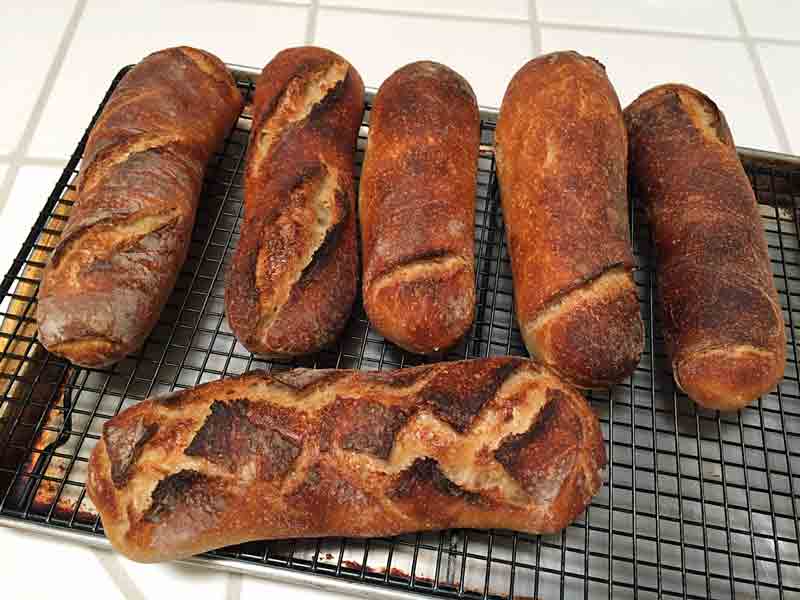 SJSD Pains Rustique - some unscored, others scored in various ways.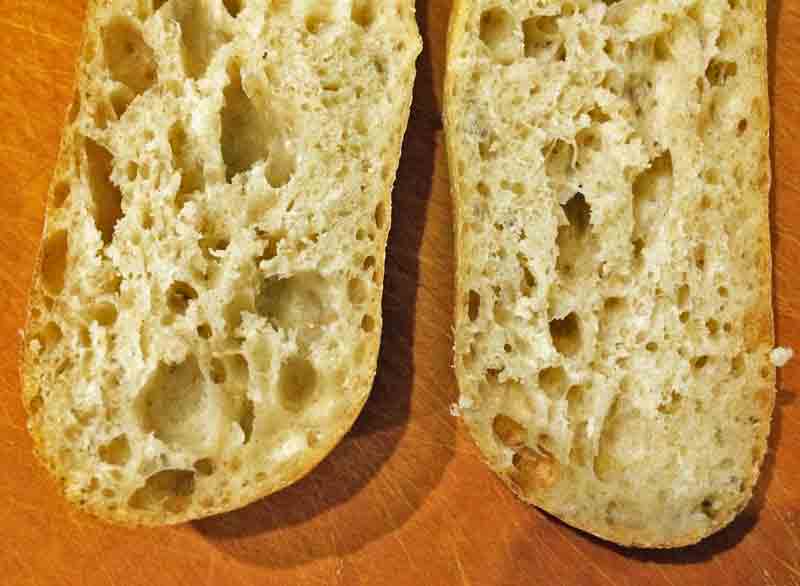 San Joaquin Sourdough Pain Rustique crumb
San Joaquin Sourdough Bâtards
Pre-shaped piece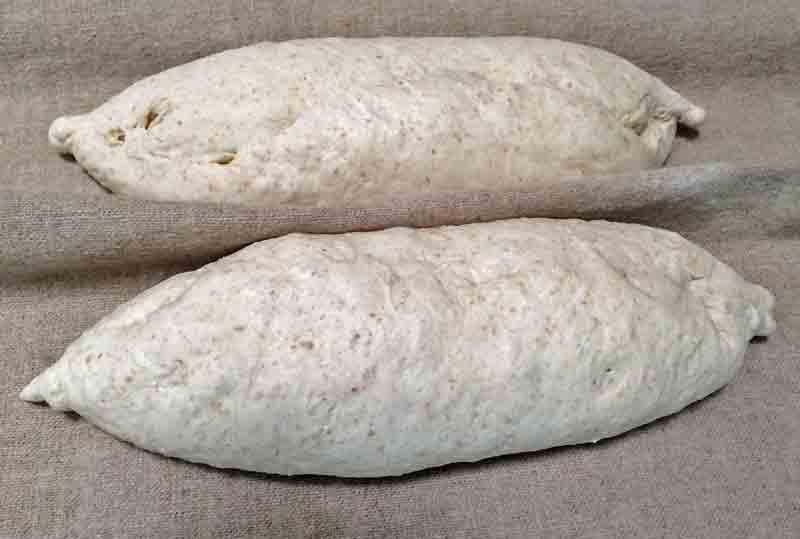 Shaped loaves proofing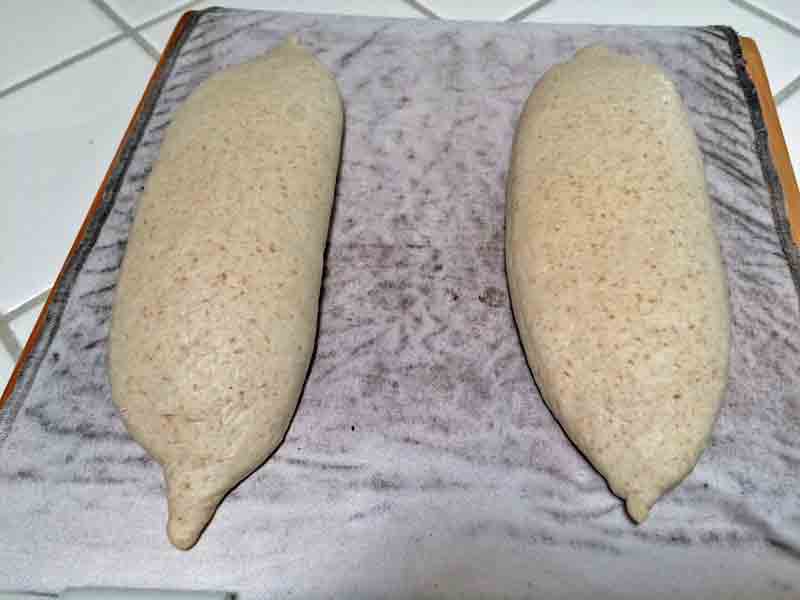 Loaves proofed and ready to bake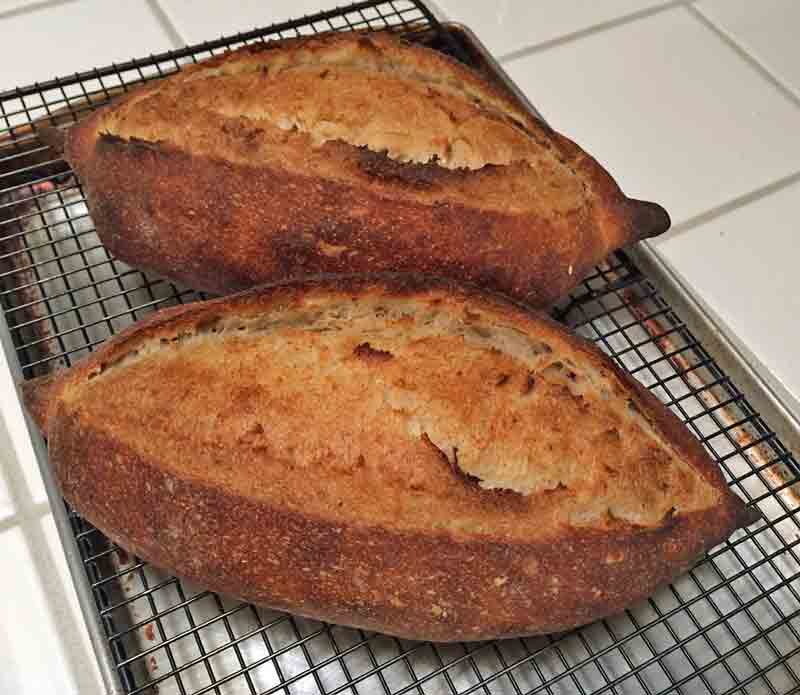 San Joaquin Sourdough Bâtards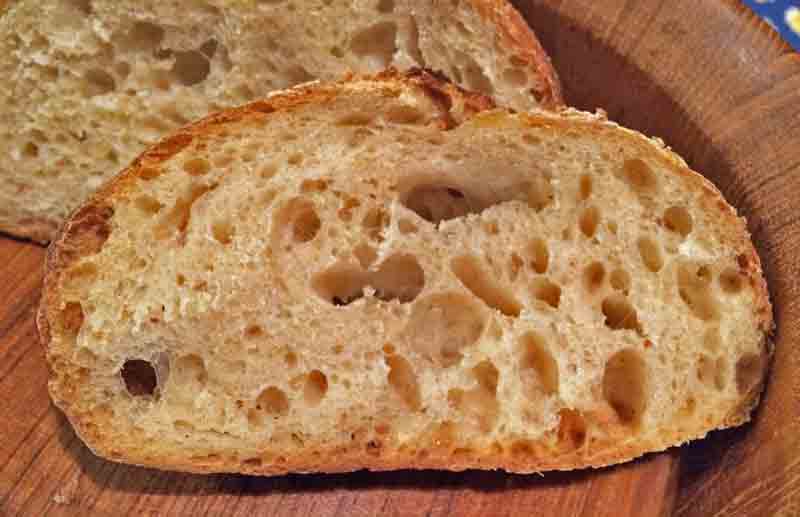 San Joaquin Sourdough Crumb
Enjoy!
David