December 6, 2007 - 8:49pm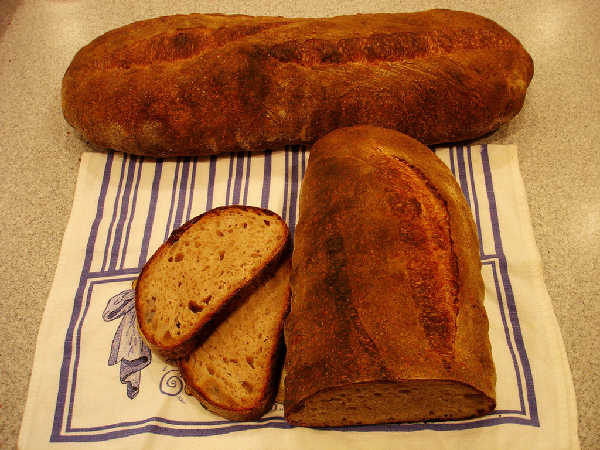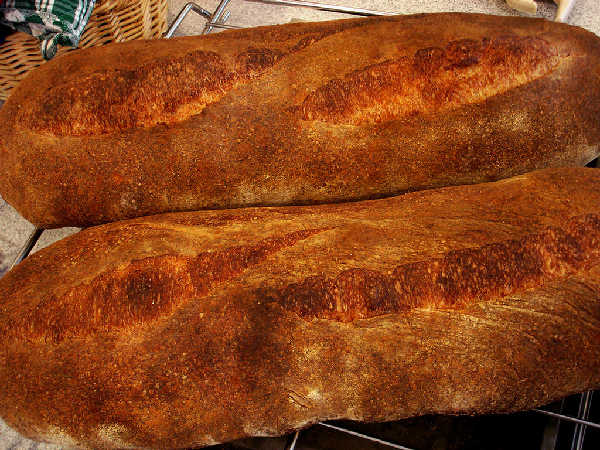 This recipe is a basic sourdough that I make frequently and use as an all purpose basic bread. It has more components of whole grain in it than a typical white country loaf, yet because of the high extraction flour, it has a more refined texture and less grassy flavor than a typical whole grain loaf. At least for me, it blends better with food than whole grain or close to whole grain loaves I would make for toast at breakfast, peanut butter or tahini, or sometimes as a vehicle for more strongly flavored salted meats and cheeses. I could use it as a substitute for a rustic French bread to have along with a roasted meat or an eggplant parmesan, for example.
Some additional photos [1] are posted, as well as spreadsheets of the recipe and rise time calculations in xls [2] and html [3] formats.
Levain:
40g white flour paste starter (I used 80% hydration white flour starter) You can use 50g of 100% hydration starter or 35g of 60% hydration firm starter and get about the same rise times.
90g whole rye flour (I used Homestead Grist Mills Whole Rye Flour)
180g strong whole wheat flour (I used Wheat MT Bronze Chief)
68g high extraction flour (I used Heartland Mills Golden Buffalo)
The levain is designed to ripen in 10 hours at 70F or about 7 hours at 76F. In my case, it was left to ripen on the counter overnight at about 70F for a total of 10 hours. The levain can be made ahead and refrigerated after it has just doubled. It will keep for a day or two stored in the refrigerator. Ideally, if it is refrigerated, it should be removed from the refrigerator an hour or two before you put it in the dough.
Soaker:
540g high extraction flour (I used Heartland Mills Golden Buffalo)
540g water
Mix the flour and water enough to form a shaggy mass. Let it rest overnight. I just left it on the kitchen counter next to the levain for the night. You can also mix it ahead and store it in the refrigerator along with the levain. Remove it an hour or two before you are ready to mix the dough.
High extraction flour is a less refined flour that has some or most of the bran removed but contains most or all of the remaining components of the whole grain. Heartland Mills Golden Buffalo has the germ and a small amount of bran in it.
Dough:
Levain from above
Soaker from above
18g barley malt syrup
34g salt
608g water
975g AP flour (I used Heartland Mills Organic AP with Malt)
Mixing
The dough was mixed with a DLX mixer for about 10 minutes on low/medium. The dough is medium soft to soft. It spreads a little bit when you first pour it on the counter and is a little sticky. The dough was folded [4] a few times after mixing, using a wet dough folding/kneading technique, in order to form it into a round ball. The dough was then placed in a covered container to rise.
Bulk Fermentation and Folding
The bulk fermentation phase was designed to last 3.7 hours at 75F. During that time the dough was conventionally folded [5] three times, about once per hour. As the gluten develops, the dough will become stiffer and will no longer spread out when turned out onto the counter. Fold more often if the dough is too slack or fold less often if it seems too stiff and resistant to folding.
The dough should expand to about 1.7 times the original volume and become puffy during the bulk fermentation. The dough is not intended to double in volume during the bulk fermentation.
At 70F the bulk fermentation should take about 5 hours, somewhat longer than at 75F.
Shaping
The dough was halved and two large rectangular loaves were formed. The two loaves were placed in a couche on a half tray and placed in a Ziploc "Big Bag" with two bowls of hot water. The loaves were proofed for 2.6 hours at 75F. At 70F the loaves should proof for about 3.5 hours.
Slash and Bake
The loaves were slashed, put on parchment paper on a large peel and placed in a brick oven. The oven hearth temperature was about 525F at the beginning of the bake. The loaves and interior of the oven were sprayed with a fine mist using an orchid sprayer (1/6 gal/minute for 25 seconds), and the oven was sealed with a towel covered door. After 15 minutes, the loaves were rotated and the door of the oven was left open. The loaves were baked for a total of 45 minutes until dark brown. Since the dough is fairly wet, it helps to give the loaves a thorough bake. The internal temperature was 209F, but I've found that internal temperature can be an unreliable indicator of doneness with higher hydration loaves.
In my kitchen oven, I would preheat the oven to 500F with a stone and cast iron skillet. After placing the loaves on the stone, put water in the skillet and drop the temperature to 450F. After 15 minutes, drop the temperature to 400F for the rest of the bake.
The loaves are fairly large, as my brick oven has room for them. In a kitchen oven the loaves could be done one at a time, possibly shaped a little wider and shorter. To do a more typical quantity of bread for a kitchen oven, halve the recipe and make two smaller loaves that can be baked at the same time.
Cool
Allow the loaves to completely cool on a rack that allows the entire loaf, top and bottom, to be exposed to air.
Results
This bread is named Workhorse Sourdough because it can be used for almost any job. It will work in place of a white country bread for dinner, for sandwiches, for toast, or even for dipping in olive oil. The sourdough flavor of the levain with the rye and whole wheat is a little stronger than breads I've made with a white flour or spelt levain. One could put all the whole grains and Golden Buffalo flour in the soaker, and make the levain from a portion of the white flour. Water would have to be moved from the dough to the larger soaker in that case.