December 4, 2005 - 7:52pm
Since we had another half a pot of soup leftover for dinner, I tried the autolyse approach again today (see yesterday's post [1]). Much better results this time.
My dough was real basic again:


13 ounces bread flour
9 to 10 ounces water
2 teaspoons salt
1 heaping teaspoon active dry yeast (activated in 1 ounce of the water for 5 minutes).

I changed my technique a bit. I mixed the bread flour (all I had in the house) and 9 ounces of the water together in a bowl until the flour was all moist. I covered the bowl, let it sit for 20 minutes, then activated the yeast in another ounce or so of water. I then pulled the dough out onto a well-floured cutting board, poured the yeast/water mixture on top, sprinkled on the flour, and worked the water/yeast/salt in by hand just until mixed in. It was a mess, but it seems to have done the trick: I got a real nice, slow rise, good gluten development, and minimal oxygenation (which causes the crumb to appear yellow).
I did the same folding and baking routine as yesterday, I just didn't try shaping it into rounds.
I kept it pretty slack, so I dealt with it like a Ciabatta.
Rising: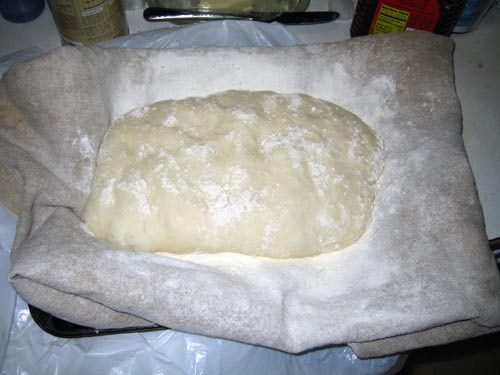 Baked: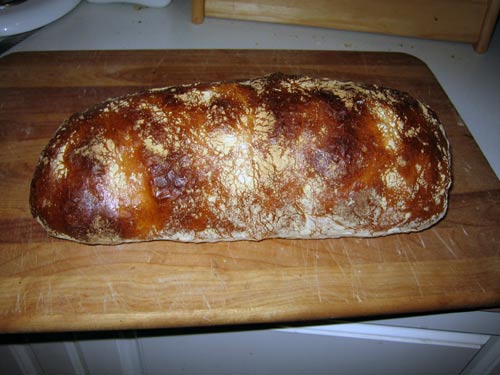 Inside: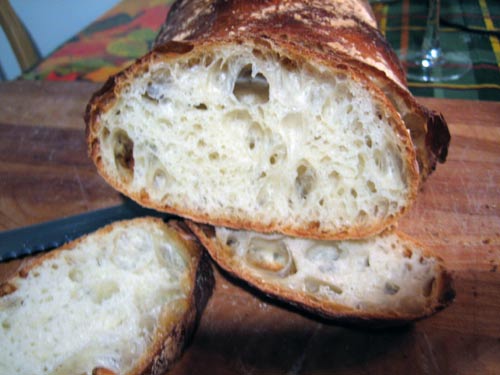 We gorged on it. It was wonderful. :)