October 31, 2007 - 8:52pm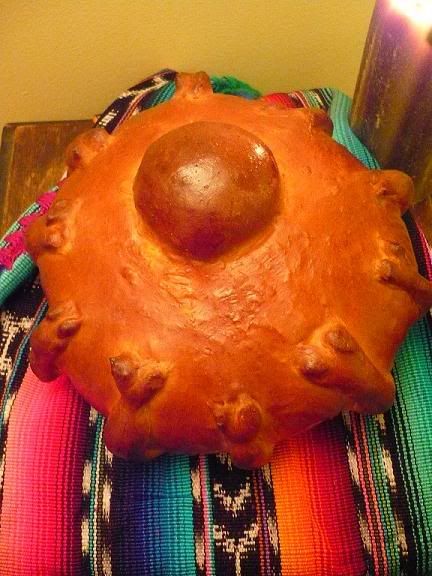 Pan de Los Muertos, translated to Bread of the Dead, is a butter-and-egg-rich sweet yeast bread, traditionally baked in Mexico for Las Dias de Los Muertos, November 1st and 2nd. The living honor the dead at home, in the streets, and at the cemeteries.
This bread is placed at an altar in the home, then carried to the cemetery to 'share' with passed loved ones.
Online research came up with many very similar recipes. Here is mine:
Sponge
125g ap flour

25g sugar

100g water, brought to a boil with 1 tablespoon anise seed, steeped for 10 minutes and strained

2 tsp active dry yeast

 

Mix well, let rise til ripe, 1 1/2-2 hours.
Dough
325g ap flour

56g butter, softened

35g sugar

1 egg + 2 yolks

1 tbsp orange flower water and/or zest from 1 large orange

1/2 tsp salt

sponge

 

Mix, knead 10 minutes, let rise 1 1/2-2 hours til nearly doubled.

Reserve enough dough for skull and bones.

Shape into a round disk about an inch thick. Form small ball and several 'bones' to decorate. Brush with egg white mixed with 1 tsp water, or glaze after baking with an orange juice/sugar glaze, or brush with melted butter after baking and sprinkle with cinnamon sugar.

Let rise 1 hour, til well-puffed but not yet doubled.

Bake on a sheet at 375* for 25-30 minutes.
1 LARGE loaf