November 3, 2015 - 8:57am
Ilocos Empanada ~ Gluten Free, Wheat Free, Dairy Free
This is the style of empanada in the Ilocos region of northern Philippines. Living in a former Spanish colony; I've seen and tasted empanadas here close to the ones in Latin America, those with flaky crust filled with minced meat and potatoes and either baked or fried, just tweaked to the local palate but the people of Ilocos adapted the empanada like no other. The dough is made with rice flour filled with green unripe papaya, mung bean sprouts, longganisa (local garlic sausage), and a fresh egg then deep fried which makes it closer to a taco or spring roll. Fillings can be customized and can be vegan or a meat lovers delight; vendors are very creative with the names of the various combinations of the fillings like regular, special, seedless, jumbo, double double; refer to this blog [1] for more information, it also tackles the difference between the two styles of Ilocos empanada namely Batac and Vigan style empanadas; more here [2].

I've never been to Ilocos and from the first time I saw it, it really got my interest and I really want to taste it. Luckily a friend recently had a trip and brought me some. It wasn't freshly fried but oh my! It was really awesome, what more if I had it fresh in Ilocos! I know it will still be a long long time from now before I can go there so to taste it again, I made my own! My Ilocos empanada is closer to the Batac style.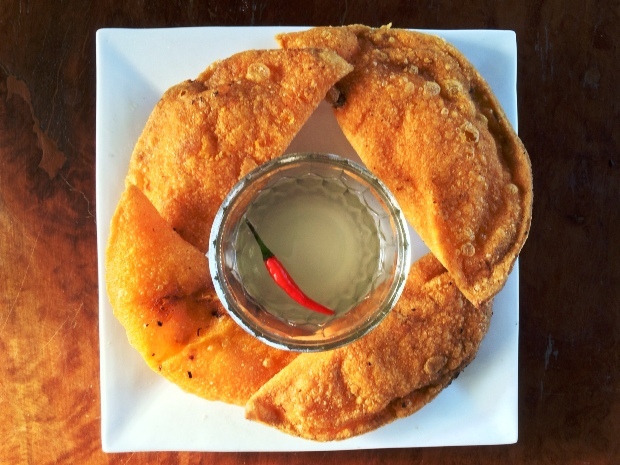 Finding a recipe for this is even more difficult than my previous posts. Most that I read used mochiko but I never heard of a glutinous rice making its way to an Ilocos empanada; it's the ONLY fact that I know, it is made with ordinary non-glutinous rice. Without finding a clue I just designed my own process, this is just my adaptation and does not necessarily mean it is the way they make it in Ilocos.  The dough has only two main ingredients, rice flour and water. You can also add annatto for color which is what I did here, I will certainly add more next time for a lovelier colour. Rice flour behaves very differently from wheat flour and being gluten free is very tricky to roll out thinly without tearing. It is only possible to roll them between sheets of wax paper which I don't have so I rolled them between banana leaves which is also traditionally used in Ilocos. They make it really look effortless making you think it will be the same at home but it's not! For my first attempt I ended up with fillings and torn dough pieces swimming in a pan full of boiling hot oil! It was a disaster! It's quite an ambitious project after all! This post is already my second attempt and I was quite surprised because I managed to slip them in the oil whole without cracks! Another proud moment for me! Still not as pretty but tastes the same. 

When you watch real empanada making, you'll be really amazed with their speed, coordination and efficiency. Watch here [3], here [4], here [5], here [6] and here [7].

*When I cut my banana leaf from the tree, I noticed a banana heart! Looks like we'll have a bunch of bananas in a week!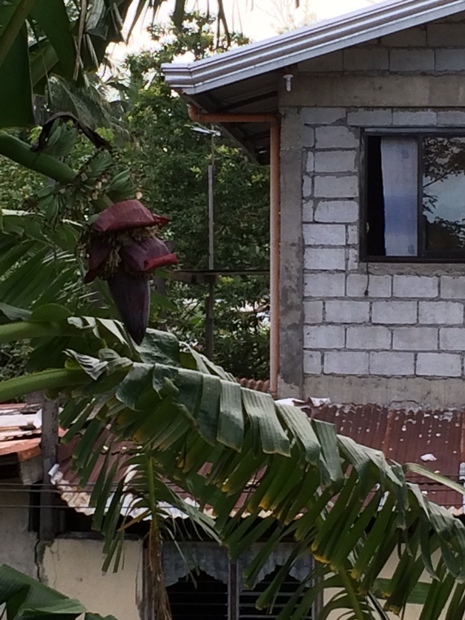 Also, the cold northeastern winds are blowing now so it means purple yams! Unlike other yams, our yam does not grow underground instead they grow on hanging vines. This is the first yam of the year.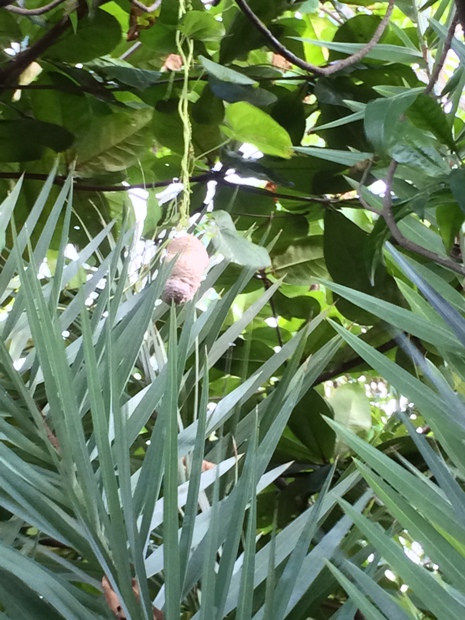 Back to the empanadas, this is the process that I did for what is called special empanada in Ilocos: (It's difficult to take pictures with oily hands! :P)

1) I rolled the rice dough between banana leaves. I just used a glass bottle because I don't have a proper rolling pin. A crater is then made with the green papaya to contain the egg.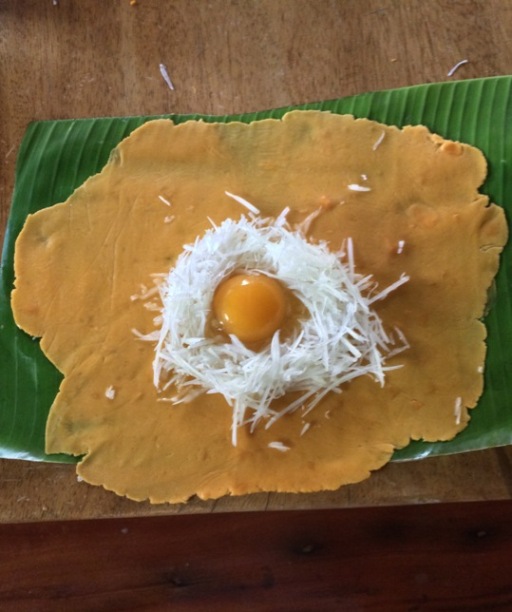 2) Crumble sausage meat is added on top.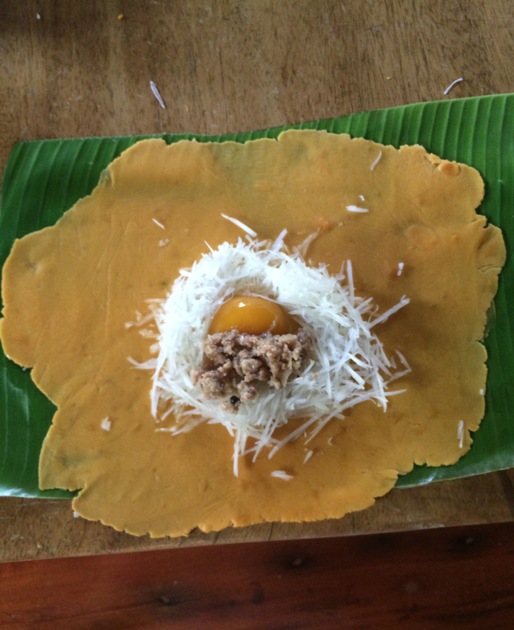 3) It is folded with the aid of the banana leaf.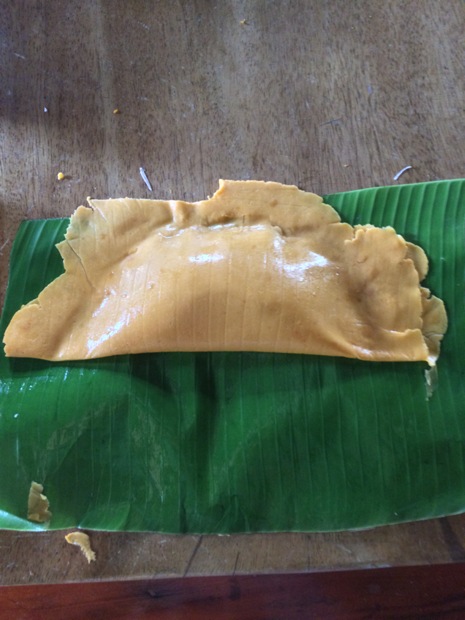 4) The excess dough is trimmed with a plate to form a neat empanada shape.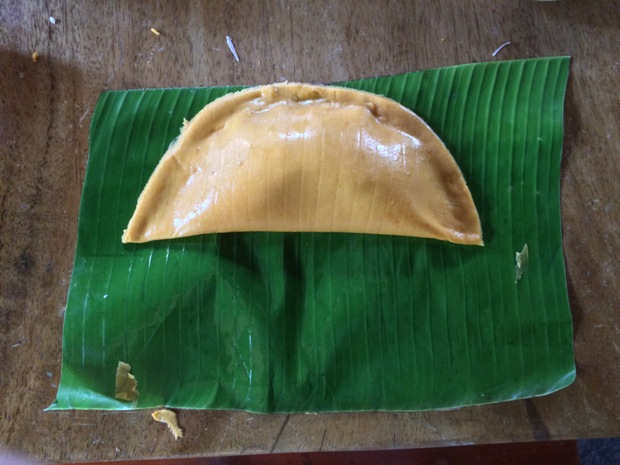 5)It is flipped onto the hand and then slipped into the hot oil.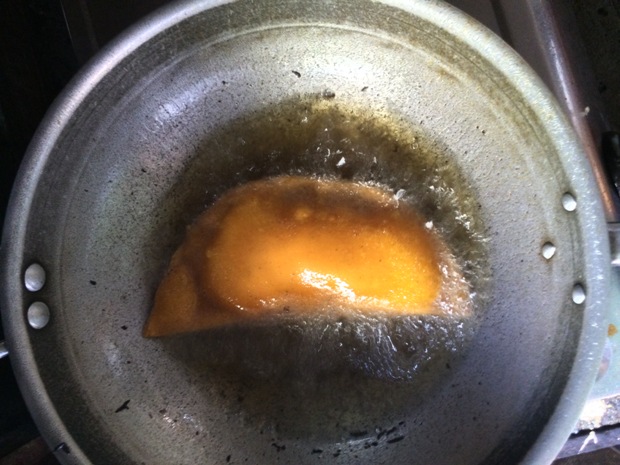 Maybe the oil was too hot that's why it had a lot of blisters, still pretty for me!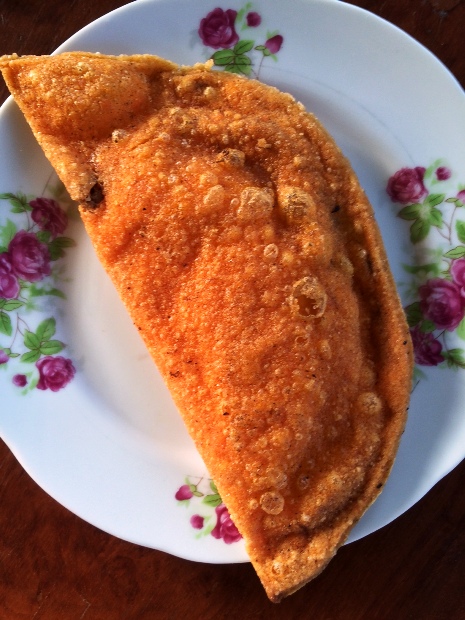 The crust was crispy and flavorful that you can even eat it alone, the papaya provided crunch, then there's the meaty flavor punch from the sausage and the creaminess of the egg; very delicious! It's really one of the best empanadas! It's even great with rice as a viand. Next time, I will even try to make the egg runny! It is best paired with vinegar with chilies optional but highly recommended! Ilocanos swear by cane vinegar but I and the whole family prefer palm vinegar. If you will be in Ilocos someday, definitely do not miss this along with their other delicacies!
.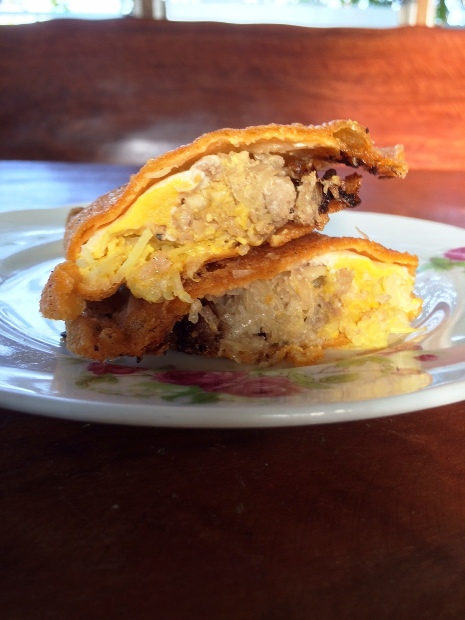 After enjoying the empanada, we had a nice sunset that day too!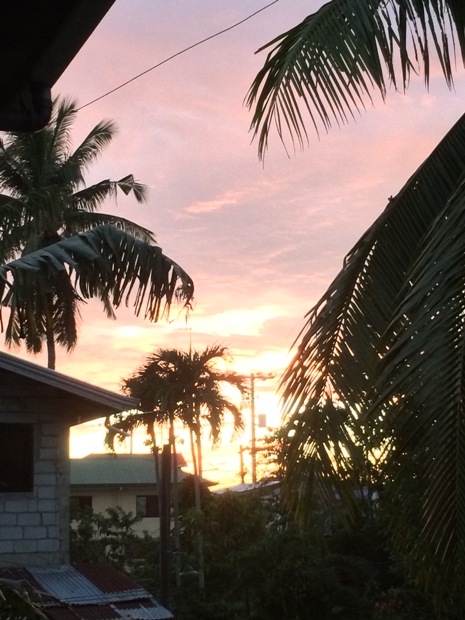 Thank you very much!