Lucy's Favorite Methods To Make Healthy and Beautiful Bread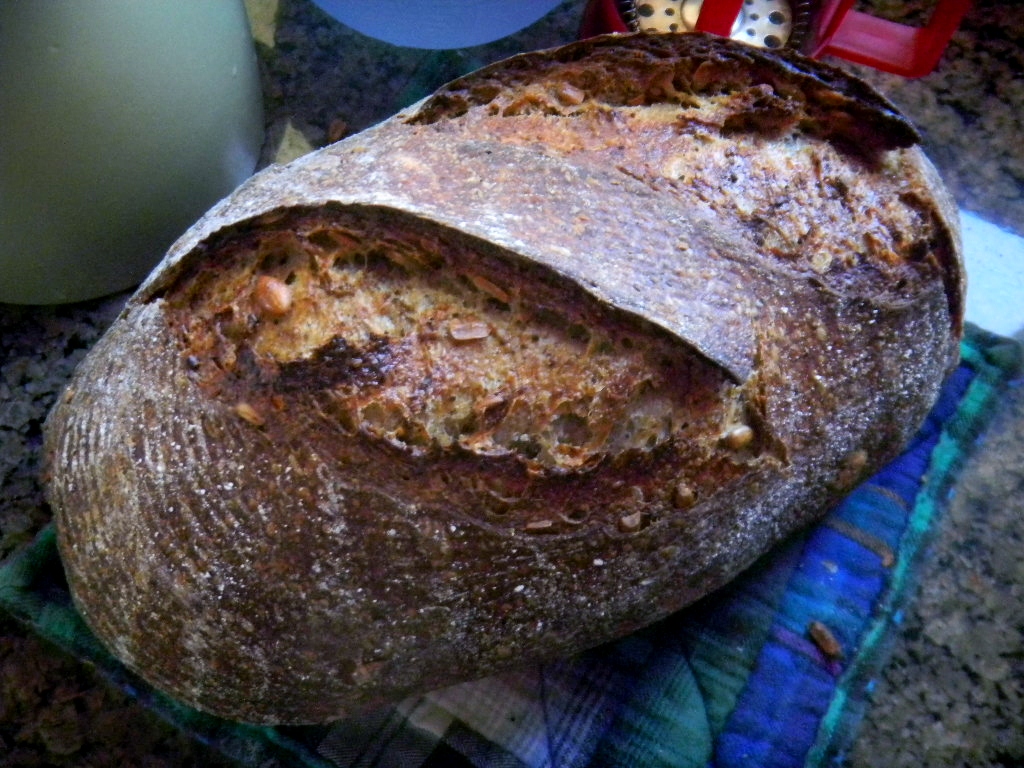 This is something that Lucy has been researching and trying to get right for at least a couple of years and she thinks she is close enough to getting a method finalized to post about it.  First off, I am a type 2 Diabetic which makes her quest a little more difficult but the results would be better for everyone - diabetic or not.
 People who have gluten protein sensitivity might also be able to digest this bread better.  Those who have a problem digesting the starches in whole grain breads should also benefit by having more starches pre-digested in the fermentation process.
 Minerals, vitamins and nutrients cannot be released in whole grain yeast bread because of the binding effects of phytic acid in bran.   We want to neutralize it so these nutrients can be utilized by our bodies.
 More than half the nutritional value in grain is stored in the bran and endosperm.  If it is sifted out to make white flour or isn't treated properly, this extra nutritional value to us is lost.  We want to use all the grain to add nutritional value and not be wasteful.  We want to increase the protein, fiber, vitamins and minerals in the finished bread without any additives at all.
 That is a pretty tall order but the science behind how to do it has now caught up, over the last 100 years, with the bakers who have been doing it for thousands of years without really knowing exactly why what they did had such health benefits.
 On top pf all that, we want the bread to keep well, spring, bloom and brown neautifully, have a soft moist crumb, taste better and not be bitter even if it contains a high percent of whole grain - without adding a sweetener.
Now this bread making task is really starting to get difficult and take longer - but it's not impossible - Lucy and I do it every week.....and if we can do it ….. then anyone else can too.
 Some keys to maximizing the health benefits while producing a great looking and tasting loaf of bread are:
Use fresh milled whole grains -sprout,mill and dry then first if possible - make whole and sprouted grans 30-50% of the flour or more
 Get some whole rye in every bread recipe - even if only in the starter.  There is no grain like rye when it comes to health benefits.
Autolyse the flour including the flour in the levain build.  The enzymes will make for plenty of food for the wee beasties and the left over sugars make for sweeter and browner bread. Nothing like the pre digestion of starch for our stomachs too.
Make sourdough bread and use less pre-fermented flour to do it - 10% or so. Dump the commercial yeast entirely.  It just works too fast and you lose the health befits only sourdough can provide with LAB and yeast fermentation working together.  Plus the bread will keep much longer too.
Sift your milled whole grain and use the sifted out 15-20% hard bits to feed the levain.  Then retard the finished levain for 24-48 hours.  There is sill 20% starch in the bran that the autolyse enzymes will break down providing plenty of food for the sourdough wee beasties.  The wee beasties will love it and your bloom, spring, crumb and taste bubs will thank you for making the bran as soft as possible.  Plus the phytic acid will be neutralized. This will release half the health goodies that were previously locked up plus the bran will be pre-digested making life easier on your stomach.
Use long cold retards for the starter, levain and dough.  Long, low and slow means extra flavor.  Lucy's No Muss No Fuss Starter

[1]

 can be stored for up to 20 weeks in the fridge with no maintenance hassles.  Create recipes that have low pre-fermented flour amounts so that you can do a bulk or even shaped final proof of 18 - 48 hours.
Use a higher overall hydration for the dough.  The crumb will be more open, soft and moist than low hydration bread plus the wee beasties love a higher hydration.  Too much liquid will make for Frisbee's Flat Bread.
Do the counter work for building levains, gluten development and countertop bulk ferment at higher temperatures. A mix of high and low temperature brings out all the flavor your SD bread can provide.  Think Detmolder http://germanfood.about.com/od/germanfoodglossary/a/Detmolder-Three-Phase-Sourdough-Method.htm

[2]

Try a double levain - one white and one dark each made with high and low temperatures with high and low hydration to squeeze out more flavor.
Try a different liquid for the dough like potato water or yogurt whey to enhance the flavor and fortify the nutritional benefits of the bread. Put some healthy add ins into the dough like seeds n nuts and re-hydrated dried fruits to increase it's nutritional value and flavor too.
Here is a recent bread that utilizes most of Lucy's methods above.  Double Levain Sprouted 4 Grain Sourdough with Seeds [3] and here are many, many sites for further reading about the health benefits of making sourdough bread
Happy sourdough baking Lucy's way.
https://en.wikipedia.org/wiki/Bran [4]
https://en.wikipedia.org/wiki/Phytic_acid [5]
http://realfoodforager.com/5-reasons-to-make-sourdough-your-only-bread/ [6]
http://www.naturaltherapypages.com.au/article/Benefits_Sprouted_Grains [7]
http://health.usnews.com/health-news/blogs/eat-run/2012/11/27/what-are-sprouted-grains [8]