Okay, why the twine? First, as you can see from the bread selfie below, it helps you carry a whopping 1.7kg miche. Handy for the Roman shopper/house slave. Then there's the division of the loaf into wedges. They're deep cuts but, if you tie the cord around the loaf first, the miche keeps the shape it would lose if it was sliced without the cord.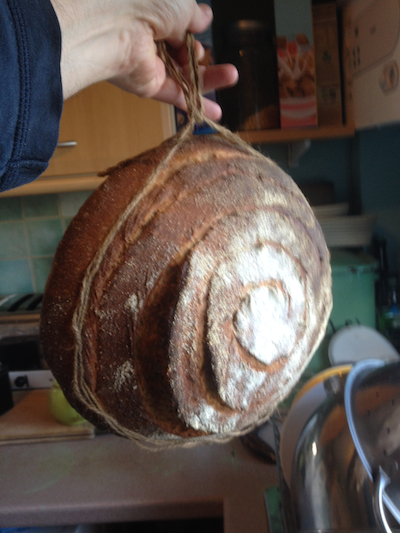 I baked my first Pompeii miche using a cord made from garden twine. It worked well but left hairs embedded in the crust. Not so good. I tracked down some 20lb hemp cord which comes lightly waxed with corn and potato starch. To make a cord thick enough for the miche, I cut three lengths, wove the strands together, repeated the process twice more, then braided the three-ply cords into one strong 9-ply cord. Problem solved.
Why the wedges? No seems sure, but the simplest explantion is that the loaves could be sold or served by the slice, just as some miches are sold in France today. I'll have a go at my next farmers' market.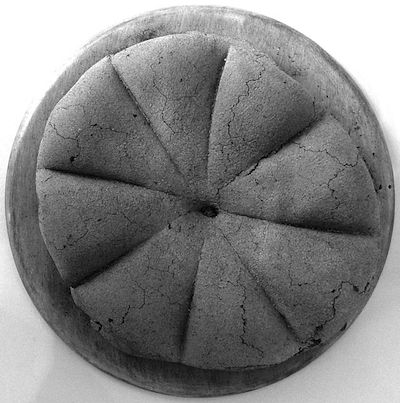 (Beatrice, Creative Commons)
And the bread stamp? Roman bakers didn't just sell their own bread (like the unstamped Pompeii loaf above). For a fee you could have your own loaves baked in their ovens (a communal tradition that only recently died out in France but survives in Morocco - read Bill Alexander's superb 52 Loaves [9] for more) hence the need to identify which loaf was your own.
Bread stamps have been much discussed on TFL [10]. I've yet to decide how to make mine, but I will.
______________________________________________
A bit more about baking in Pompeii at the time of the eruption:
More than thirty bakeries have been excavated in Pompeii and Herculaneum. Almost two-thirds were large enough to have their own donkey or slave-powered flour mills. They also had communal ovens to which you could bring your dough (bread-stamped, of course) to be baked overnight.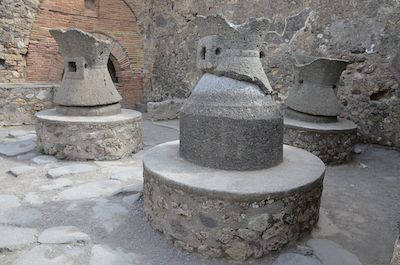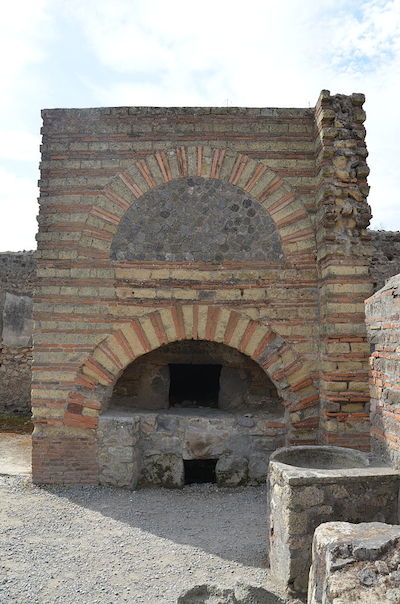 (Carole Raddato, Creative Commons)
Ironically, basalt rock from old lava flows was used to make both the millstones and the floors of the wood-fired ovens.
Despite the devastation of the eruption, quite a few loaves have been found. Eighty charred loaves alone were recovered from the ovens of one baker, Modestus. Their (ultra) dry weight is 580g on average, all were divided into six or eight wedges, and each has a diameter of about 20-25cm. Luckily, about the size of a 1.5kg banneton.
And here's a portrait of another baker, Terentius Neo, and his wife. It's a fresco from inside their house in Pompeii. He holds a scroll, showing he was literate. She holds a wax tablet, showing she was numerate too.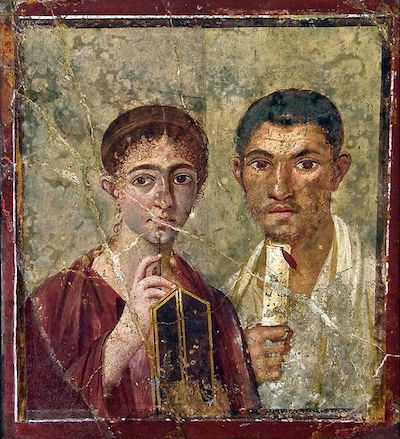 (Public domain)
They look like a pleasant couple, but then, of course, they're bakers. :)