December 19, 2014 - 4:00pm
50 Percent Whole Grain 25 Percent Sprouted Porter SD
After last week's Cosmic Calamity, Lucy has settled back down to her normal self but had to have a beer to celebrate her notoriety as the center of the universe even if only for one day.  She has an affinity for darker beers and decided that Deschutes Black Butte Porter was perfect, not only for celebrating but for bread making too.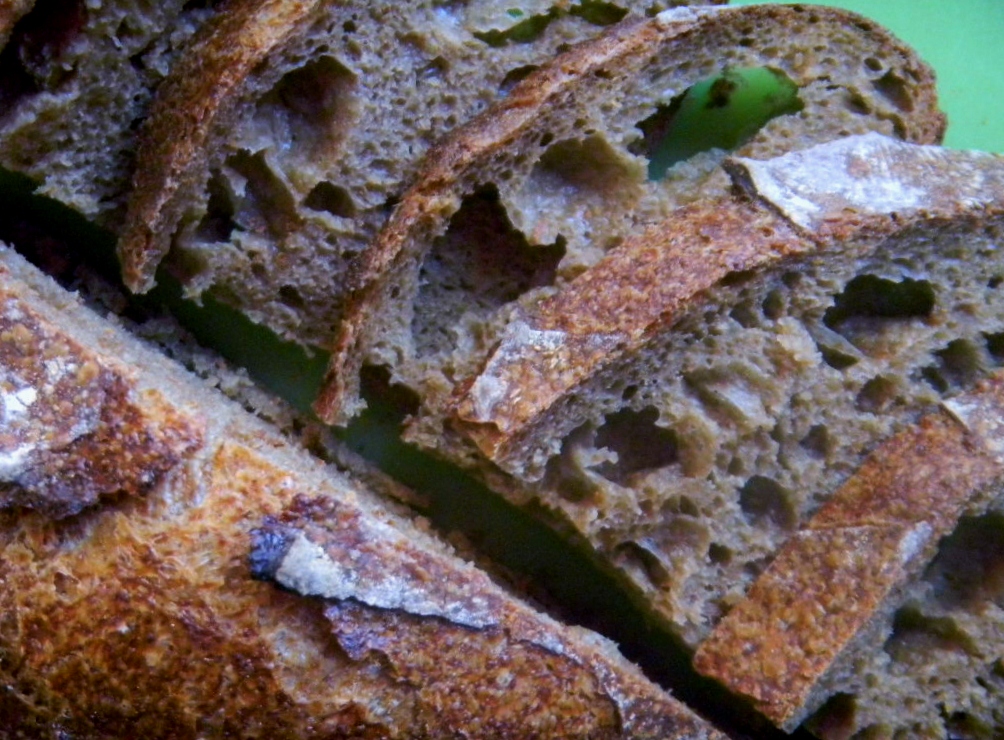 Continuing our recent experiments with various sprouted grains, Lucy decided to use this porter for the entire dough liquid and not levain me even a drop for tasting to make sure it wasn't poisonous.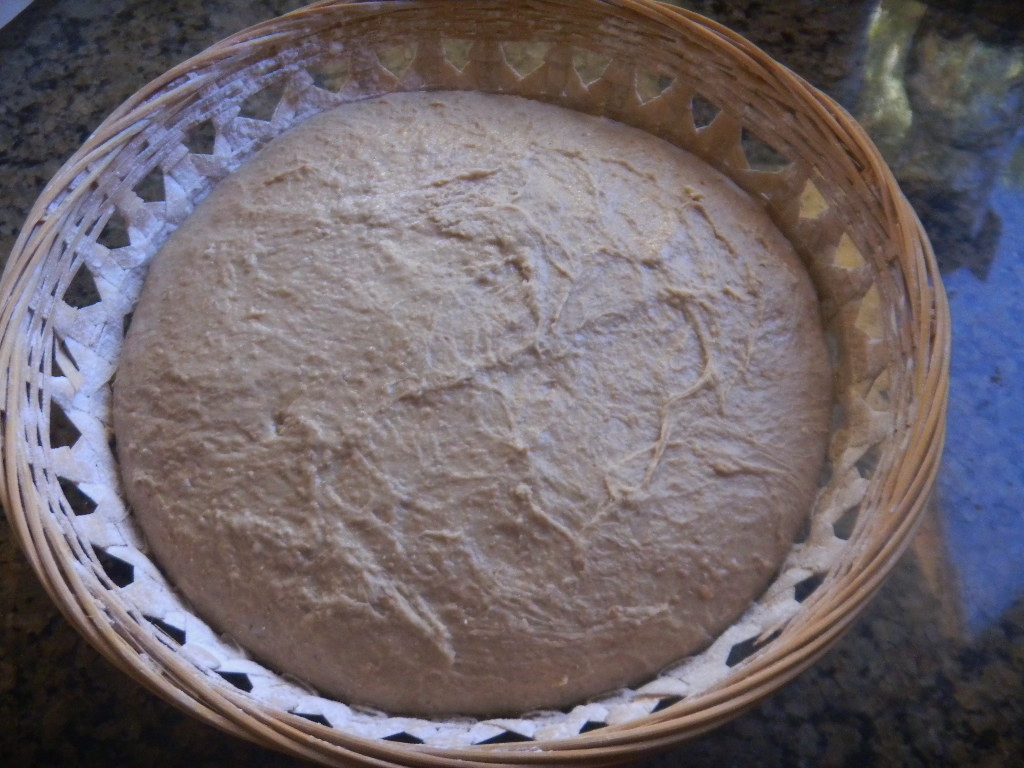 Beer doesn't seem to affect our normal SD breads from a fermenting and proof point of view and usually you can't taste it too much either but this black porter did darken the color of the dough a bit.  We didn't know how the sprouted flour would react to the beer but Lucy figured if it didn't like beer we just wouldn't sprout and grind grain anymore.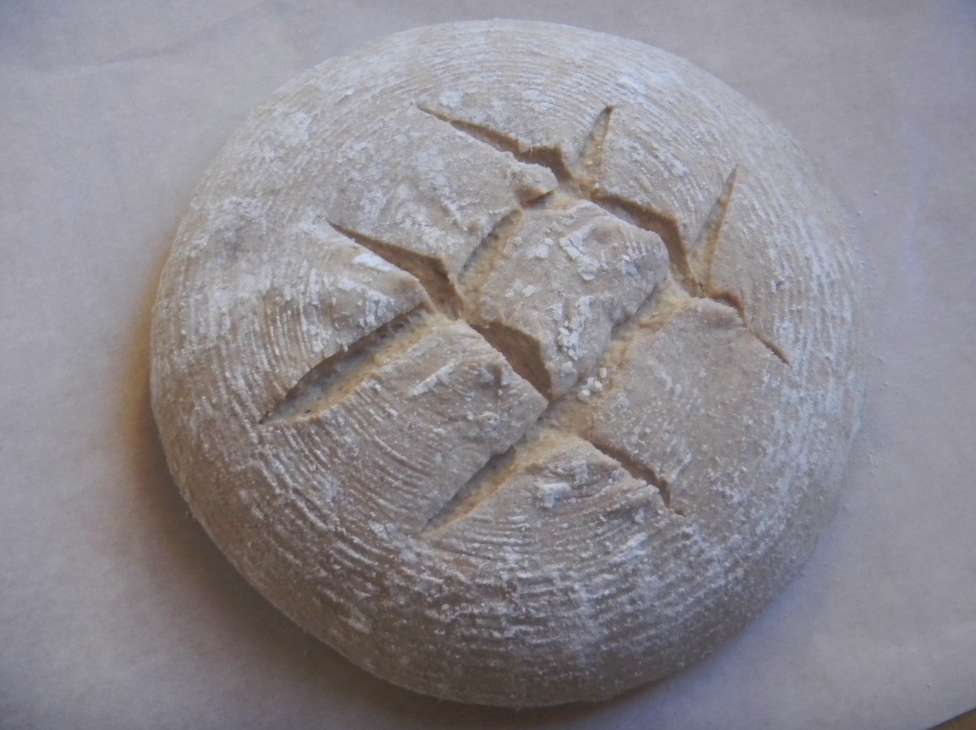 This recipe is similar to our recent ones with 50% whole grains and half of it sprouted.  The 50% of white flour was half KA bread flour and half LaFama AP this time and the whole and sprouted grains were a equal mix of wheat, emmer (farro), rye and spelt dropping the einkorn and Kamut this week.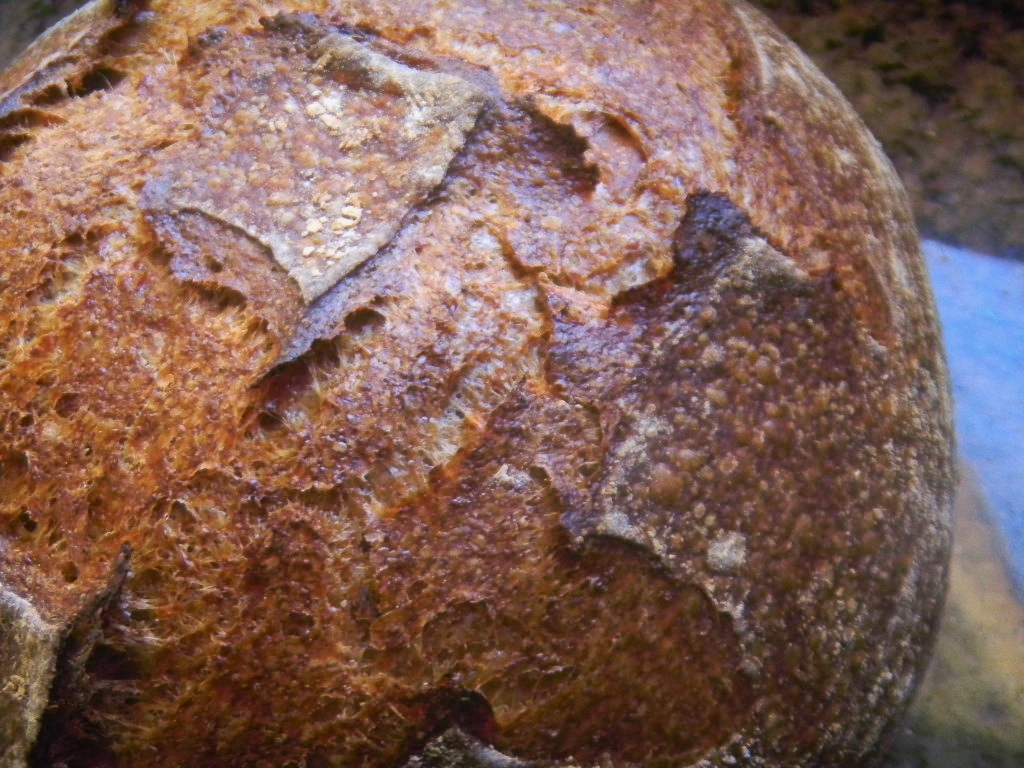 We did our usual 3 stage, 4 hour each levain build using 8 g of the 4 week retarded rye starter for the seed.  The levain build was done on the heating goad and after it has doubled after the 3rd stage we retarded it in the fridge for 24 hours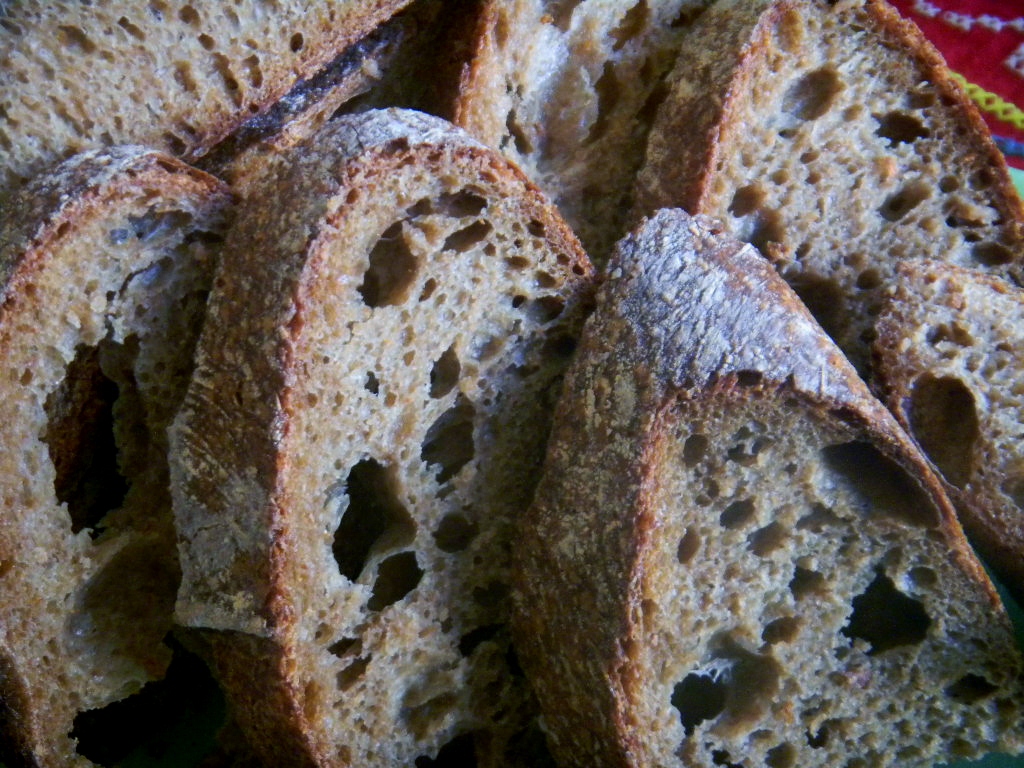 The levain was fed the sifted hard bit 17% extraction of the whole and sprouted milled grains in the first to get them  wet for as long as possible.  The wee beasties really seem to like these hard bits and all the minerals and other goodies they contain.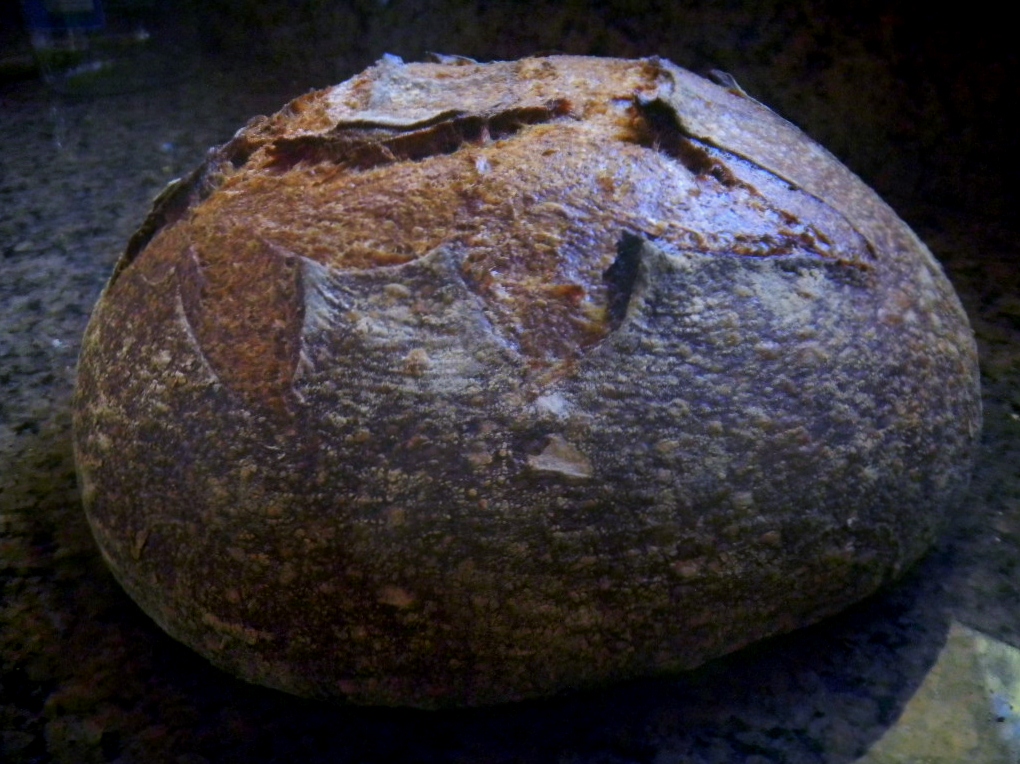 The levain ended up being 12.77% of the total flour weight since it is winter time instead of the 9% we would use for a sprouted grain bread in the summer that was going to be retarded for 12 hours. 
We autolysed the dough flour and porter, with the salt sprinkled on top,  for an hour while the levain warmed up on the heating pad after its 24 hour retard.  Once the autolyse and levain came together the dough was once again very sloppy but not as bad as last time since we did cut the hydration 3 points to 85% this time.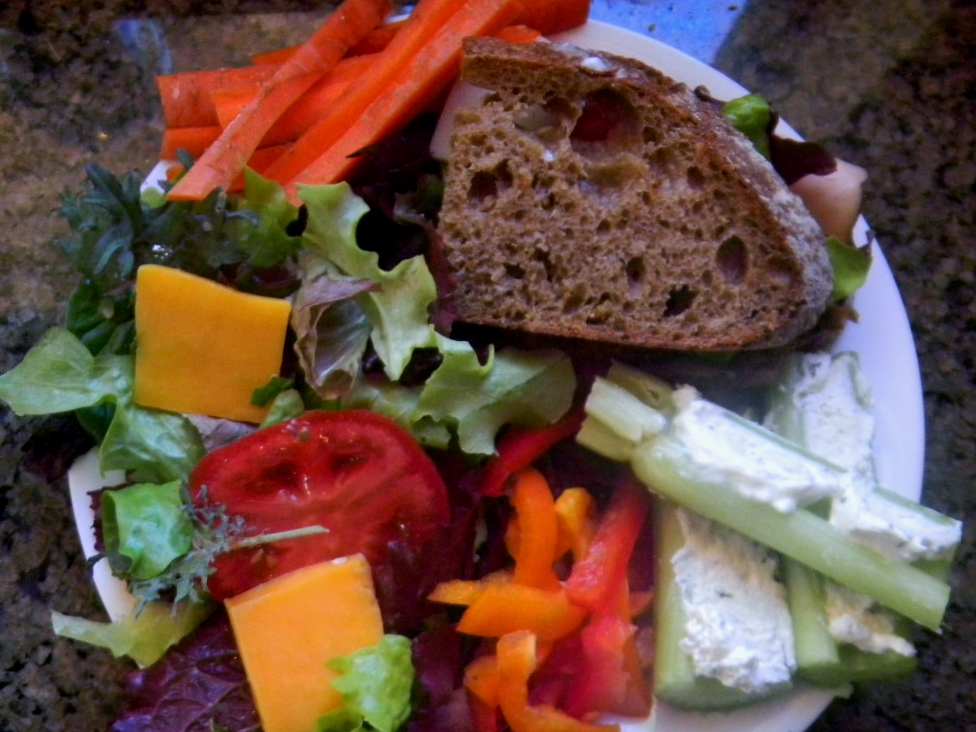 The dough did stop sticking to the granite at the 8 minute mark and end of the first set of slap and folds.  This was followed by 2 more sets of 1 minute each and 3 set of stretch and folds from the compass points.  All the gluten development sessions were followed by 15 minutes rests instead of our usual 20 minute ones.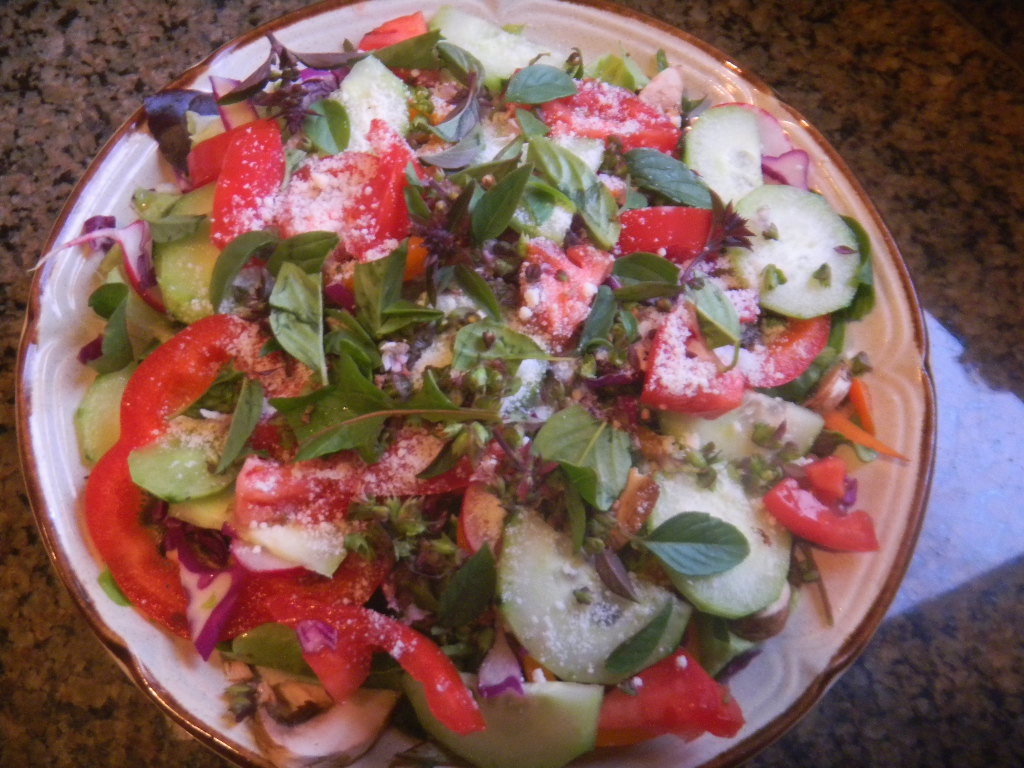 The dough was still a bit sticky when we went to shape it and put it in the basket so I put a touch of rice flour on the boule top before upending it on the basket seam side up.  We hoped this would stop it from sticking like the last one did.  This boule was going into a well seasoned basket too, unlike the last one.  Still 82.5% hydration would have been better especially if you aren't used to and comfortable with really sloppy dough.
We bagged the boule in a new trash can liner and put it in the fridge for its 12 hour chill.  When we took it out of the fridge the next day, it looked like we could let it warm up on the counter for an hour, before firing up Big Old Betsy to a 500 F preheat, which would give it a 1 hour and 45 minute counter warm up total.  
The dough was upended out of the basket onto parchment and peel, sticking a bit but no worries, slashed and loaded onto the bottom stone and covered with the hot bottom of a heavy aluminum pot for steaming.  5 minutes later we turned the oven down to 450 F  After 18 minutes the lid came off and we continued to bake for another 10 minutes at 425 F - convection this time.
After deflating a bit when slashed and spreading just a bit like high hydration dough wants to do, the bread made a comeback with some decent spring, bloom and blisters under steam.  Once the led came off, the crust browned nicely to that deep mahogany color we love so much.
It was baked to 207 F  and left on the stone, oven off and door ajar for 5 minutes to really crisp the skin.  We usually don't get that color with sprouted grains so maybe it was the porter? For some reason, sprouted grains don't usually put mahogany on crust!
The crust was crisp when it came out of the oven but softened as it cooled   The crumb was darker in color due to the porter but as soft, moist, glossy and open as the other similar 50% whole grain with half sprouted breads of late.  This one tastes very good too, like the other ones, but I wish the porter would come through more.
I think we have taken this as far as we need to right now and can move on to higher percent whole grain breads with lots of stuff in them and maybe sprouts and sprouted flour too!
Levain Build

Build 1

Build 2

 Build 3

Total

%

4 Week Retarded Rye Sour Starter

8

0

0

8

1.70%

83% Extraction Whole & Sprouted

0

0

16

16

3.40%

17% Extract Whole & Sprouted

8

16

16

40

8.51%

Water

8

16

32

56

11.91%

Total

24

32

64

120

25.53%

 

 

 

 

 

 

Levain Totals

 

%

 

 

 

Flour

60

12.77%

 

 

 

Water

60

12.77%

 

 

 

Levain Hydration

100.00%

 

 

 

 

Levain % of Total Flour

12.77%

 

 

 

 

 

 

 

 

 

 

Dough Flour

 

%

 

 

 

83% Extract Sprouted & Whole Grain

175

37.23%

 

 

 

1/2 La Fama AP & 1/2 KA Bread Flour

235

50.00%

 

 

 

Total Dough Flour

410

87.23%

 

 

 

 

 

 

 

 

 

Salt

9

1.91%

 

 

 

Porter

340

72.34%

 

 

 

 

 

 

 

 

 

Dough Hydration

82.93%

 

 

 

 

Total Flour w/ Starter

470

 

 

 

 

Black Butte Porter & Water w/ Starter

400

 

 

 

 

 

 

 

 

 

 

Hydration with Starter

85.11%

 

 

 

 

Total Weight

879

 

 

 

 

% Whole Grain

50.00%

 

 

 

 

% Sprouted Grain

25.00%

 

 

 

 

 

 

 

 

 

 

Whole and sprouted grains include equal 

 

 

 

 

amounts of rye, spelt, emmer and wheat

 

 

 

 

Half the whole grains were sprouted