Canada Day weekend baking
Belated Happy Canada Day to my Canadian friends on TFL and best wishes for a great Fourth of July for my American friends!
On the left and center pulla, which I have covered in other posts and on the right. A 12 grain and seed bread raised successfully from a YW starter. Thanks dabrownman for sharing your starter build tips!
I began by refreshing my white YW starter two days in a row. On day three I started a whole wheat starter that doubled in 31/2 hours. I then fed the starter again 1:1:1 and once again it doubled in 31/2 hours. I then forgot to put it in the fridge and in the morning awoke to a starter that had peaked and crashed. It looked dead, but a quick stir showed lots of bubbles.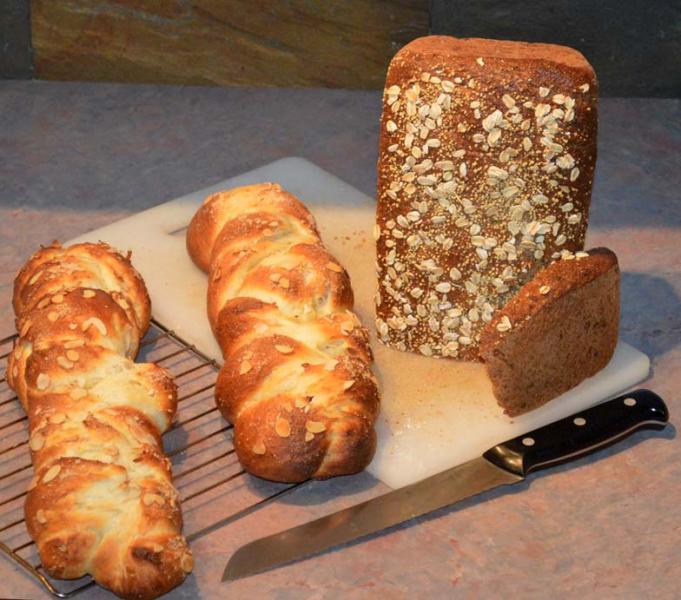 12 grain and seed bread
Soaker 20g corn meal
20 g quinoa
10 g red flax
10 g golden flax
20g red/white wheat berries
174 g water
Soak for 2 hours then add
20 g wheat bran
I let this sprout in the dark for two days
Milk scald
174 g milk, scalded, then add:
15 g brown sugar
25 g honey
Mix well and when cool add to starter.
Final dough
All starter 300 g starter plus milk scald
245 g whole wheat flour
20 g buckwheat flour
40 g dark rye flour
80 g bread flour
8 g salt
28 g oil
Mix well, rest 5 minutes and knead 5 minutes. Rest 10 minutes, then 4 sets of stretch and folds, with 10 minutes rest.
During the 3rd and 4th S&F add in:
20 g sesame seeds, toasted
30 g sunflower seeds, toasted
 After the last fold form a ball and bulk ferment until double in bulk, shape for a loaf pan and let rise until nearly double in bulk, about one hour for each rise. I baked this @ 350F for 44 minutes, turning at the half after brushing with egg wash and sprinkling with rolled oats and cornmeal.
Boy does this every make a nice crunchy, nutty sandwich and toast bread!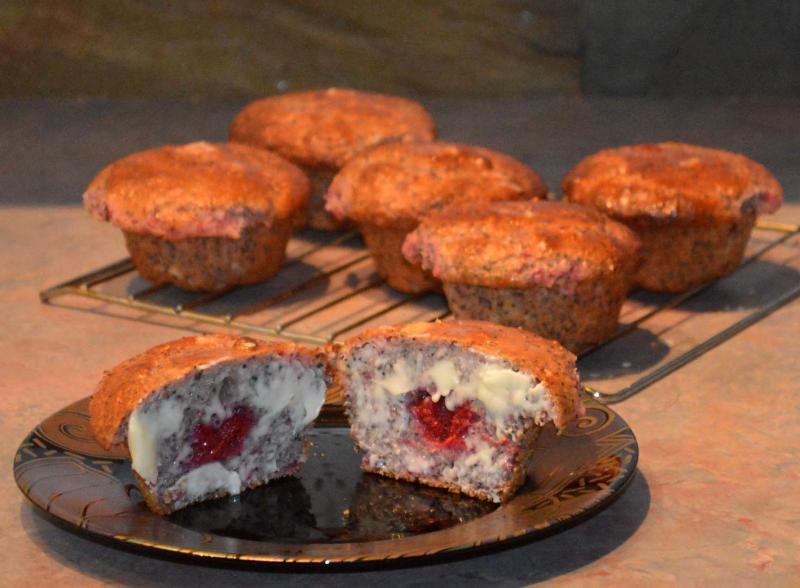 No Canada Day breakfast would be complete without my raspberry, lemon, poppy seed muffins. I mash most of the raspberry with the dough, but reserve one berry for each muffin and place it the muffin batter whole and cover with a couple of Tbs batter.
Happy baking folks! Brian