Summer Market, Mixer, and Tzitzel
The last few weeks have been a blur of baking, as I have started selling at a new market which has a BIG appetite for bread.   The Waltham market has been around for 24 years and has a very large and loyal set of customers.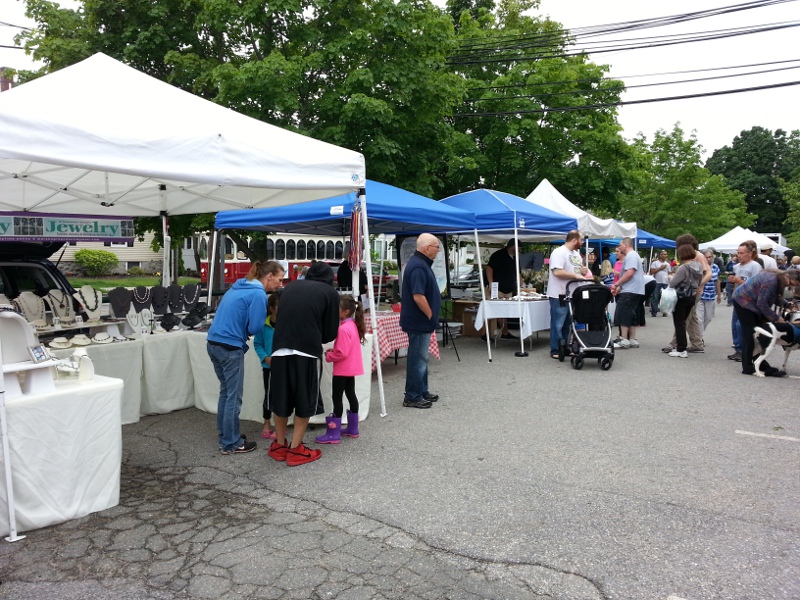 This Saturday was our third week.    I say "our" as my daughter has gotten the market bug and has come to sell with me every week in Cambridge and now Waltham.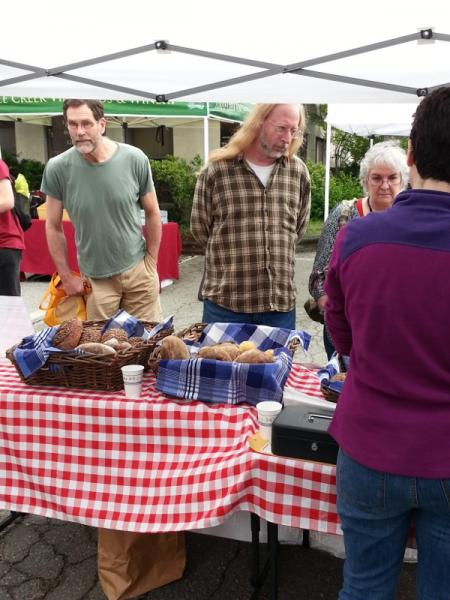 Here she's selling three deep and probably cursing me for standing behind taking pictures instead of helping out.
This week I tried to take some pictures before the crowds descended as by the time I got to it last week, half of the bread was gone already.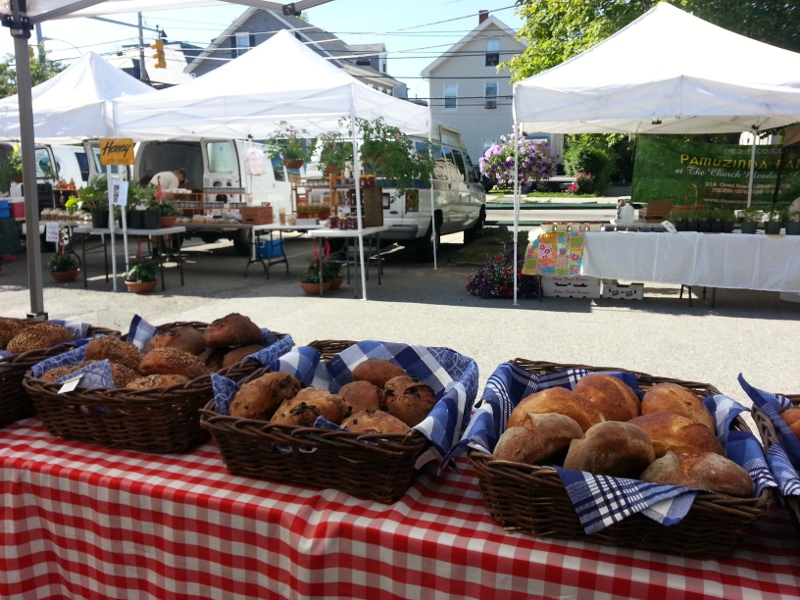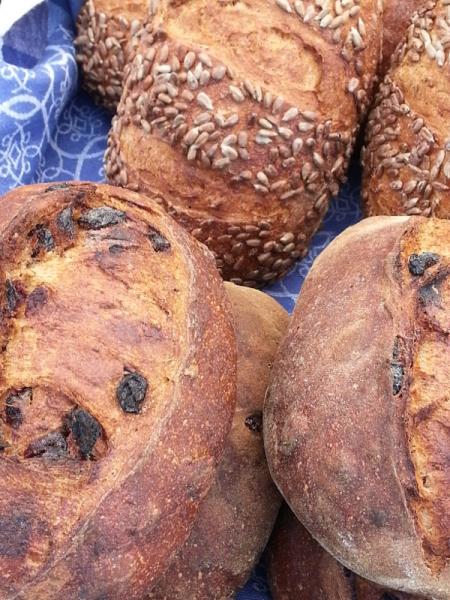 Cranberry and Sunflower Multigrain Levain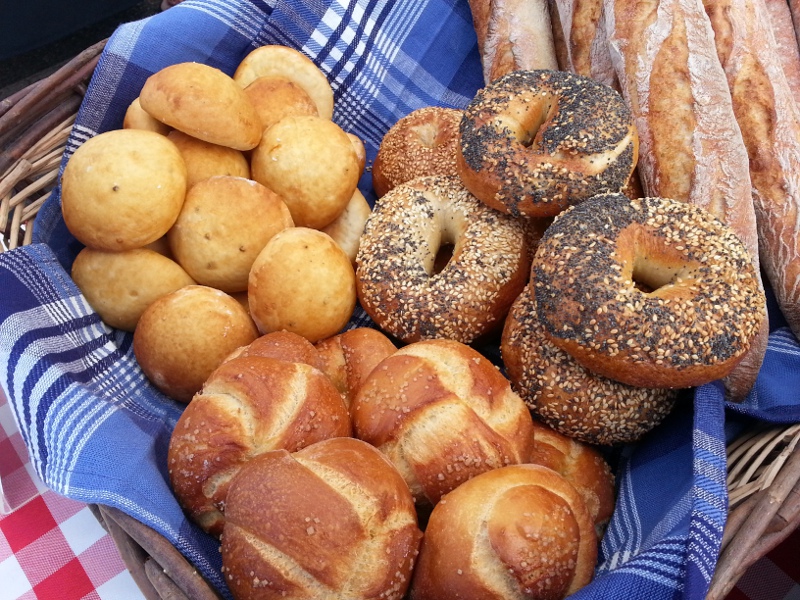 Cardamom buns, challah rolls, bagels and baguettes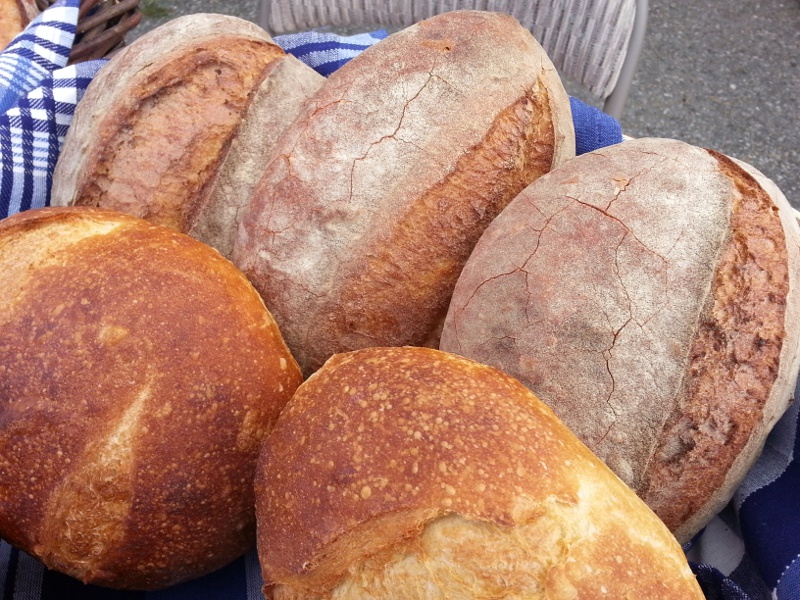 Durum Levain and Hamelman's Country Loaves
Rye, Rye, and Rye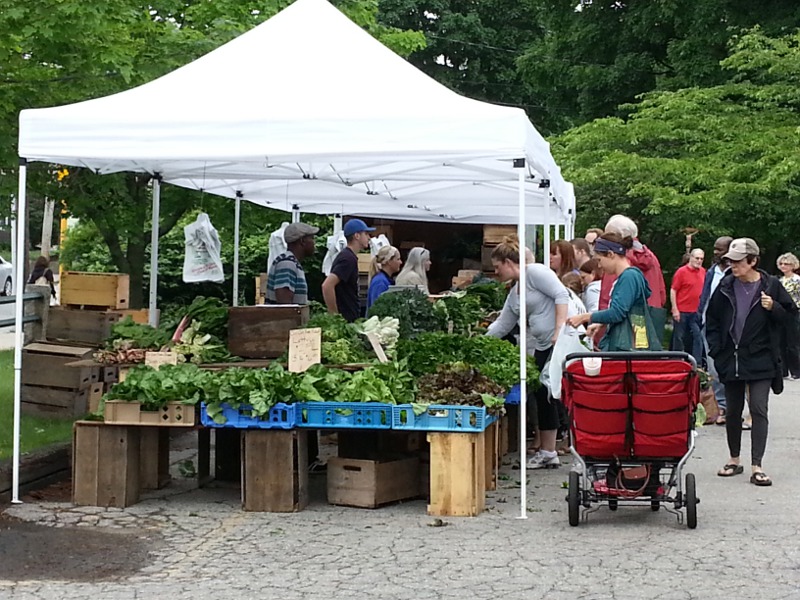 There are many great vendors, and I wish I had more (any) time to do a bit of shopping.   This week I traded a challah for some local strawberries from this stand.
In the middle of a frenzy of baking getting ready for the Saturday market and trying to squeeze more and more from my trusty Assistent, I got a visitation from an alien lifeform, who took pity on me and came to help  me mix dough.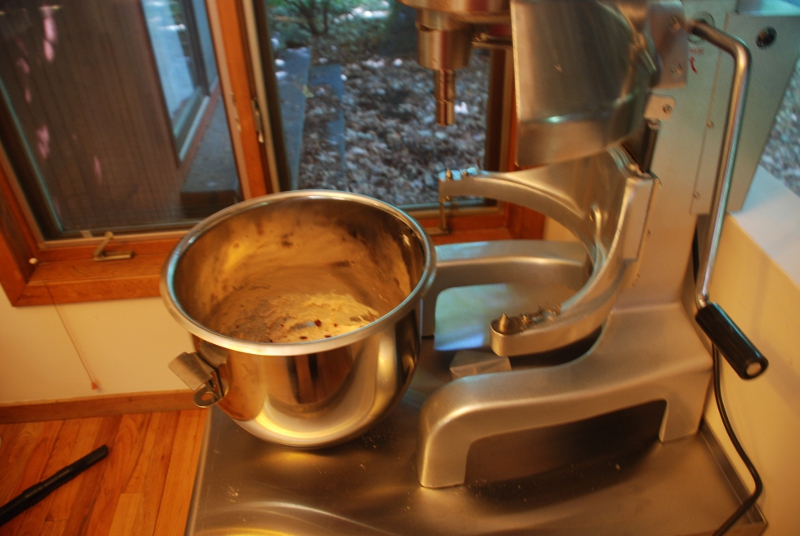 These 6 loaves worth of cranberry dough are just a drop in the bucket for my new friend Molly.
Her bowl alone is as big as the Assistent altogether.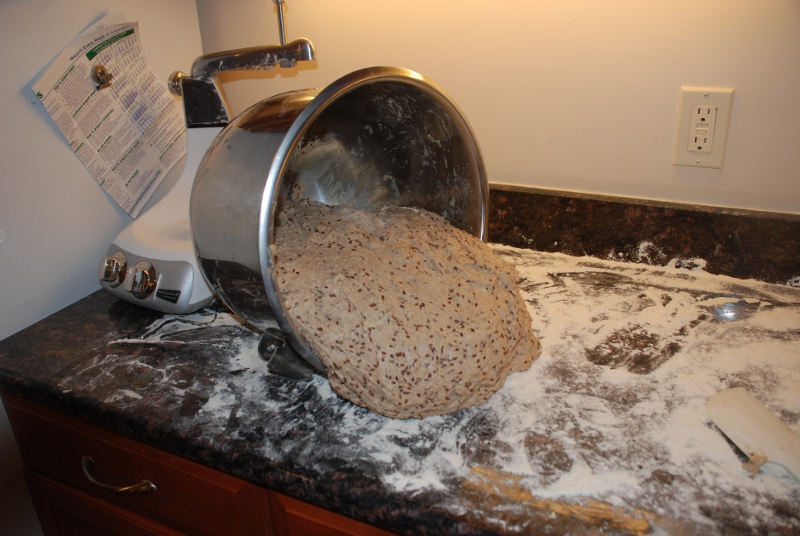 And finally, a fresh loafer asked me about Tzitzel Rye of St. Louis fame, and reminded me that I hadn't made it in awhile.   So I made some for the second Waltham market, but didn't quite get to take any pictures in time.   I have been fiddling on this formula for a couple years now.   Here is the current version:
Tzitzel
 
 
 
 
 
 
 
 
 
 
 
 
 
Final build 80% rye sour
18:00
9:00 PM
 
 
Mix all
 
 
0:10
3:00 PM
 
 
BF 1.5 hour
 
 
1:15
3:10 PM
 
 
Shape, coat with cornmeal 
0:15
4:25 PM
 
 
Proof
 
 
1:00
4:40 PM
 
 
Preheat 500, steam 1 min, off 6 min
0:45
5:40 PM
 
 
Bake at 425 for 20 minutes
 
6:25 PM
 
 
 
 
 
 
 
 
 
 
M
8M
 
 
 
 
 
 
 
 
 
 
 
Hi Gluten
275
2197
70%
 
 
 
Whole Rye
0
0
30%
 
 
 
Water
195
1558
74%
 
 
 
Salt
8
64
2.0%
 
 
 
Caraway
11
87
3%
 (just reduced this to 2%)
Rye Sour
211
1685
30%
 
 
 
Corn meal
 
 
 
 
 
 
Total Dough
699
5591
 
 
 
 
Total Flour
392