Portland Pumpernickel V.2.0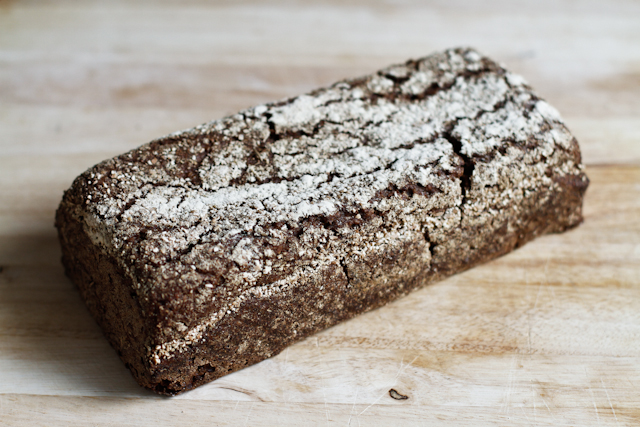 For my second crack at this pumpernickel I upped the hydration as well as the percentage of scalded pumpernickel flour and cracked rye. I also finally picked up a pullman pan and baked this rascal for 5 hours of active time and an additional 4 hours in the oven as the oven cooled down. This thing smells crazy good, like caramel and chocolate. It is wrapped in cotton for the time being but I'm hoping it tastes as good as it smells.
Here is my formula
300g Dark Rye 87%
104g Pumpernickel Flour 30% (dry weight)
104g Cracked Rye 30% (dry weight)
90g Levain (13% flour 13% water)
245g Water 71%
6g Salt 2%
First I scalded my cracked rye and pumpernickel flour, then rinsed it in cold water and wrung it out in cheese cloth then rinsed and wrung it out again. I added this to my autolyse of flour, water and levain, I let that sit for two hours then mixed in the salt with a wooden spoon. I mixed for around a minute or less. I then scrapped the clay like lump onto a pumpernickel dusted counter, shaped a log and maneuvered it into my pan dusted the top and let it proof, I proofed it until I saw the tell tale cracks (around two hours) then popped it on the middle rack of my preheated oven with my stone on the bottom rack. I baked it for an hour at 375, then turned the oven down to 275 and continued baking for four hours rotating the pan every hour. After that I turned the oven off and let the bread cool down with the oven for four more hours, now its de paned and wrapped in cloth and I will cut into it later this evening.