Need some advise with this recipe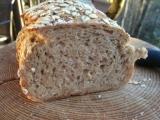 Hi, I am really struggling with the following recipe: I call the bread German Oat because it is  German origin. The bread tastes really good and I think it also looks pretty good but I am struggling with the dough: It is a very wet dough and it it hard to mix because the oats are very compacted after soaking. I am not sure about the fermentation times. It is hard to judge for me because of the high hydration. Here is the original recipe:
 85gr AP
85 gr. water       at room temp 16 hours
9 gr culture
soaker:
300gr rolled oats (old fashioned) toast
600 gr. boiling water, let sit 16 hours
final dough:
sour dough
soaker
475 BF (that's what I am using)
120gr rye
200gr water
21gr. salt
5gr instant yeast (15gr fresh yeast)
1Tbsp Molasses (Backmalz in the German version)
Mix dough till it comes together and let ferment 75min in the bowl. Divide dough in three, pre shape and let ferment 20 min. Final shaping , then final fermentation 20Min. bake 30 min @470F and 10min @ 375F
Calculating bakers% I get a hydration of 90% (I added the oats to the flour).
In my version I mix the dough, autolyze 30 min, bulk ferment about 75 min with 2 S&F (at the beginning and half time) bench rest 20 min, final fermentation 60 min (or till doubled) in bread pan
preheat 475F, bake 10 min with steam@475F and 35 to 40 min@ 375F
Is there anything I should or could change? How long the final fermentation? Window pane test is difficult , it is a very delicate dough with the oats not quite dissolved..
Thanks for looking into this
Barbara