KipperCat - your 100% wholemal spelt NYT method tryout
Hi KipperCat
I said I would try out your method for the NYT loaf using 100% wholemeal spelt. I stuck to your instructions as closely as I could:
1lb 100% wholemeal spelt flour
1/4 tsp instant yeast
1 tsp salt
2 oz yoghurt
BUT
10 oz water NOT 12 oz as it just seemed too wet to me ...
Anyway mixed it all at 9pm last night.
At 9am today, turned it out and did the stretch and fold thing as best I could on a clean unfloured board - 10 times - 6 then 5 min rest then 4 more
Back into well-floured bowl for approx 2 hours (it had good surface tension and rose up not touching sides of bowl)
Preheat oven 250c with baking sheet (maybe 1/2 hour)
Turned out dough onto hot sheet and into oven for 20 mins
This is the result: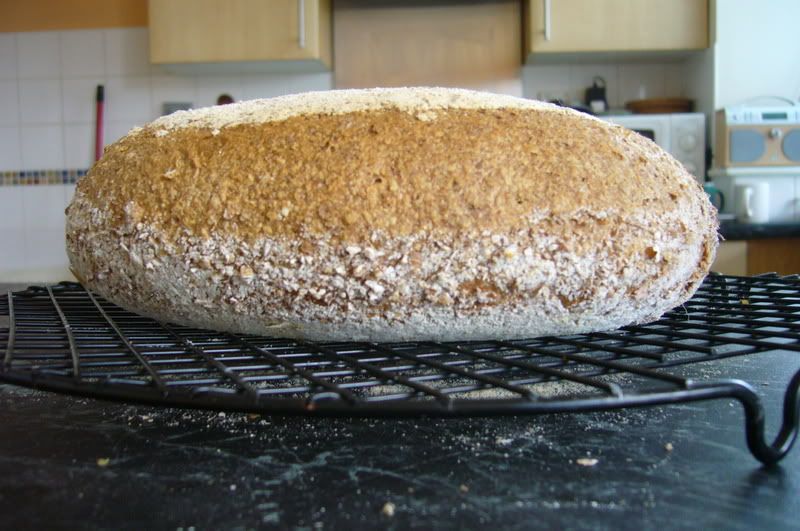 and cut in half
All in all about 3 1/2" high
So the only changes were 2 oz less water and baking sheet rather than stone.
Hmmm - I have to say I am still less than impressed with final steps - turning out onto hot sheet lost some of the rise and no matter how hard I try with this method, I always think the inside is a little damp and rubbery, something I never struggle with otherwise. I guess it will be OK toasted.
My gut feeling is to have returned the folded dough into a bread tin and then popped it into oven when well risen. I would bake it 10 mins at 250c then lower temp to 190c and bake for about 30 mins, then turn out of tin for another 5 mins.  No more work but not a boule shape I know.
Don't know if this helps, Kippercat. Good luck!
HelenD