Pane Valle Maggia, ver. 3 3/18/2014
After the last bake of this bread, I wondered if I could get a more open crust by doing all the mixing by hand, rather than some by machine. So, that's what I did. The formula was the same as that used in Pane Valle Maggia, ver. 2 3/7/2014 [1], except I did not take the time to grind fresh whole wheat flour. I used Giusto's Organic Fine Whole Wheat flour instead.
My procedure was as follows:
1. The two levains - rye sour and whole wheat - were mixed the night before mixing the final dough and fermented at room temperature for 13 hours.
2. Around 11 AM, I mixed the levains with 500g of water and the AP and WW flour. This was left on the counter for a 3 hr. "autolyse" while I raced to the hospital and taught a class for pediatric residents. (How you spend your autolyse time is your choice.)
3. The salt was added and mixed into the dough with a spatula. Then about 60g of additional water was added. This was mixed in by hand, using the pinching maneuver recommended by Ken Forkish in FWSY.
4. Bulk Fermentation was done at room temperature for about 3 hours with stretch and folds every 30 minutes for 2 hours.
5. The dough was then divided into two equal pieces and pre-shaped as rounds. These were allowed to rest while I washed the container I had used for bulk fermentation and floured my linen-lined bannetons.
6. The pieces were shaped as boules and placed, seam-side up, in the bannetons which were then placed in food safe plastic bags and refrigerated. 
Note: This was one of the stickiest doughs I have ever worked with. Not surprising given the combination of lots of rye and lots of water. Shaping was a real challenge!
7. After about 12 hours, the oven was preheated to 500 dF with a baking stone and my usual steaming apparatus in place. 
8. The loaves were transferred to a peel and scored. 
9. The oven was steamed and the loaves were transferred to the baking stone.
10. The loaves were baked for 13 minutes with steam and then another 20 minutes. Note: Inadvertently, the whole bake was done with the convection fan on.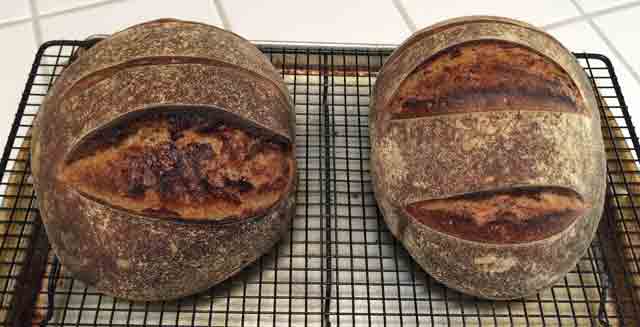 The loaves sang loudly as they cooled, and nice crust crackles developed.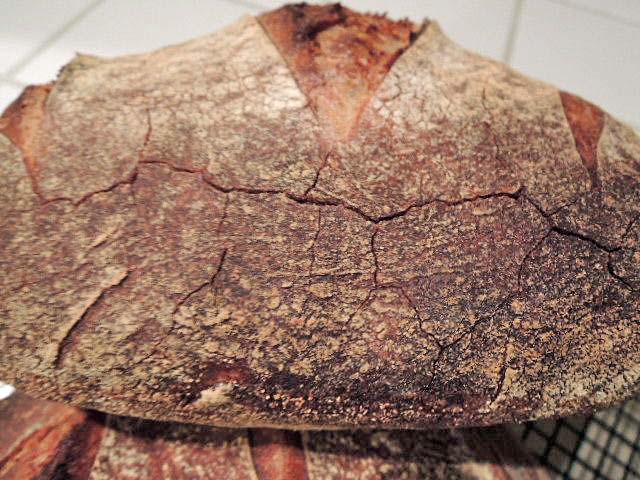 I sliced the loaves after 3 hours. The crust was crunchy. The crumb was somewhat more open and, overall, less dense-seeming than the last 2 bakes. It was tender and chewy. The flavor of the bread was mildly tangy with a nice wheaty flavor. I really can't say it was noticeably different than the bake using fresh-milled whole wheat flour.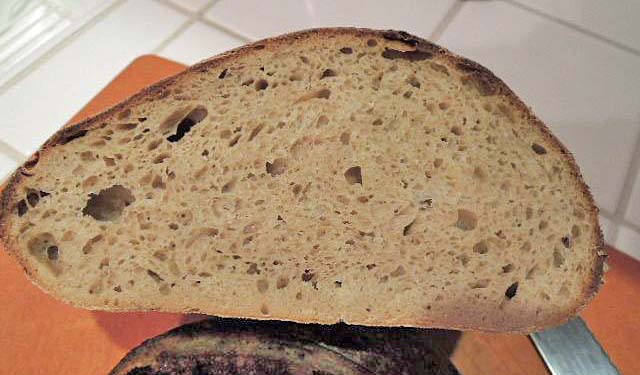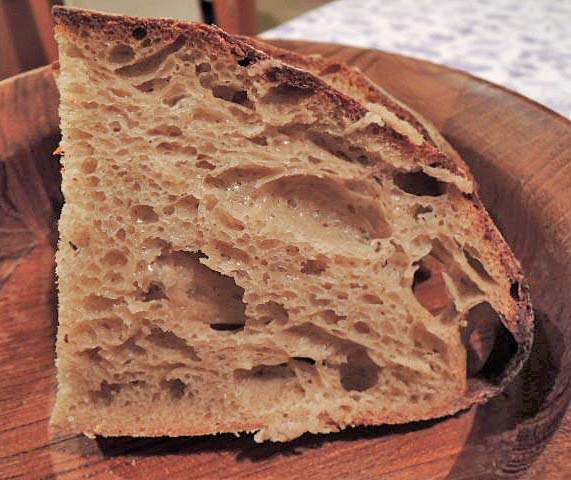 Bottom line: This is a delicious bread. It is similar to several of the breads I have been making from FWSY since last Summer with mixed flours, except that this bread has the highest percentage of whole grain flours. It is a type of bread that has become our favorite.
My next variations may be to add mixed seeds and cracked or flaked grains and to try a version with added dried fruit and nuts. I have also though about baking this bread in the Lodge Combo Cookers, as I bake Forkish's breads and the Tartine Basic Country Bread.
David