February 14, 2014 - 10:33am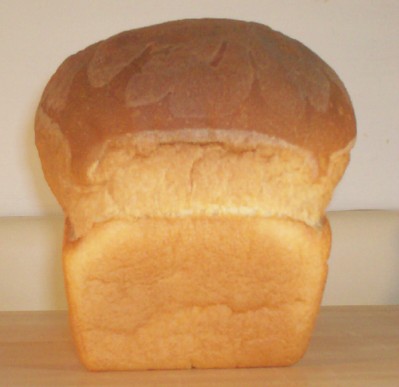 Over-proofing is often blamed for collapse in the oven. This is not always the case, as will be illustrated in this posting. A fully developed dough with good gas retention properties will not collapse in the oven, but will instead grow enormous in size. Baking this loaf was an experiment in extreme over-proofing, and an investigation into the causes of collapse in the oven.
The experimental loaf was formulated and baked the same way as Buttermilk Twist White Bread (Re-mix Method) [1], only the loaf was not twisted. Optimum proof height was reached in about 70 minutes, but proofing was allowed to continue for an additional 50 minutes, giving a total proof time of 120 minutes. The maximum dough height reached 5" (127mm), which is about an inch higher than normal. Oven spring was tremendous, and the final baked loaf was well over 6" high.
So, it is established that over-proofing causes excessive loaf volume. But what about collapse? Offered below are two quotes from Baking Science and Technology by E. J. Pyler:
"Overproofing is recognized by loaves possessing pale crust color, coarse grain, poor texture, unsatisfactory keeping quality and undesirable flavor caused by excessive acid development. In the case of green or weak flours, it also results in poor loaf volume brought about by a collapse in the oven." (Second edition, p 676)
Green flour is flour that has been freshly milled.
"Freshly milled flour that has not received artificial maturing treatment will generally give variable baking results and produce bread that is inferior in volume, texture, and grain to bread made from the same flour after a period of storage." (Second edition p 352)
Conclusions:
1) Fully developed dough made with strong flour will cause excessive volume if over-proofed.
2) Using weak flour (such as all-purpose) when strong flour is called for may cause collapse if a loaf is over-proofed.
3) Freshly milled (or "green") flour may give inconsistent results. Over-proofing is likely to cause collapse in the oven.
4) Storage (under the proper conditions) improves the baking quality of flour.
5) When using freshly milled flour, due care should be exercised to avoid over-proofing.
 The next two photographs show the dough immediately after being panned: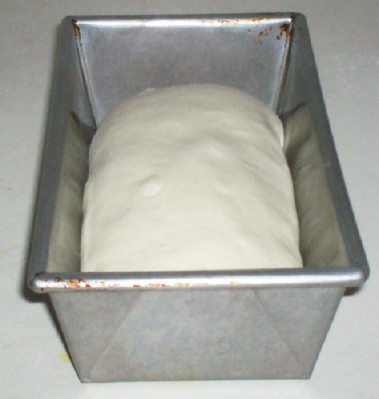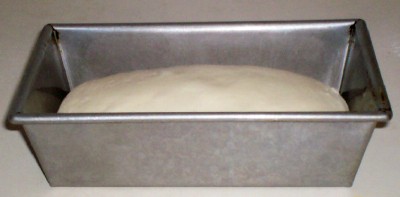 After 70 minutes, the dough is ready for the oven: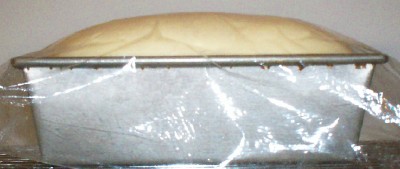 After 120 minutes, the dough is overproofed, and goes into the oven: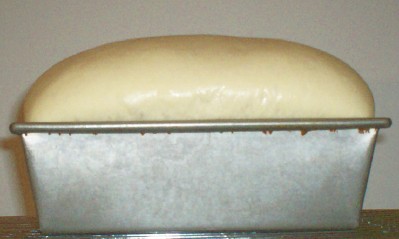 Immediately after baking: 
And after cooling: