February 12, 2014 - 5:34pm
White Flour Warm-Spot Levain from FWSY
White Flour Warm-Spot Levain from Flour Water Salt Yeast 
February 12, 2014
On my way to the Pizza section towards the back of Ken Forkish's Flour Water Salt Yeast a few days ago, I stopped in the "Advanced Levain Dough" chapter (Chapter 11) to see what Forkish regarded as more "advanced" than the other breads in his book. There are just two formulas in the chapter, and both are different mainly in calling for more frequent levain feedings. I was reminded of the day in the San Francisco Baking Institute Artisan II (Sourdough Baking) workshop when we made 4 breads which differed primarily in the levain feeding schedule. The one with the best flavor was made with a liquid levain fed twice a day. The aim was to bring out the maximum flavor from the wheat itself, unmasked by excessive acetic acid sourness or off flavors from over-fermented levain. It was an impressive demonstration.
Anyway, rather than making pizza dough, I made one of the "advanced levain" breads which Forkish calls a "White Flour Warm-Spot Levain." This bread is made with a levain that is fed 3 times over 2 days before mixing in the final dough. These builds are supposed to be fermented at a warm temperature. I used my Brød & Taylor Proofing Box set at 85 dF.  I modified the schedule Forkish gives just a bit to accommodate other obligations, but I don't think those changes impacted the quality of the product.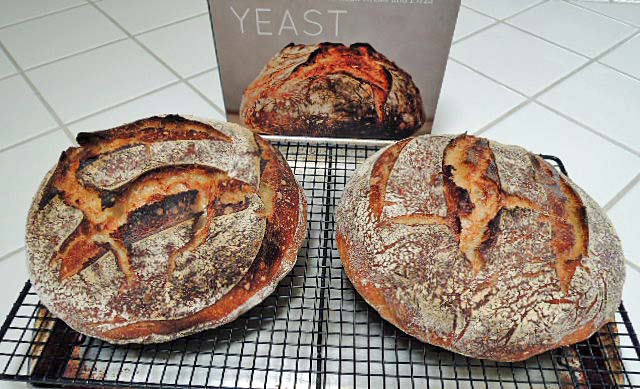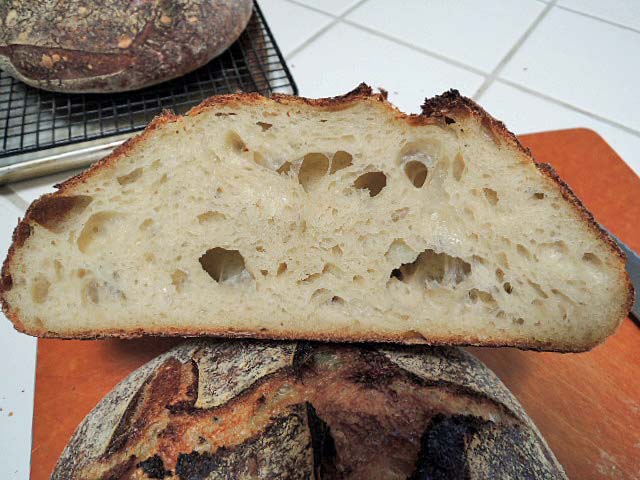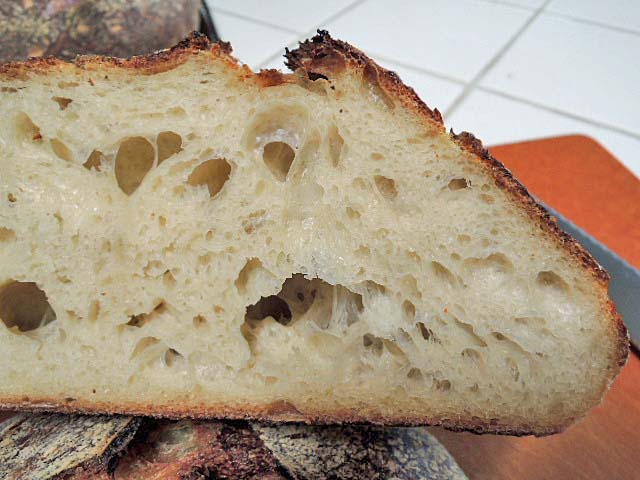 It has been a very long time since I have made a lean bread with no whole grain flour. In fact, my taste has evolved in the direction of preferring higher proportions of whole grains than formerly. But, I have to say, this bread is a paragon of its type. It is delicious. I think the photos show the pale yellow color of the crumb. This is from the carotenoid pigments in the flour which are oxidized by machine mixing. The crust of this bread was crunchy and sweet. The crumb was very open. (The loaves felt very light for their size.) It was tender and only a bit chewy. The flavor was complex and sweet with a hint of the mellow tang of lactic acid. My wife, who seldom eats more than half a slice of bread at a meal, had her half slice with a bowl of bean soup. Then she had the other half. As I was clearing the table after lunch, I heard the unmistakable sound of a crunchy loaf being sliced and saw her walking off with another slice (minus a big bite) in her hand. Not a word of the "put more whole grain flour in it" mantra.
 Now, I will have to make the other "advanced" levain in the chapter, which does have some whole wheat flour and could certainly be made with even more.
Before having this bread with lunch, I had planned to give a little update on what I've been baking since my last blog entry. Here are some photos and some comments on those breads: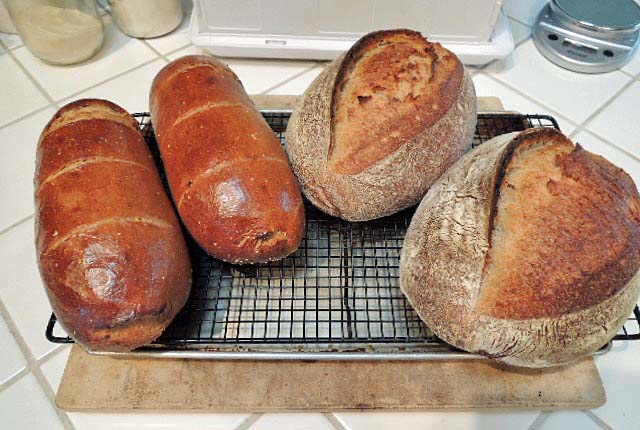 Jewish Sour Rye after Greenstein and Pain au Levain with Whole Wheat Flour from Hamelman's Bread
The Pain au Levain was made following Hamelman's formula and procedures, but the rye had a few tweaks that are worth mentioning. The formula I developed from the one in Secrets of a Jewish Baker can be found in Jewish Sour Rye [1]. I build up my rye sour in 3 builds, essentially doubling each time, up to something like 800 to 1000 g. This time, I fed the second build with Bob's Red Mill "Dark Rye," which is a fine-milled whole rye flour. The other two builds were fed KAF Medium Rye. So, the breads had more whole grain rye than usual and were darker and more intensely flavored.
Secondly, I used Sir Lancelot (high-gluten) flour rather than First Clear flour. I think this made for a dryer dough and also a stronger dough. That may have contributed to the absence of any "blowouts," which I usually get with this bread. But I also let the loaves proof a little more completely than usual, which also contributed to the lack of blowouts. 
The third change is one I had been wanting to try for a long time and finely remembered to do: I usually bake this bread at 375 dF for 35 to 45 minutes. This time, following a procedure Hamelman uses for light rye breads, I baked at 460 dF for 15 minutes and then at 440 dF for another 20-25 minutes. I got of firmer, darker crust. I think I prefer this procedure.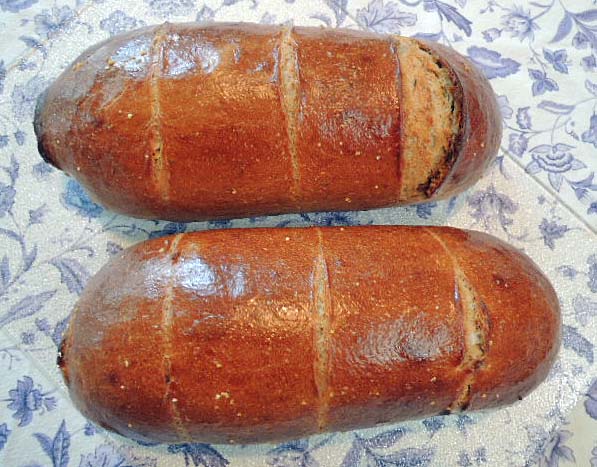 Last Sunday, we had dinner with a couple with whom we share a love of Northern Italy. They cooked dinner, and I contracted to bake some bread. I chose to bake the Pain de Campagne from FWSY, modified to use 70% AP, 20% WW and 10% Rye flour. This has become one of my favorite breads. it is actually quite similar in flavor to the Hamelman Pain au Levain with WW flour, pictured above.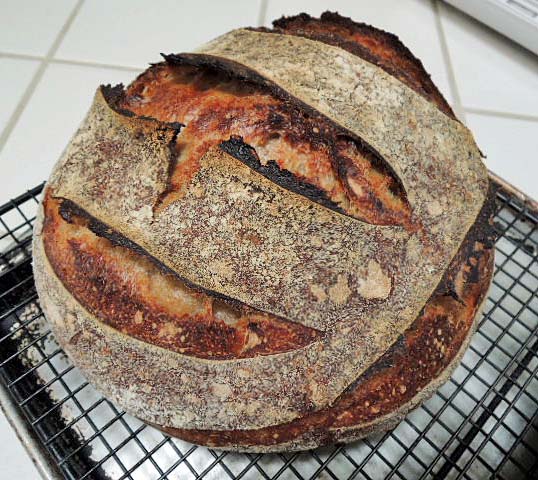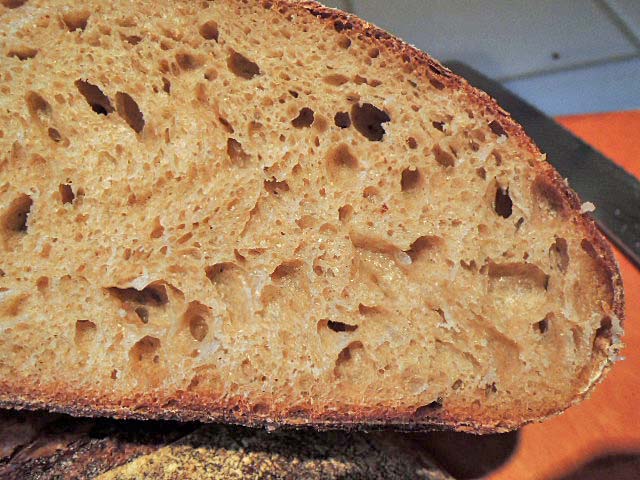 They say "man cannot live by bread alone." I'm not sure this is what that means, but I cannot make bread alone. I don't have Ian or dbm's kind of help, but I do have ....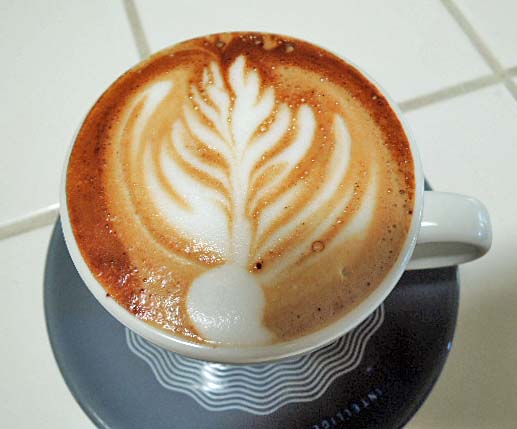 Happy baking!
David