January 24, 2014 - 5:56pm
50 Percent Whole Multi-grain Sourdough
We have been working our way up the whole multigrain SD ladder for some tike starting at 12% and now this one is 50%.  50% is the minimum whole grain we would like to eat as our daily bread for all kinds of personal health reasons. Plus it tastes so much better than white bread in Lucy's book as well as mine.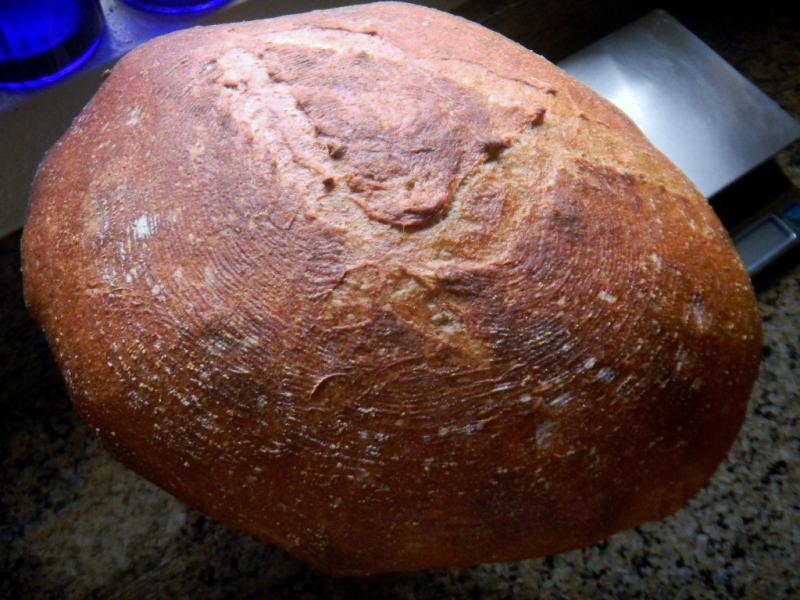 Normally this breads would have all kinds of seeds, soakers, scalds, nuts, sprouts and fruits as add ins but the size of the holes in the crumb suffers as a result.  So this time we cut out all the bits inside and went with flour all by itself except for a bit of honey to cut the bitterness and some VW to get the low protein AP flour up to bread flour levels and help with the low gluten whole grains.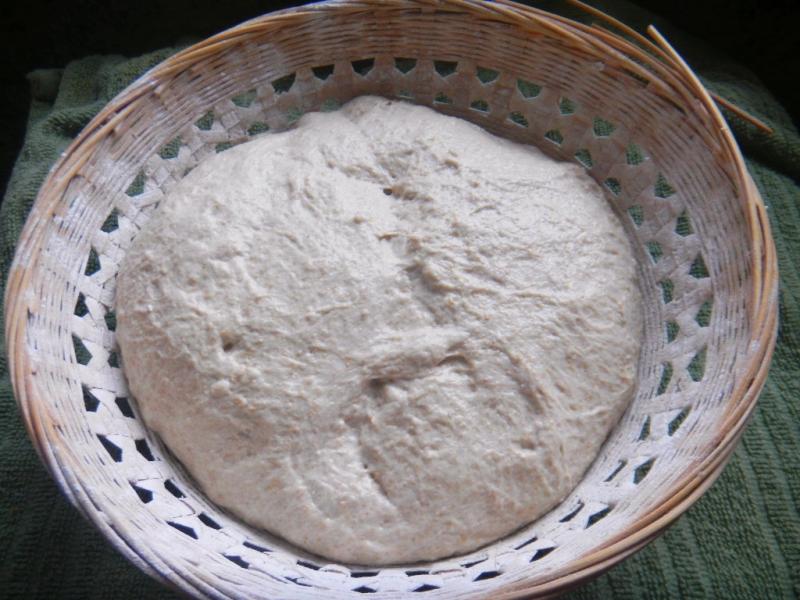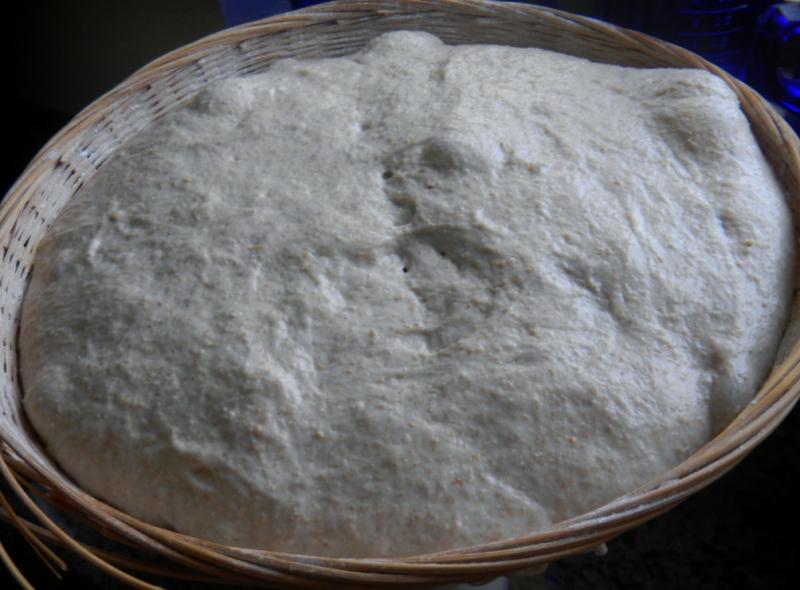 We hoped the holes would remain decent in size along with the SD tang, great multigrain taste and soft, moist crumb – with no Tang Zhong required.  We decided to up the hydration substantially for this bread to help keep the holes on the larger size while realizing that this might make for some serious 'bread spread'.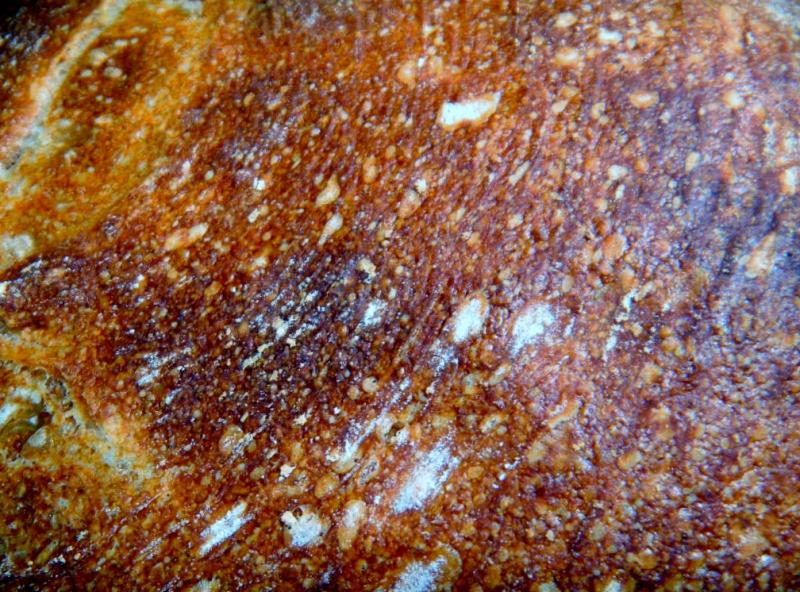 The levain was made with all whole grains using a 66% hydration multigrain seed that had been in the fridge for 3 weeks.  It was built over 3 stages before being refrigerated for 24 hours to bring out the sour.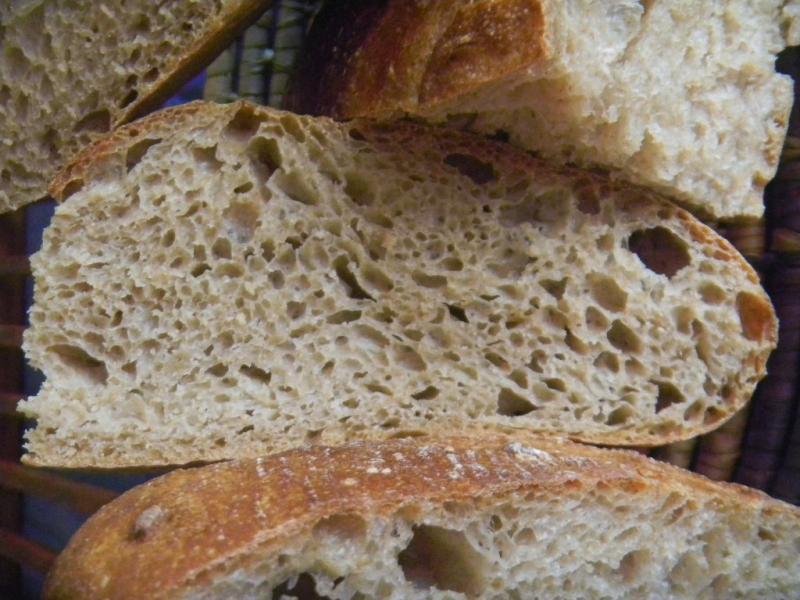 We autolysed everything but the salt for 30 minutes and put the salt on top of the dough ball so it wouldn't be forgotten.  We did 3 sets slap and folds of 6, 2 and 1 minute before doing 4 sets of s& F's on 30 minute intervals.  We then immediately refrigerated the dough in bulk for 8 hours.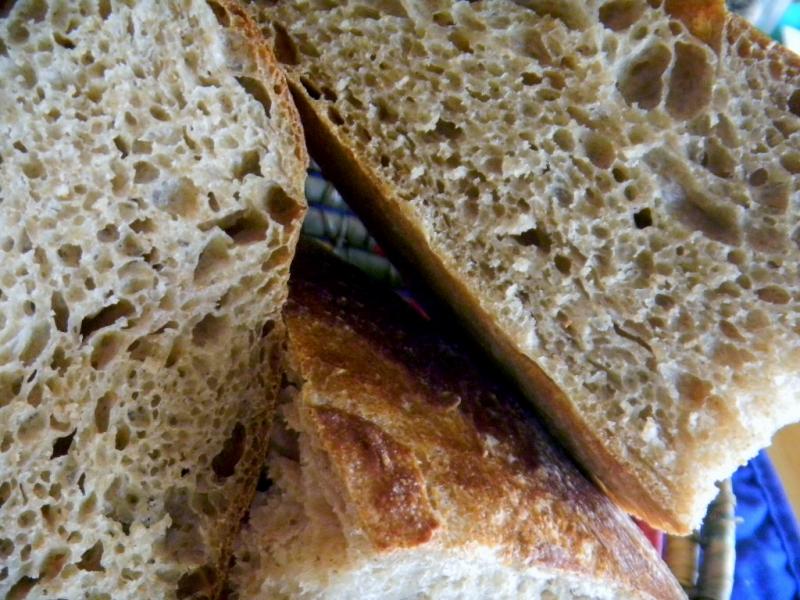 The next morning we took the dough out of the cold and put it on a heating pad for 1 1/2 hours to warm up before being shaped an placed into a rice floured basket.  After 2 hours we got Big Old Betsy ready  with a 550 F preheat and we refrigerated the dough again as the oven heated to try to get the skin cold enough to slash – it was pretty wobbly and close to 95% proofed.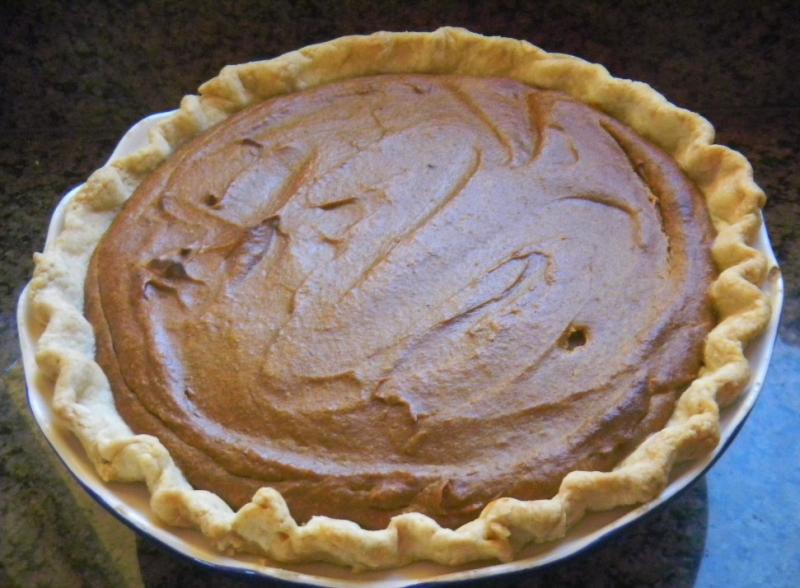 Yes iit is a Mexican Winter Squash Pie - makes pumpkin so passe:-)
As we thought, the dough refused to be slashed and partially collapsed under the single edge razor but we slid it onto the bottom stone with high hopes that it would recover under the mega steam supplied by lava rocks in a 9x13 Pyrex pan half full of water.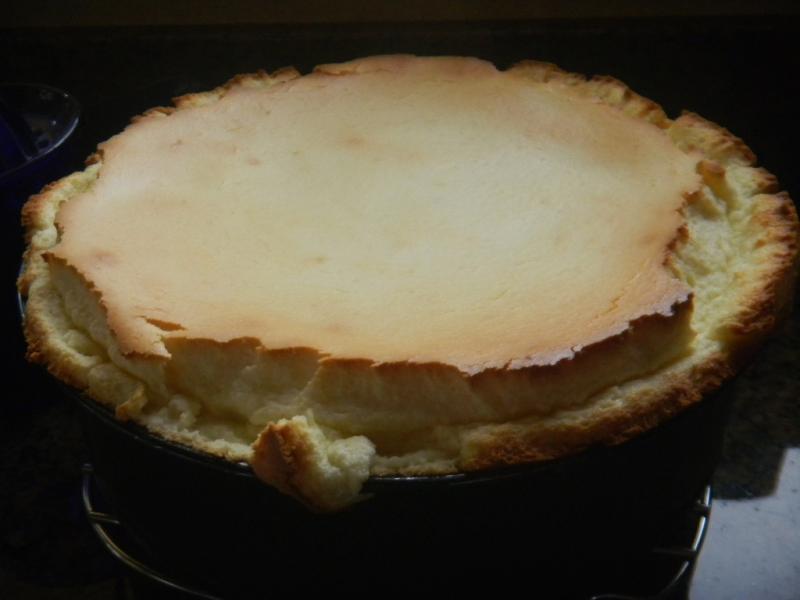 And an Exploding Lemon Chocolate Cheesecake Souffle!
  We turned the oven down 25 degrees on 2 minute intervals until we got to 475 F and left it there for 6 minutes giving the dough a 12 minute steam bath.  The steam came out and we turned the oven down to 425 F convection this time, for another 10 minutes when the boule read 208 F on the inside and deemed done.  We did rotate the bread 180 degrees after 5 of those minutes.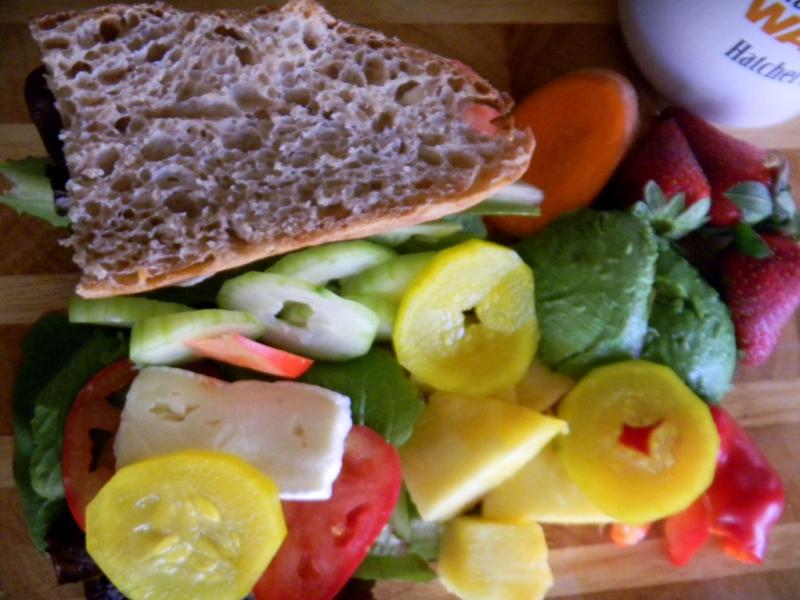 This bread made a great balogna sandwich for lunch and then a fine chicken, grilled cheese the next day - with the usual veggie and fruit variety.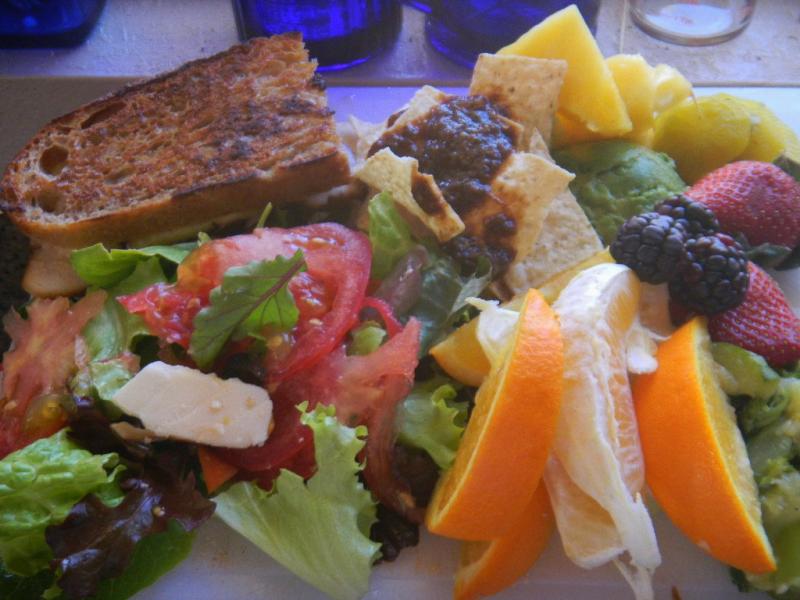 The bread browned nicely with small blisters, sprang back nicely and blooms a bit.  What it did best is spread.  This was 'one wet dough', no amount of cold could get it to keep from oozing once unchained from the basket.   Still, the crumb as open for 50% while grain bread and we were pleased but not as open as the 30% whole grain version – no surprise there.  We like this bread a lot.  It was very soft and moist on the inside with a chewy soft crust as it cooled.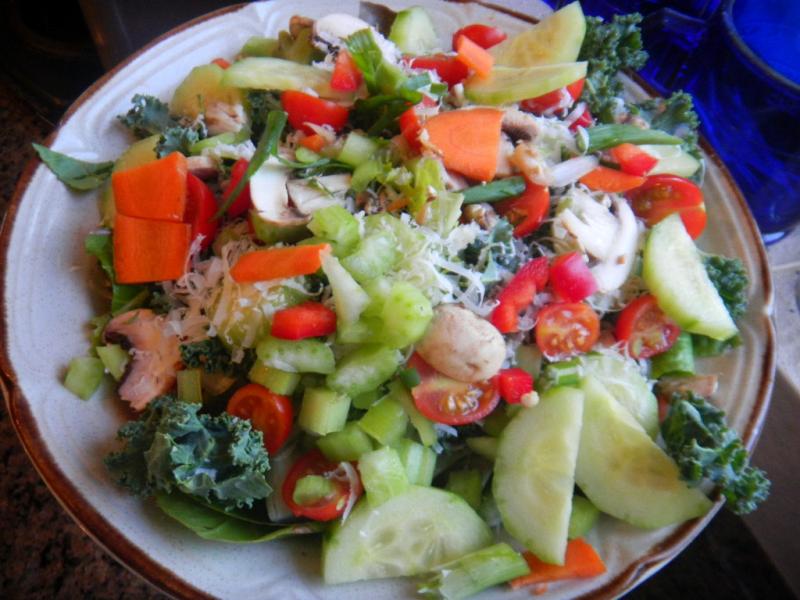 Lucy never forgets a good salad for lunch and dinner.
Has to be one the best SFSD style bread we have managed and it tastes about as good as it this kind of bread gets.  I can see some bruschetta in our near future to go with some Italian gravy on Sunday.
Formula
| | | | | | |
| --- | --- | --- | --- | --- | --- |
|   | Build 1 | Build 2 |  Build 3 | Total | % |
| Multigrain SD Starter | 20 | 0 | 0 | 20 | 3.65% |
| Whole Spelt | 6 | 6 | 6 | 18 | 3.28% |
| Whole Kamut | 6 | 6 | 6 | 18 | 3.28% |
| Whole Farro | 6 | 6 | 6 | 18 | 3.28% |
| Whole Wheat | 12 | 12 | 12 | 36 | 6.57% |
| Whole Rye | 6 | 6 | 6 | 18 | 3.28% |
| Water | 36 | 36 | 36 | 108 | 19.71% |
| Total | 92 | 72 | 72 | 236 | 43.07% |
|   |   |   |   |   |   |
| Multigrain SD Levain |   | % |   |   |   |
| Whole Multi-grain Mix | 118 | 21.53% |   |   |   |
| Water | 118 | 21.53% |   |   |   |
| Hydration | 100.00% |   |   |   |   |
|   |   |   |   |   |   |
| Levain % of Total | 21.81% |   |   |   |   |
|   |   |   |   |   |   |
| Dough Flour |   | % |   |   |   |
| AP | 274 | 50.00% |   |   |   |
| Whole Wheat | 52 | 9.49% |   |   |   |
| Whole Spelt | 26 | 4.74% |   |   |   |
| Whole Kamut | 26 | 4.74% |   |   |   |
| Dark Rye | 26 | 4.74% |   |   |   |
| Whole Farro | 26 | 4.74% |   |   |   |
| Dough Flour | 430 | 78.47% |   |   |   |
|   |   |   |   |   |   |
| Salt | 11 | 2.01% |   |   |   |
| Water | 375 | 68.43% |   |   |   |
| Dough Hydration | 87.21% |   |   |   |   |
|   |   |   |   |   |   |
| Total Flour | 548 | 100.00% |   |   |   |
| Water | 493 | 89.96% |   |   |   |
| Hydration w/ Adds | 89.43% |   |   |   |   |
| % Whole Grain | 50.00% |   |   |   |   |
|   |   |   |   |   |   |
| Total Weight | 1,082 |   |   |   |   |
|   |   |   |   |   |   |
| Add - Ins |   | % |   |   |   |
| Honey | 15 | 2.74% |   |   |   |
| VW Gluten | 15 | 2.74% |   |   |   |
| Total | 30 | 5.47% |   |   |   |