January 22, 2014 - 5:28pm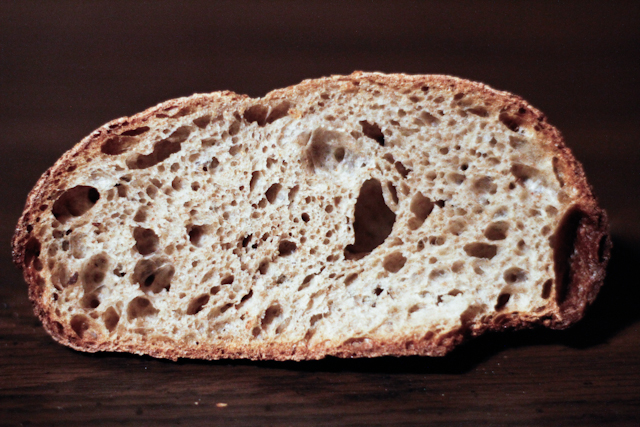 hey yall, I made some sourdough with rye and its tasty as all get out. I made it with 455g KA bread flour, 195g freshly ground whole rye flour, 130g 100% hydration chef, 486g warm water and 14g of salt.
Yesterday, I dissolved the chef in the warm water and added it to the flour mixture, I mixed it gently with a dough scraper then a wooden spoon and set it to autolyse for 45 minutes. That completed I spread the salt over the counter and gave the ole rascal a series of slap and folds separated by a series of short rests, once the dough was pretty properly developed I gave it a stretch and fold and let it sit for around and hour and a half or so. During that time I gave it two additional relatively evenly spaced stretch and folds then I popped it in the fridge and gave it another stretch and fold an hour later and another an hourish later.
Today I took the dough out, let it sit at room temp for an hour and a half or so, shaped it and proofed it for around three hours, during the last 50 minutes or so of proofing I preheated my oven to 550, later on right before I scored it I splashed a bit of water on the preheated sheet pan I use for steaming, scored it, slid it on in and gave it another sizable splash of hot hot water. I baked it at 550 for around two minutes, then I turned it down to 475 for 15 minutes then 450 for another 20 or so. This is a large loaf so I tented it with some tinfoil after the first 15 minutes to allow the internals to catch up to the externals.