January 13, 2014 - 10:03am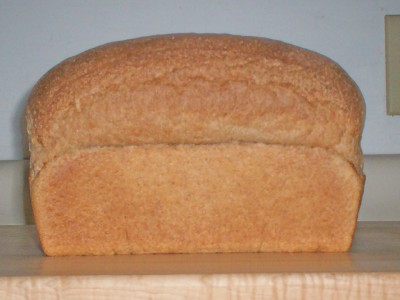 The dough was mixed in a KitchenAid model K5SS (5 qt.) vertical mixer equipped with a replacement spiral hook for a KA 6 quart mixer. Batch was mixed on a 15 ounce (425 g) flour basis.
Formula:
100%         Whole Wheat Flour
    5%          Honey
 3.3%         Shortening
    5%          Malted Milk Powder
 2.5%         Vital Wheat Gluten
0.19%        Granulated Lecithin
           2%   Salt
  0.8%        Instant Dry Yeast
   78% Water (variable)
The vital wheat gluten contained vitamin C (ascorbic acid). This resulted in a 66 ppm level of ascorbic acid, which is in the acceptable range.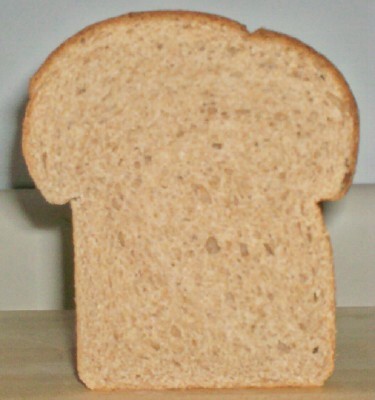 Method:
All ingredients (except for salt and honey) were mixed at slow speed for six minutes. The dough was then fermented in the mixing bowl for 2½ hours. The honey and salt were then added and the dough was re-mixed to optimum condition (5 minutes as speed setting 2). After a short rest, the dough was moulded and panned. A standard loaf pan was used (8.5" x 4.5" x 2.5").
Pre-oven weight 1lb. 12.7 oz.
Finished weight           1lb. 10.7 oz.
Bake-out loss               7%