January 10, 2014 - 3:49pm
28 % Whole Multigrain Sourdough with Corn, Potato, Farina and Oat.
Lucy decided to help the girls out with their white bread fix by making another one, a SD one this time, for them to gnaw on   To make the bread a little moiré healthy, we also added in some whole, rye, spelt and wheat.  TO increase the flavor we added in our favorite taste enhancers (that aren't Toadies), 10 g each of corn, potato and steel cut oat and a bit of farina.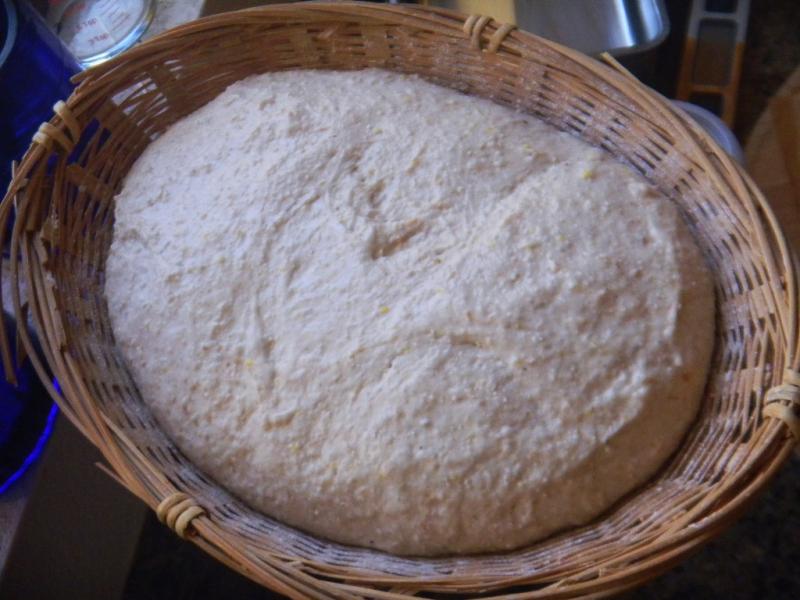 We had some potato water saved from making potato salad but forgot to use it for this bread.  But we did remember to use a different process for this bread.  We did a 3 stage build of the levain over 12 hours putting all the whole grains in the levain.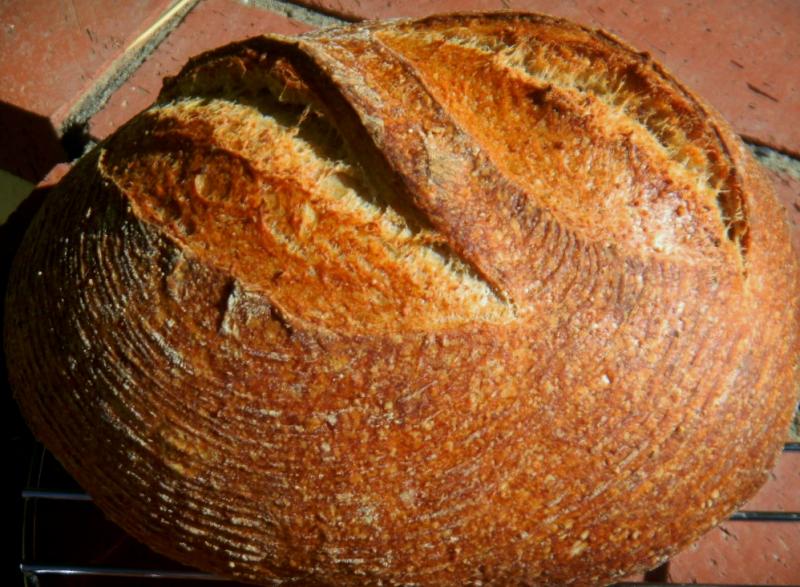 Only 2 minutes of slap and folds just to get thing mixed up after a 20 minute autolyse where the salt was not added but the 20 g of water held back was used to incorporate it through the dough by squishing it through out finger fright before the slapping started.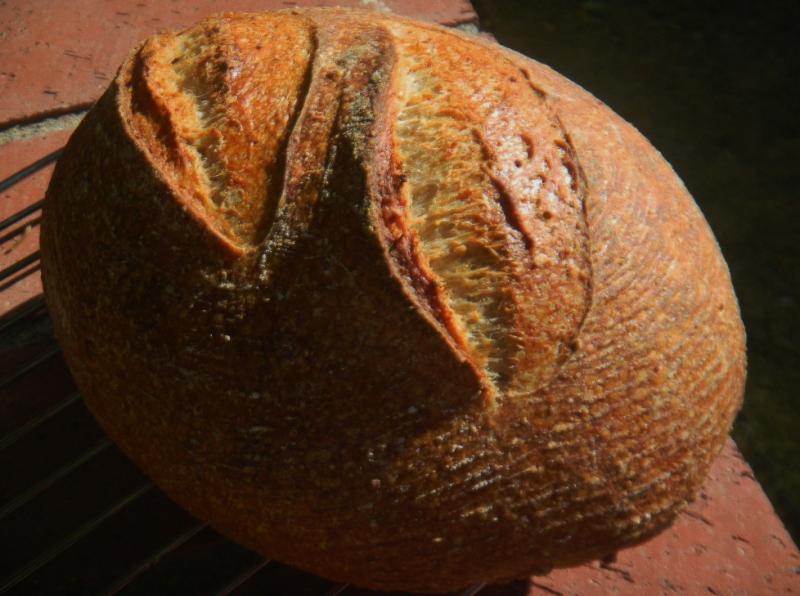 4 set of stretch and folds from the compass points on 30 minute intervals were completed.  Once done with the S&F's we let the dough ferment for half an hour before shaping into a batard and placing it in an oval, rice floured basket.  Then we bagged it put it outside in the AZ winter night for a cold proof that ranged from 48 F to 36 F last night.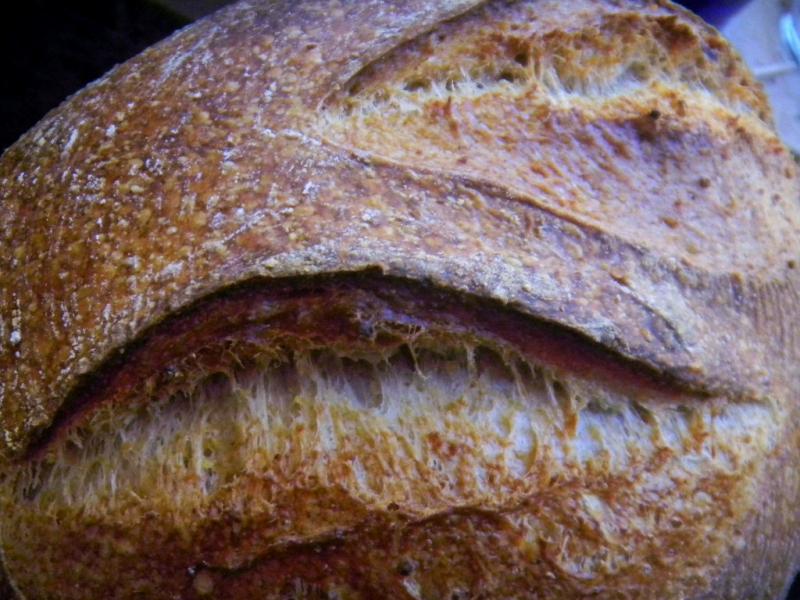 In the morning, after it had risen 30%, we brought it into the kitchen for a 4 hour proof on the heating pad that we use for starters, levains and final proofs in the winter time.  We fired up Big Old Betsy for a 550 F preheat.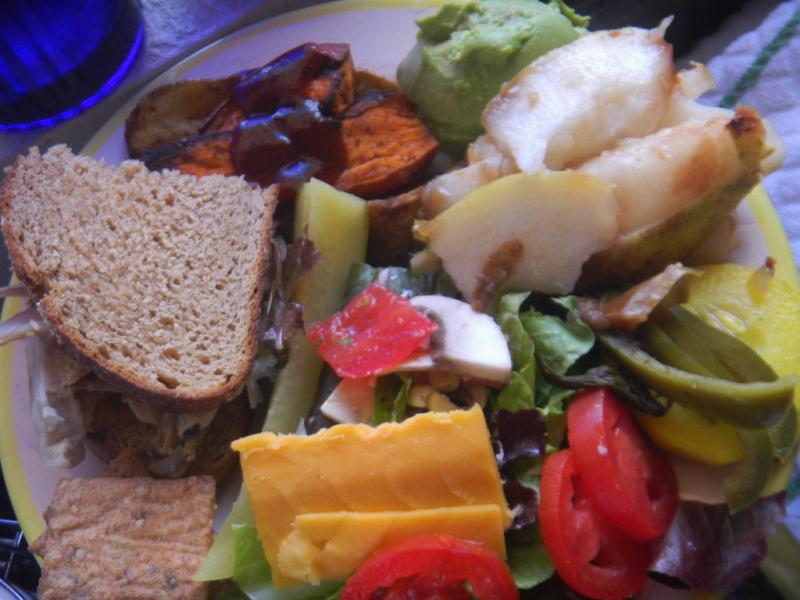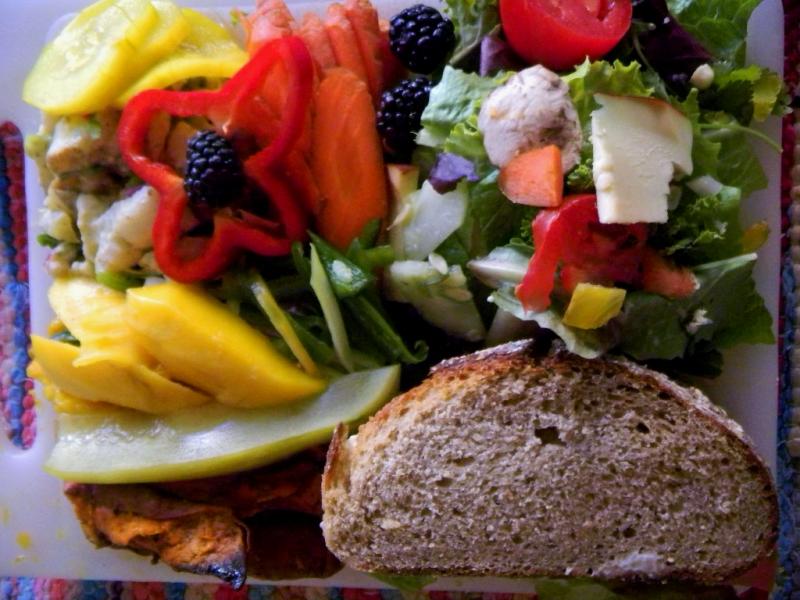 Have been eating a lot of Ian's tangy bread because it is so good for lunch sandwiches - loved the grilled cheese and Balogna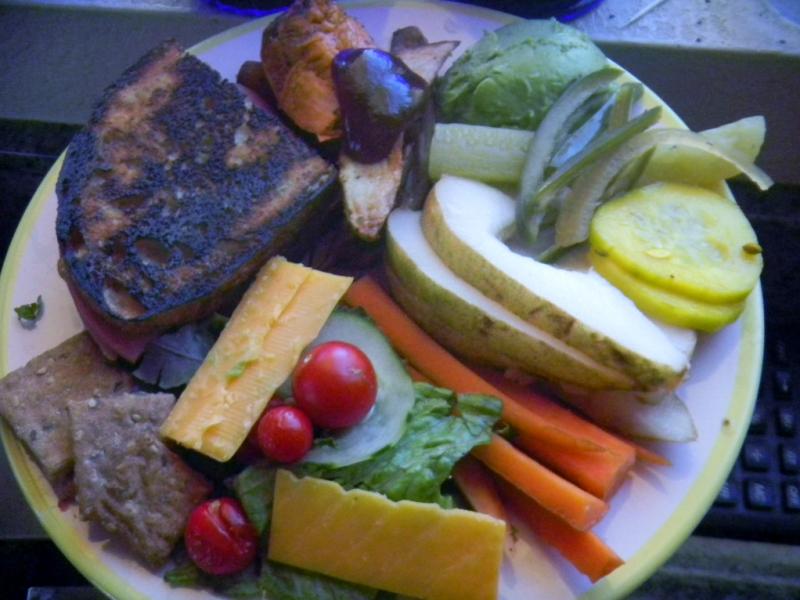 We put the mega steam spewing, lava rock pan, half full of water into the bottom of the oven when it hit 550F figuring it would take 15 minutes for the steam to become its mega self and for the lagging top and bottom stones to get up to ramming speed.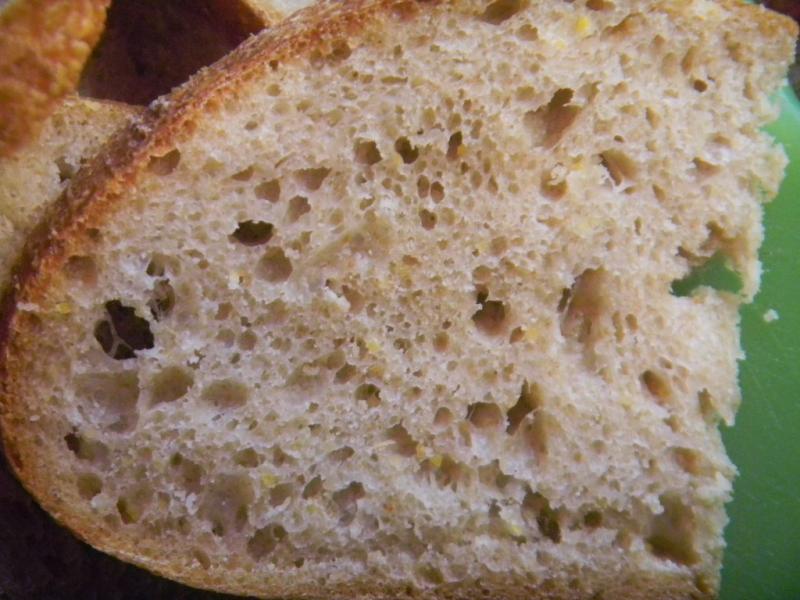 We un-molded the dough onto parchment, on a peel and them gave it two slashed with the single edge razor before sliding it into the oven's bottom stone.  At the 2 minute mark we turned oven down t 525 f and at the 4 minute mark we lowered it again to 500 F.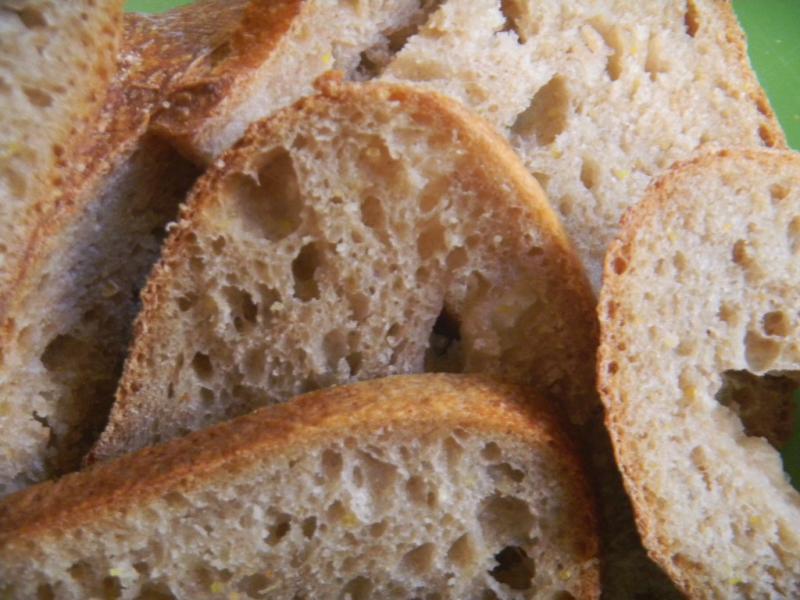 At the 6 minute mark, we lowered the temperature to 475 F where is stayed to the 12 minute mark when the lava rock steaming pan was removed.  The temperature was lowed to 425 F, convection this time.  Every 5 minutes we rotated the bread on the stone 90 degrees and 20 minutes into the dry bake cycle the bread hit 203 F when the oven was turned off and the door left agar until the bread hit 207 F.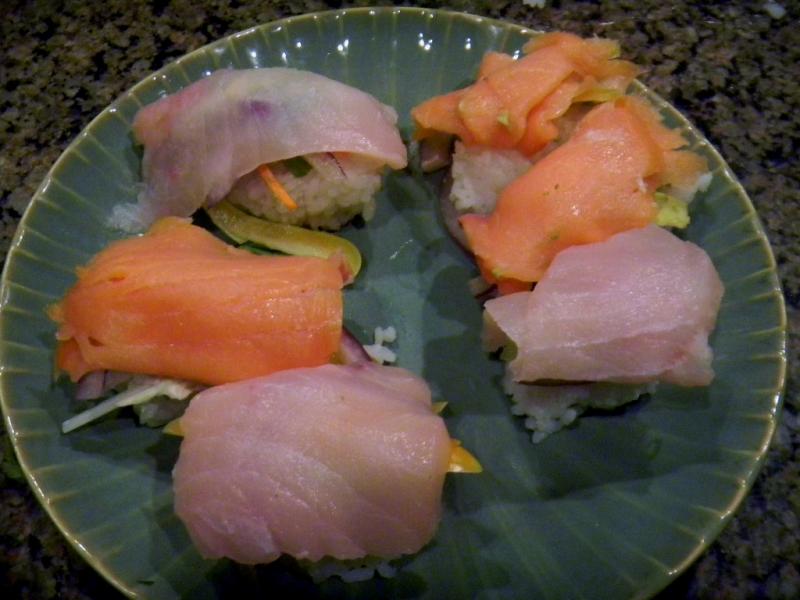 Bread didn't make the list for sushi Wednesday with smoked salmon and ultra fine swordfish.  But it did for smoked meat Thursday of sausage chicken breast and beef ribs.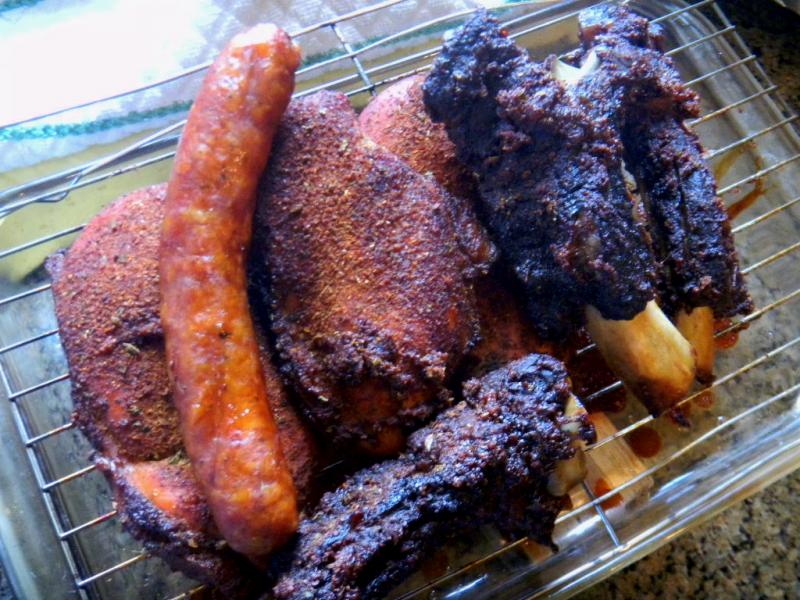 It bloomed, sprang and browned well with small blisters this time –why we have no idea and a couple of ears to hear the cooling cracking sounds.  Can't wait to cut this bread when it cools for a hopefully sour taste and peek at the crumb.  Well, the crumb is very soft and moist with medium holes and sour.  A very nice overall white SD bread. Very tasty.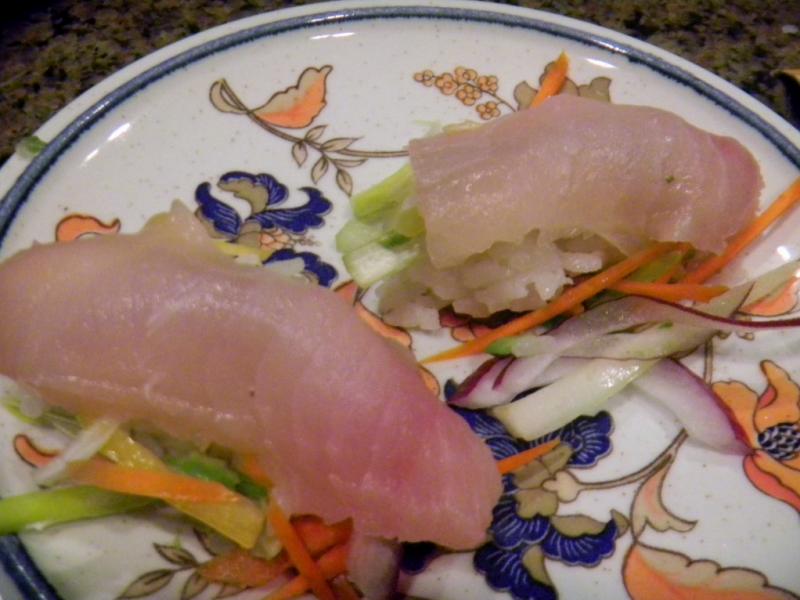 Formula
| | | | | | |
| --- | --- | --- | --- | --- | --- |
|   | Build 1 | Build 2 |  Build 3 | Total | % |
| Multigrain SD Starter | 15 | 0 | 0 | 15 | 3.36% |
| Whole Spelt | 5 | 15 | 18 | 38 | 8.51% |
| Whole Wheat | 5 | 0 | 18 | 23 | 5.15% |
| Whole Rye | 5 | 15 | 18 | 38 | 8.51% |
| Water | 15 | 30 | 54 | 99 | 22.17% |
| Total | 45 | 60 | 108 | 213 | 47.70% |
|   |   |   |   |   |   |
| Multigrain SD Levain |   | % |   |   |   |
| Whole Multi-grain Flour Mix | 107 | 23.85% |   |   |   |
| Water | 107 | 23.85% |   |   |   |
| Hydration | 100.00% |   |   |   |   |
|   |   |   |   |   |   |
| Levain % of Total | 25.91% |   |   |   |   |
|   |   |   |   |   |   |
| Dough Flour |   | % |   |   |   |
| AP | 300 | 67.19% |   |   |   |
| Corn Meal | 10 | 2.24% |   |   |   |
| Farina | 10 | 2.24% |   |   |   |
| Steel Cut Oats | 10 | 2.24% |   |   |   |
| Potato Flakes | 10 | 2.24% |   |   |   |
| Dough Flour | 340 | 76.15% |   |   |   |
|   |   |   |   |   |   |
| Salt | 8 | 1.79% |   |   |   |
| Water | 236 | 52.86% |   |   |   |
| Dough Hydration | 69.41% |   |   |   |   |
|   |   |   |   |   |   |
| Total Flour | 447 | 100.00% |   |   |   |
| Water | 343 | 76.71% |   |   |   |
| T. Dough Hydration | 76.71% |   |   |   |   |
| % Whole Grain | 28.33% |   |   |   |   |
|   |   |   |   |   |   |
| Total Weight | 822 |   |   |   |   |
|   |   |   |   |   |   |
| Add - Ins |   | % |   |   |   |
| VW Gluten | 10 | 2.24% |   |   |   |
| Total | 25 | 5.60% |   |   |   |