December 30, 2013 - 2:22pm
Well IF it makes it to New Year's. This was once again leavened with my sweet SD and yeast water levains, which I maintain separately. Once again I am amazed at the rise and oven spring I am getting in these loaves!
I wish I had a shot of the loaf after braiding and before proofing. This was my second attempt at Ibor's 3 strand octopus style braid and while certainly far from perfect, made an attractive loaf. After proofing 2 hours it had risen 2.5x or more: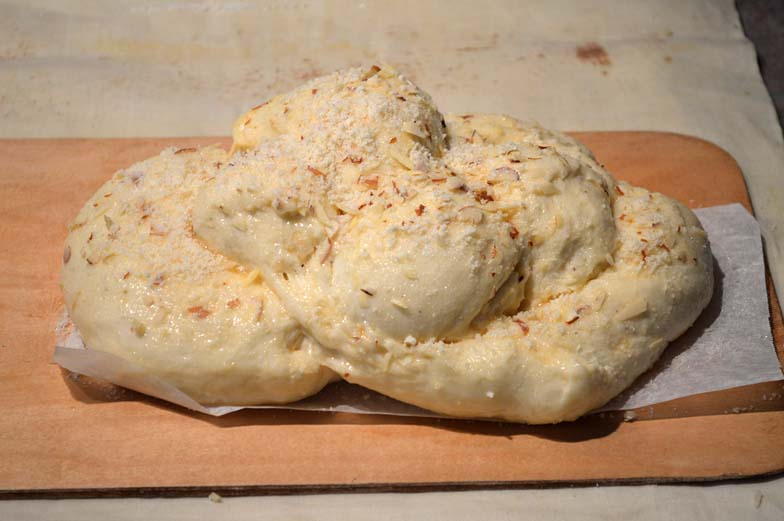 It filled the DO end to end and was worried the lid would not be tall enough.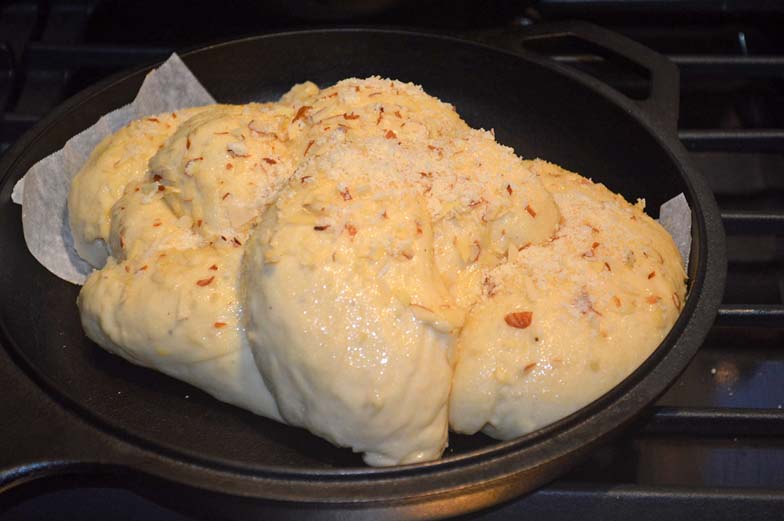 The loaf was baked covered for 14 minutes at 400F, but I had heated the oven to 425F first. I then uncovered and baked 8 minutes convection, turning at the half, then a further 14 minutes covered and finished with 4 minutes uncovered, again turning at the half.
Holy oven explosion Batman! I couldn't grow long so it went out and up.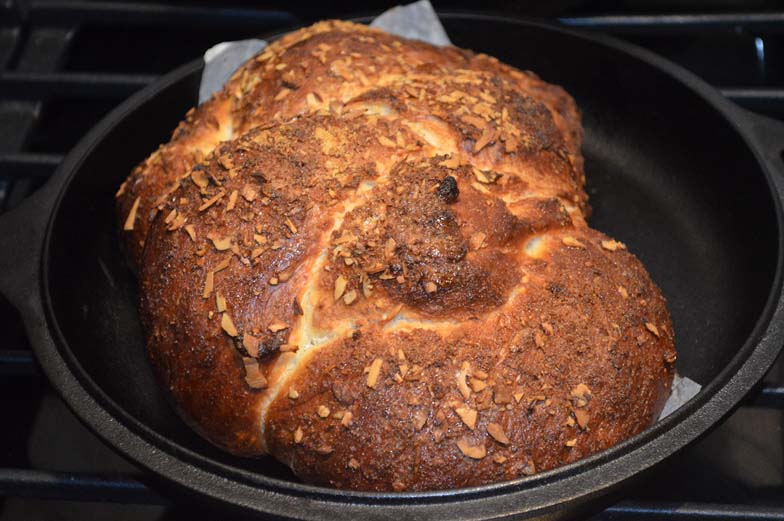 The loaf was brushed with an egg wash and sprinkled generously with chopped, sliced almonds, sugar and almond powder.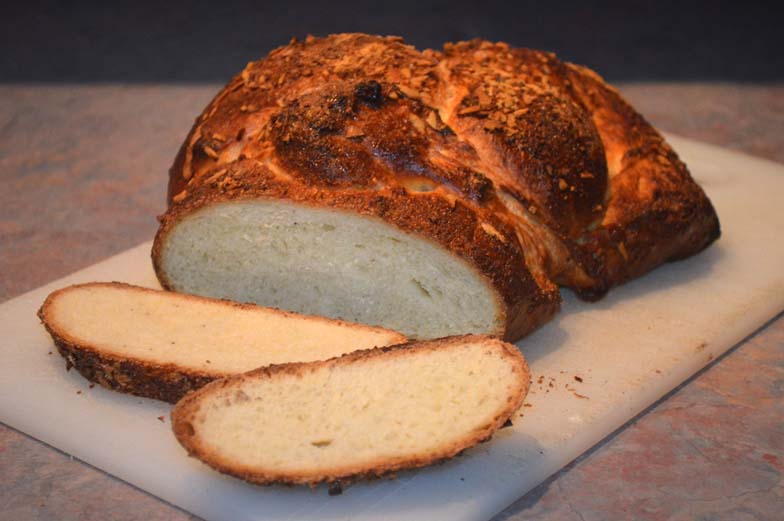 This has become my hands down favourite pulla recipe, so I wlll again share.
First we need to build a sponge:
50g sweet SD levain
50g YW levain
4 cardamom pods, hulls removed and ground
180g whole milk, scalded, infuse the cardamon in the scalded milk and cool to 80F
30g egg, well mixed, add the egg to the milk and mix well
104g flour, half AP, half strong bread
Add the milk to the levains and mix until well blended, then add the flouor and mix well.  Next, I let the sponge get happy and bubbly for 4 or 5 hours.
Now it is time to mix the final dough:
76g flour again half and half AP/BF
I beat this with a wooden spoon shaped like a dough hook until the dough is smooth and glossy.
44g unsalted butter, melted
Stir in the butter and once again beat until the butter is fully incorporated and the dough is smooth and glossy.
88g flour half & half AP/BF
4 - 5g salt
Mix in the remaining flour and salt until well incorporated and let the dough rest 10 minutes. I then kneaded for 6 minutes, 10 minutes rest followed be a further 6 minutes of kneading. I wanted really good gluten development so I could try the fancy braid.
Heat oven to 425F and heat the cast DO for 30 minutes before baking.
14 minutes covered
8 minutes uncovered, turning at the half
14 minutes covered
4 minutes uncovered, turning at the half
Cool on a rack until temptation overcomes your urge to slice and dig in. Great with butter and good strong coffee!
Enjoy, Brian