December 28, 2013 - 3:35pm
Pain au Levain with Spelt, Fig Bread, and Broa
I love spelt but not too much of it.  My high percentage spelt loaves have turned out fine, but somehow don't get eaten up, even by me.  Today I made a Pain au Levain with added Spelt and kept the spelt to 21%.   To my taste at least, this is ideal.   The resulting loaf has that special nutty fresh taste that spelt in small enough quantities provides.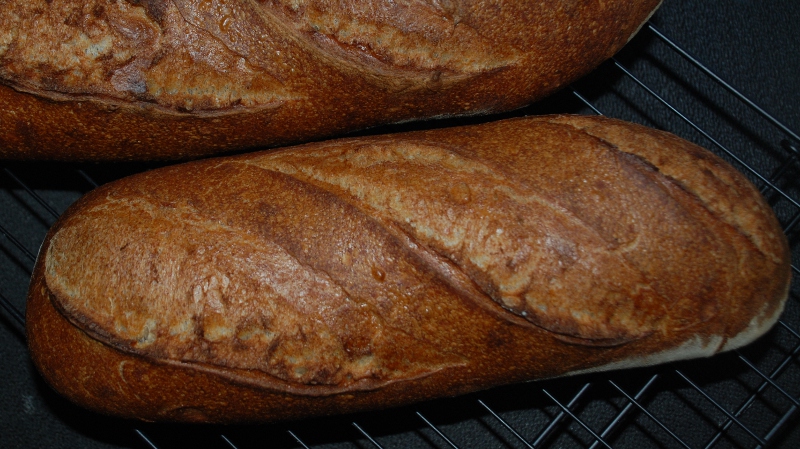 Using Janet's Cadco techniques plus my  new steel plate, I got some good ovenspring.  Perhaps too good.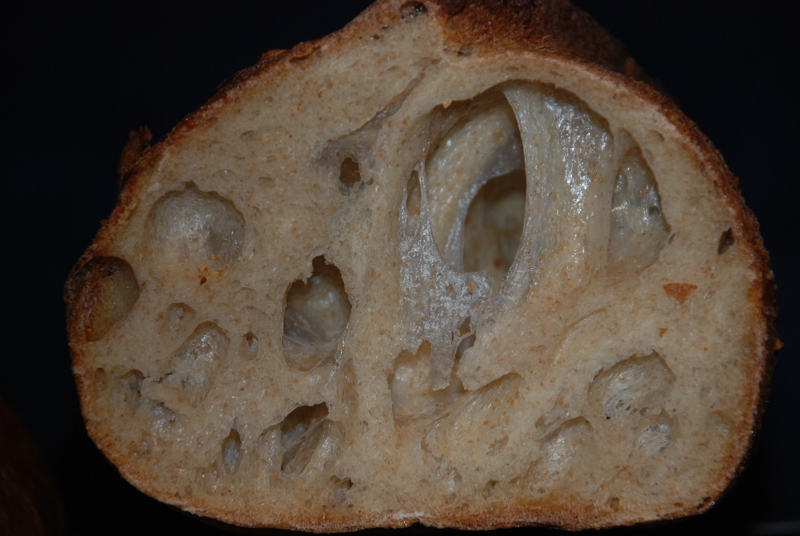 I also wanted to come back to the fig anise bread.   I baked the La Brea formula several times, and it was a big hit, but I felt vaguely uneasy, as it is very sweet and incredibly figgy.    I decided to take it down a notch by leaving out the fig puree, reducing the sugar, adding some whole grains, and upping the hydration.   The resulting loaf seems just as figgy even without the puree, still quite sweet, and somewhat more interesting with the added whole wheat.   I accidentally added more water than I had intended, by a lot.   Despite being somewhat perplexed by how wet and slippery the dough was, it still handled reasonably well, and behaved properly.   If anything I would reduce the figs and sugar even more, and perhaps up the whole wheat.   In any case, this version was more satisfying to me than the original.   It almost seems that when you get a lot of figs in there it hardly matters what the underlying bread is made of as the figs conquer all.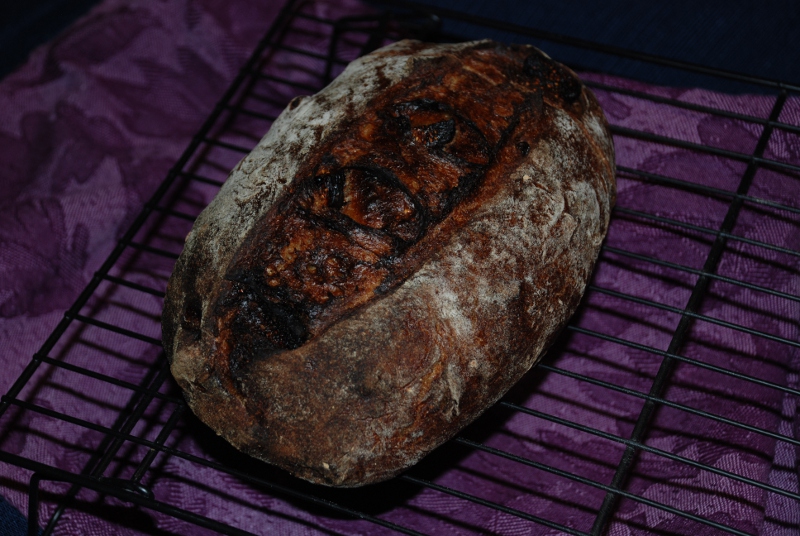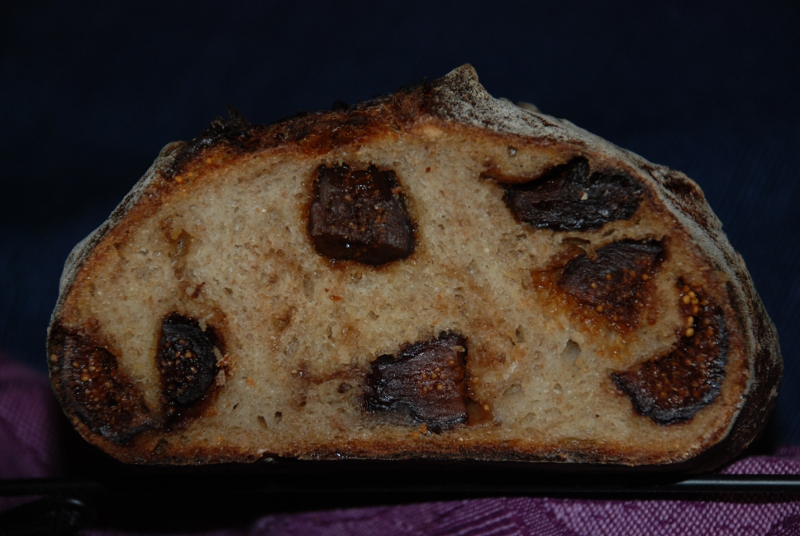 Some time ago, my husband and I ate out at a Portuguese restaurant in East Cambridge.    The bread was amazingly good.   The dinner not so much.   As this hardly ever happens (usually a good dinner is accompanied by just so-so bread) I needed to find out more.   The owner told me that the bread was Broa - Portuguese cornbread.    More questions didn't lead to more answers, as it turns out they don't bake it themselves.
I searched around, and didn't find much on Broa.   Clayton had a quite unsatisfying version in his book.   Then a comment on TFL led me back to my own bookshelf.  Greenstein has a recipe in his Secrets of a Jewish Baker, not really the place I expected to find it.   Greenstein uses volume measurements and it has been so long since I've baked using them that I felt all at sea.   I weighed everything and took notes so I would be able to figure out what I had done.   The dough was incredibly dry - almost like putty, and very salty - perhaps I misunderstood.   To make matters worse I used Masa Harina, and that was just a mistake, as the bread ended up tasting like tortillas.   When I went back and calculated percentages, not surprisingly the hydration was around 50%, and the salt was 2.6%!   Furthermore, the method used was very fast - not even a bulk ferment - and so I thought the flavor was pretty dull excepting the lime treatment of the corn flour which was not a plus. 
I went back to it, and decided to do things a bit differently.   I used starter instead of a boatload of yeast, upped the hydration somewhat, used remilled cornmeal for the corn flour (Greenstein's suggestion) and started over.   This was definitely an improvement, but I don't think I've come close to the delicious bread I had in that restaurant.   Anyone know how to make this authentically?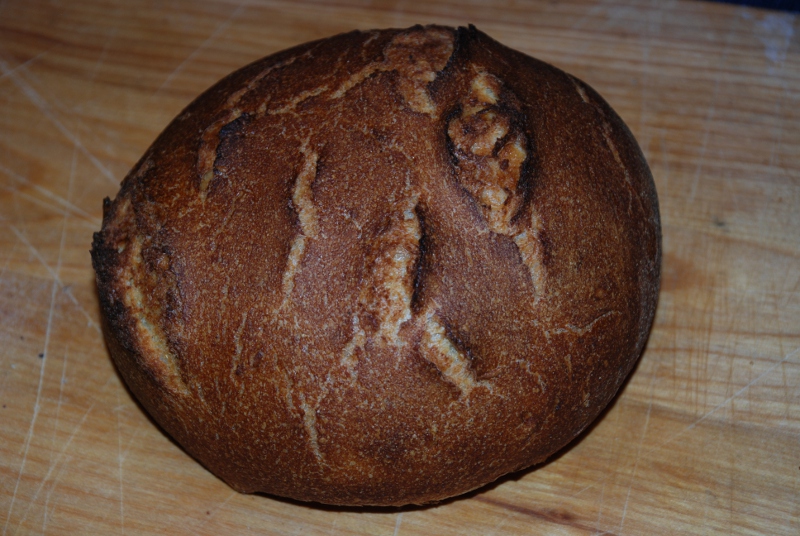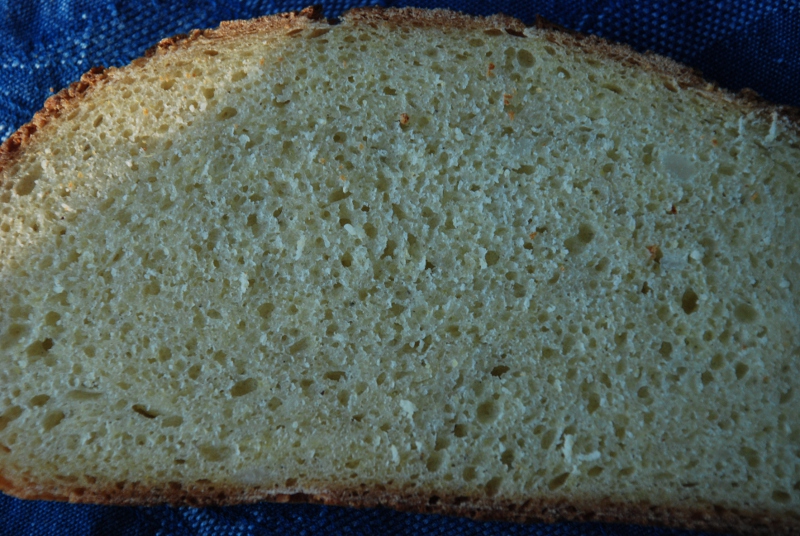 Happy New Year everyone.
12/28/2013
 
 
 
 
Pain au Levain with Spelt 
 
 
 
Final
Starter
Total
BP
KAAP
404
126
530
79%
Spelt
140
 
140
21%
Water
381
84
465
69%
Salt
12.2
 
12.2
1.8%
Starter
210
 
 
19%
 
 
 
 
 
Total Flour
670
 
 
 
Total Dough
1147
 
 
 
 
 
 
 
 
Mix all and bulk ferment 3.5 hours in cold house
Cut and shape
 
 
 
Proof 1 hour until soft
 
 
Preheat oven to 500 - 45 minutes
 
Steam 1 minute
 
 
 
Slash, spray, and load
 
 
 
Steam 1 minute
 
 
 
Oven off 6 minutes
 
 
 
Bake at 425 for 10 minutes
 
 
400 for 10 minutes
 
 
 
12/28/2013
 
 
 
 
Fig Anise 
 
 
 
 
Less sugar, no fig puree, higher hydration
 
 
 
 
 
 
KAAP
130
62
192
66%
WW
85
 
85
29%
Cornmeal
12
 
12
4%
Hot water
142
 
142
49%
Water
60
90
150
52%
Figs
115
 
115
40%
Sugar
25
 
25
9%
Salt
5.3
 
5.3
1.8%
Anise seed
0.9
 
0.9
0.3%
145% Starter
153
 
 
 
 
 
 
 
 
Total Flour
289
 
 
 
Total Dough
727
 
 
 
 
 
 
 
 
Pour boiling water over whole wheat flour
 
Stir and cover
 
 
 
Rest for 1/2 hour
 
 
 
Mix all but figs until strong
 
 
Cut dried figs in quarter and mix in
 
Refrigerate for 24 hours
 
 
Remove and shape
 
 
 
Proof  for 1.5 hour until soft
 
 
Preheat hot oven to 500
 
 
Steam 1 minute
 
 
 
Slash and load
 
 
 
Steam 1 minute
 
 
 
Oven off 8 minutes
 
 
 
Bake at 410 for 20 minutes 
 
 
12/24/2013
 
 
 
Broa
 
 
 
 
 
 
 
Starter
 
 
 
KAAP
150
21%
 
Water
100
 
 
 
 
 
 
Cornstarch mixture
 
 
Cornstarch
39
5.6%
 
Cold Water
40
 
 
Boiled Water
126
 
 
 
 
 
 
Final Dough
 
 
 
Corn flour
150
21%
 
KAAP
320
46%
 
Water
150
 
 
Salt
11
1.6%
 
Starter
250
 
 
 Cornstarch mix
 
 
 
Total Flour
700
 
 
Total Water
450
64%
 
 
 
 
 
Dissolve cornstarch in cold water
 
Mix in to boiling water
 
 
Bring back to boiling
 
 
then remove from heat and cool
 
 
 
 
 
Mix all 
 
 
 
Bulk Ferment 2 hours
 
 
Shape into boule and sprinkle with flour
Proof for 1 hour
 
 
until flour on top cracks
 
 
 
 
 
 
Preheat 500
 
 
 
Steam for 1 minute
 
 
Load and steam for 1 minute
 
Turn off for 5 minutes
 
 
Bake at 440 around 30 minutes