bwraith's son's first entry, first bread
Hello,
My name is William, and I am 10 years old. I am Bill Wraith's son, and I've created my first blog on The Fresh Loaf. I hope you like my breads.
For my first bread ever, I did a beginner style with instant yeast. It was a baguette of Italian Bread. My dad made up the recipe for me to try.
Ingredients:
500 grams of bread flour
365 grams of water
10 grams of bread salt
5 grams of instant yeast
25 grams of powdered milk
15 grams of olive oil
I mixed all the dry ingredients in a mixing bowl first using a scale. Then I added the olive oil and water and used a plastic scraper to squeeze all the ingredients around the bowl. I dropped it on the counter and used my palms to squash the left over olive oil clumps into the dough. I kept wetting my hands all the time, so they wouldn't stick.
I put the dough in the bowl and let it rest for 1/2 hour. At 10:15, I started kneading the bread. I used the French Fold from my dad's video [1]. I did about 15 folds and then my dad said to add some flour because it was getting too wet. I then kneaded the dough with 1/2 cup of extra flour for a few minutes. The dough became very smooth and very soft. Then I made it round and put it in a special rising bucket and the dough was up to 1 quart. I let it rise for 1/2 hour.
After the dough rose again, I did the regular folding in my dad's other video [2]. Then, I let the yeast rise again.
I did another regular folding after a half hour and let the yeast rise again.
At 11:50 I shaped the baguette following the instructions in the book "Bread". For the final rise, I used a couche. I put a bunch of flour on it and rubbed it into the cloth. My dad helped me turn the loaf upside down into the couche, and we put it in a giant ziploc bag.
My dad helped me turn over the loaf onto some parchment paper after the final rise. I brushed off the flour with a pastry brush.
At 1:05 PM after the final rise we slashed the X pattern on the bread. I did slashes to the right, and my dad did slashes to the left. We let the oven preheat during the final rise.
The oven was heated to 450 degrees, but we changed it to 425 just before the loaf was put in the oven. We sprayed the bread with water. After about 1/2 hour this is what came out.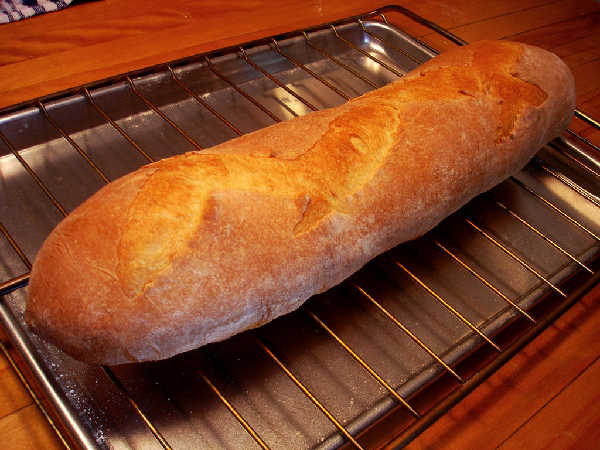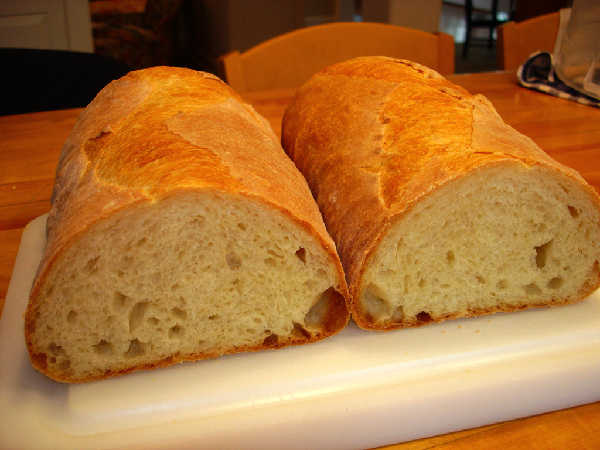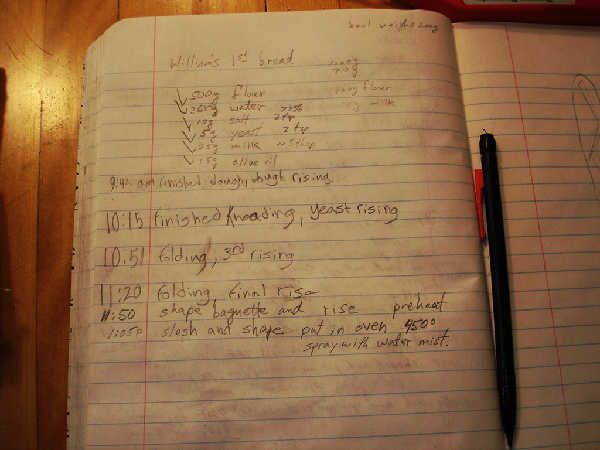 William