November 27, 2013 - 2:16am
Hamelman's 5 grain rye sourdough, and Pastry # 7
The practical classes have finally commenced after a 3 week halt due re-location. We have had the cold desserts last weekend, featuring popular desserts such as Pana Cotta, fruit flavored cold soufflés, and Mousses, in addition to crepes, fruit fritters, and rice pudding.  Most desserts featured below contain gelatine to set them. It goes without saying that everything was exceptionally delicious! We have still few classes left for cold desserts then we'll be off to hot desserts and later chocolate.
Clockwise from left to right: Orange souffle, Chocolate Cousse, Mango and bluberry mousse, Pana cotta, and lemon souffle.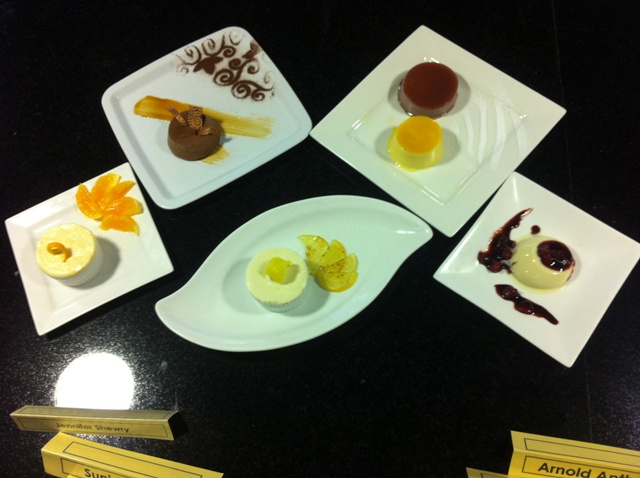 For bread, i wanted to bake loaves that are reasonably sour, but not chewy. I chose Rye sourdough with 5 grains from Hamleman's (BREAD). I've also decided to try baking them on aluminum baking sheets instead of a stone in hope of reducing crust thickness.
I have blogged about this bread before here [1]. This time, however,  I've deviated from Hamelman's recipe in more than a way. I've skipped yeast and honey, increased flaxseeds, and replaced rolled oats with fine corn meal. Also, I've folded the dough twice in bulk, and retarded the dough in bulk for 18 hours.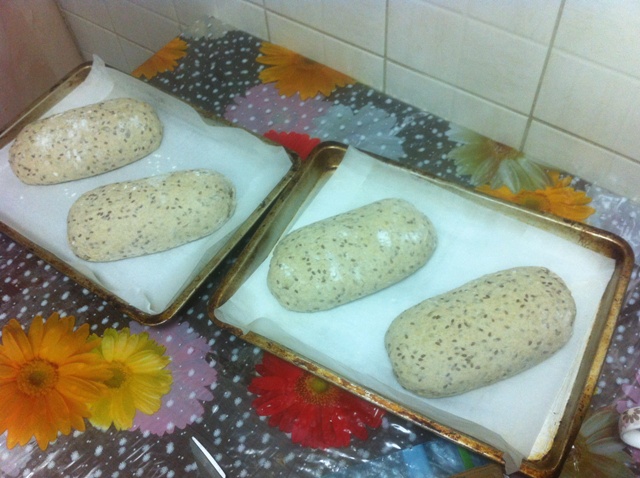 The dough has expanded considerably in the fridge. During preshaping, and shaping the dough was overly sticky, but succumbed to final shaping with no tears. I suspected that the long cold fermentation with 25% prefermented flour would lead to some gluten breakdown, and I was right. The loaves's cuts did not open cleanly and the final crumb was somewhat tighter.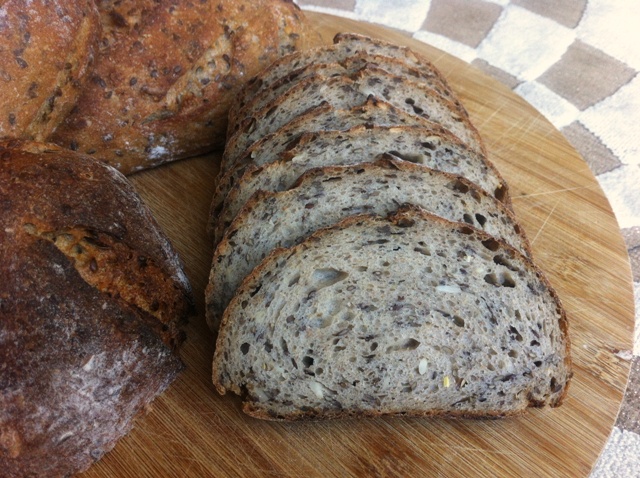 The bread had a faint sourness, with prominent multigrain presence. My only regret was that I should have either reduced the pre-fermented flour to accommodate an extended refrigeration, or I should have retarded overnight. The bread loses too much of its character when subtle changes are made. As to sheet baking,the crust was slightly softer which made me happy. I'll play around with potential variables and observe the results.
-Khalid