November 21, 2013 - 2:36am
Last week, I've baked my first recipe from Andrew Whitely's  "BREAD MATTERS": seeded rye bread. The bread was wonderfully delicious and truly addictive. However, I failed to notice that the dough weighs 650g, and cannot fill up my large terrine pan. The bread, however, was an immediate success and half of it was literally devoured while being sliced!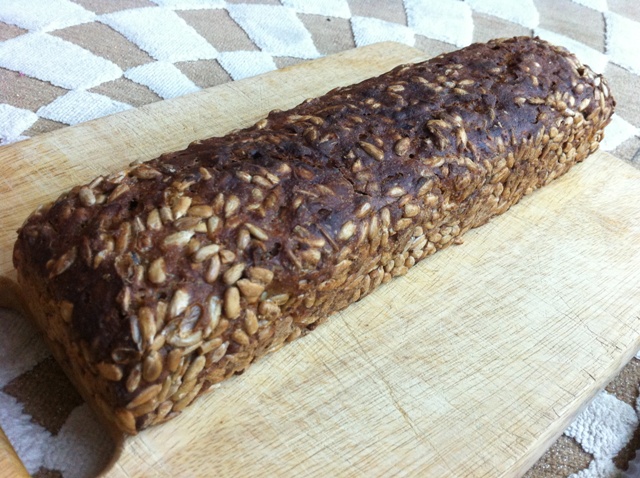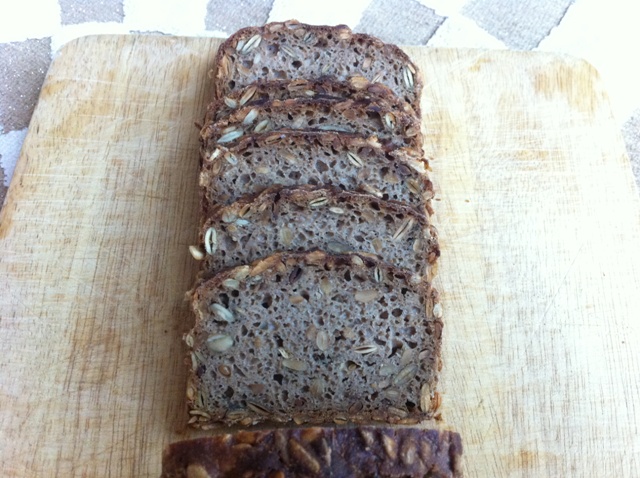 A few days ago, I wanted to triple the quantity (* 3.4) and make two 1.2 kg  loaves. The bulk fermentation lasted for 2 hours only, and the final proofing was 45 minutes; while the previous loaf fermented for 4 and 2 hours respectively.  I've considered them ready for baking when their top started to tear and sounded hollow when tapped from below.  In the oven, they puffed high and quick! i was exhilarated for a few seconds, but then all started going down hill. The loaves deflated and shrunk back, and continued to do so for the next 30 minutes.
Baked, the loaves had a wrinkly teared crown. "Umm, they may be overproofed", i said to myself. Little did i know.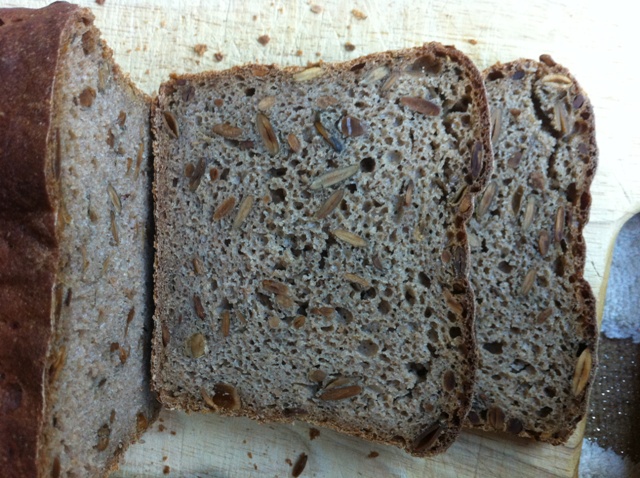 Finally, I cut through the loaf. Up to this point, I was contented with the results despite not being optimal. The bread sliced well and was not crumbly. I laid down a few slices in a bread basket, brought in the butter and cream cheese, and sat for dinner. I spread butter on a slice,  and chewed my first bite. I was instantly struck by the relative blandness! OMG! I forgot the salt, that's it.
I was disappointed. I tried butter, salted butter… nothing seemed to work at this point, not even toasting. So, out of despair, I sliced the remainder of the loaf and freezed it. I wrapped the other loaf in linen after it had cooled and left it to mature for 3 days. Last night I've thawed a couple of slices and decided to give it a try with salted feta cheese. It was DELICIOUS!! Freezing / thawing seemed to have salvaged the flavor of this loaf, but I'm unable to explain why. I'll try other toppings, but what matters here is that it was not a total loss after all! Today, I plan to slice the linen wrapped loaf and observe any improvement in flavor.
On another note, we shall resume pastry classes soon. Following a pause from vocational training (due to the recent re-location of the institute), we are scheduled for a class on cold desserts tomorrow.
-Khalid