November 17, 2013 - 11:50am
Lucy's YW White Bread for Thanksgiving Croutons
It seems the only time we ever make a plain white bread is for the Thanksgiving croutons we use for the stuffing.  We have all kinds of whole grain SD breads in the freezer; some have nuts, some with seeds, some fruits, some with at least 2 of the 3 and many flush with the works.
We had a little YW levain left over from Friday's SD /YW rye bake that had already spent a day in fridge and put some more YW and flour in it to make it a little larger and then after it had nearly doubled we refrigerated it again for 2 hours.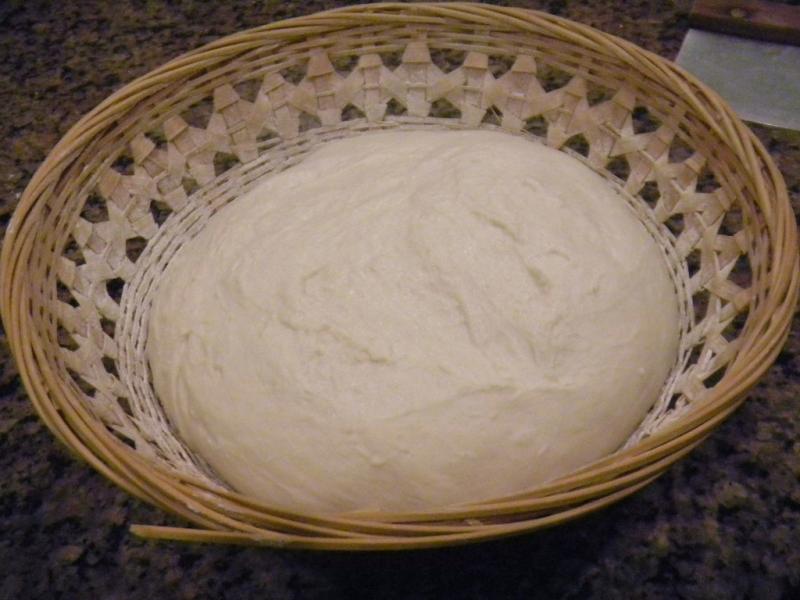 This bread was made our usual way.  While the YW levain was warming up we autolysed the dough flour and water with the salt sprinkled on top.  Once it all came together the mix was at 75% hydration when we starter the first of 3 slap and fold sessions of 6, 3 and 1 minute each on 15 minute increments.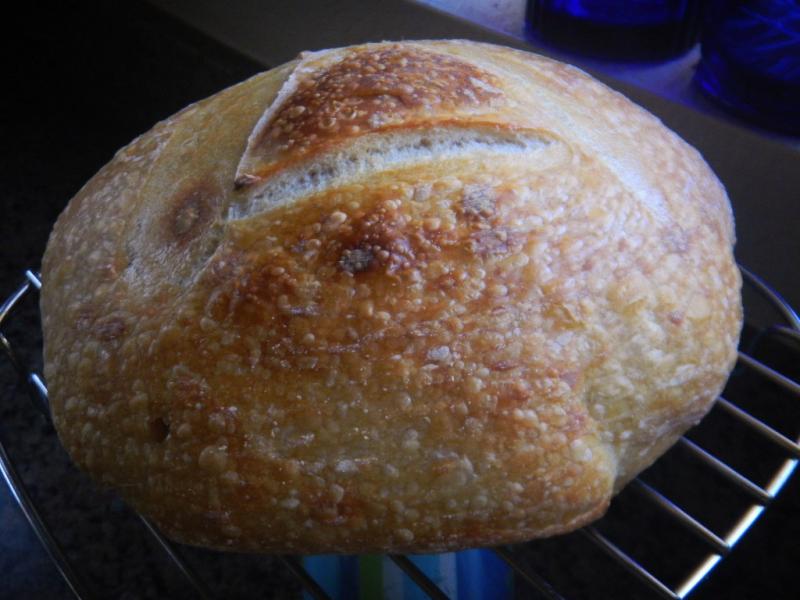 We finished the gluten development with 2 sets of S&F's with  15 minutes rest between them.  After pre-shaping and final shaping into a boule the dough was placed seam side up in a rice floured basket and immediately retarded in the fridge for 12 hours.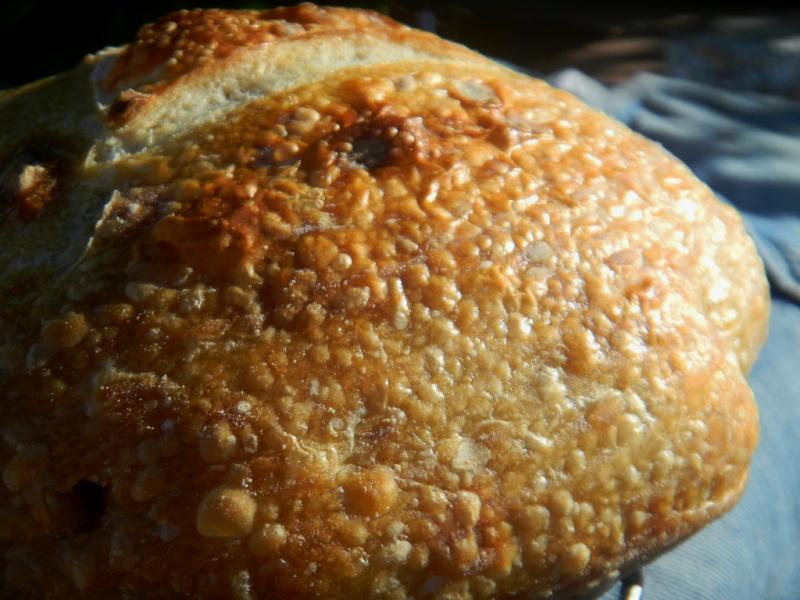 We baked it in a 550 F DO that was one size too large for this small bread.  We turned the oven down to 525 F after 5minutes and then down to 500 F after 10 minutes.  At 15 minutes the lid came off for another 5 minutes of 425 F baking, convection this time.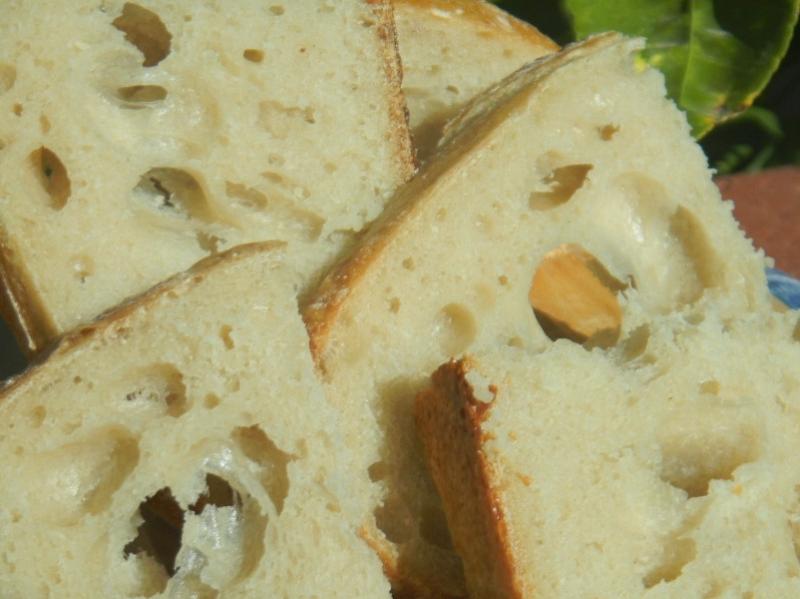 We then removed the bread from the DO since the top was browning way faster than the sides.  We continued to bake for another 10 minutes turning the bread 180 degrees after 5 minutes.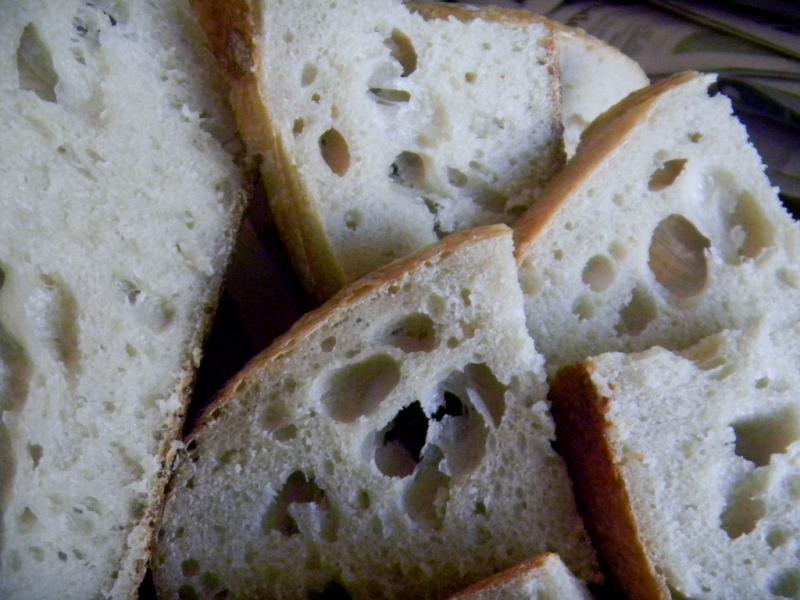 Even thought the sides never browned as dark as we wanted, the inside was reading 210 F so we took it out of the oven to cool on a rack.  The bread blistered well and the bottom was browned perfectly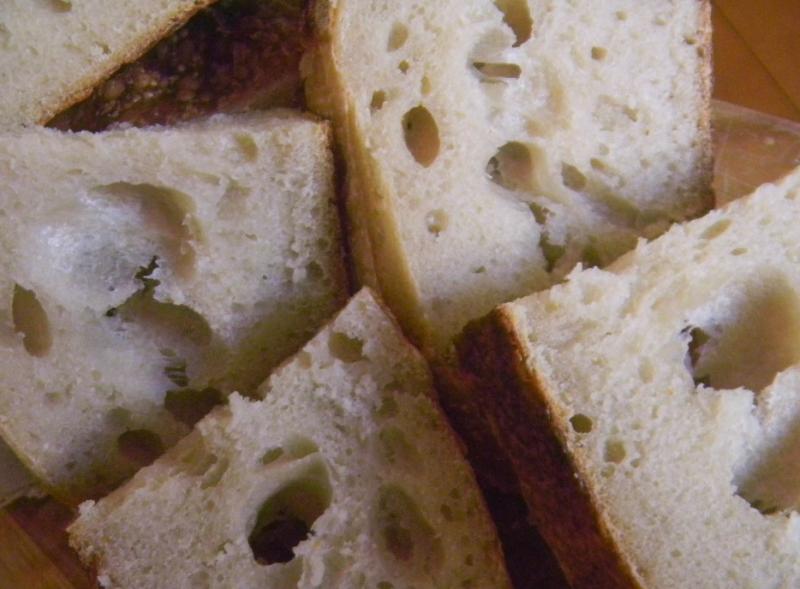 After slicing into it the still a little crispy crust after the bread cooled we found it thin like baguette.  The crumb was fairly open, very glossy with the holes varied in size and irregular - a typical YW crumb for a white bread - soft and moist even though over baked 5 F trying to get it more brown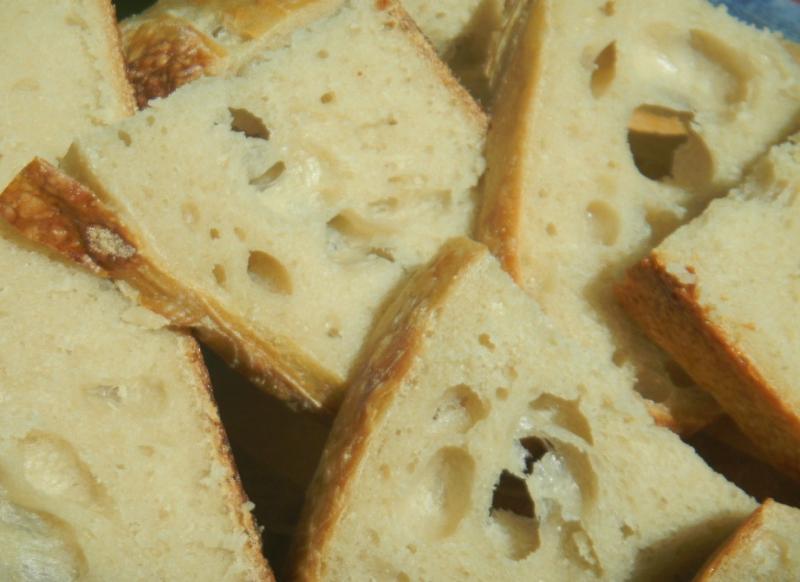 Toasted with butter is the best way to eat this bread as, like most non SD white breads, the flavor is lacking otherwise.   Kids would love this bread for sandwiches I'm guessing.   It will make fine croutons for Thanksgiving to mix in with the other more substantial croutons.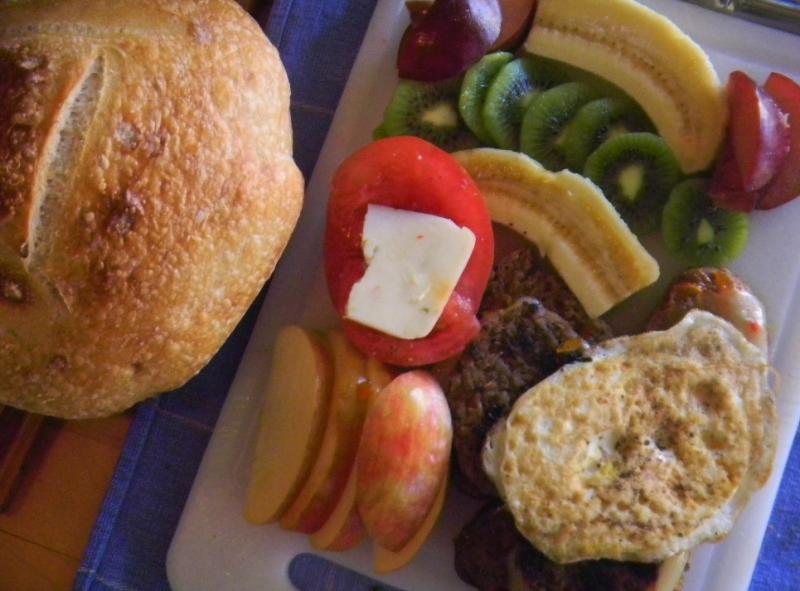 Formula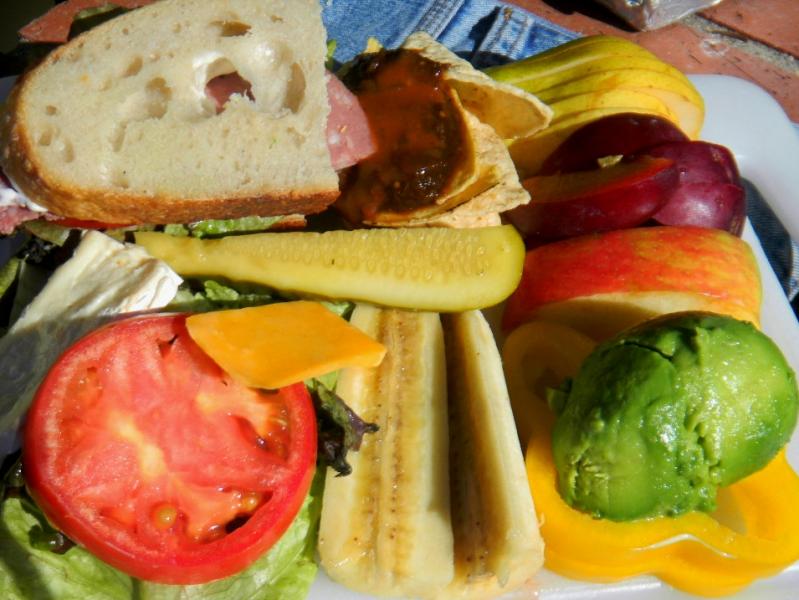 | | | | | |
| --- | --- | --- | --- | --- |
| Yeast Water Build | Build 1 | Build 2 | Total | % |
| Yeast Water | 50 | 25 | 75 | 15.79% |
| AP | 50 | 25 | 75 | 15.79% |
| Total | 100 | 50 | 150 | 31.58% |
|   |   |   |   |   |
| Yeast Water Starter Totals |   | % |   |   |
| Flour | 75 | 15.79% |   |   |
| Water | 75 | 15.79% |   |   |
| Starter Hydration | 100.00% |   |   |   |
| Levain % of Total | 17.88% |   |   |   |
|   |   |   |   |   |
| Dough Flour |   | % |   |   |
| AP | 400 | 84.21% |   |   |
| Total Dough Flour | 400 | 84.21% |   |   |
|   |   |   |   |   |
| Salt | 9 | 1.89% |   |   |
| Water | 280 | 58.95% |   |   |
| Dough Hydration w/o starter | 70.00% |   |   |   |
| Tot. Hydration  w/ Starter | 74.74% |   |   |   |
|   |   |   |   |   |
| Total Flour | 475 |   |   |   |
| Water | 355 |   |   |   |
|   |   |   |   |   |
| Hydration With YW & Adds | 74.74% |   |   |   |
| Total Weight | 839 |   |   |   |