November 16, 2013 - 9:29pm
Farmer's Market Week 20 (Fig n Fennel) and Volkornbrot take 4)
Officially done with 20 markets out of maybe 24 that have ensued since I started this fiasco.  Next week would be the last week and maybe worth celebration but for the first time ever they've decided to add a Winter Market.  So there is no end to this everlasting spoof.  I'll probably take a short hiatus with the holiday's and miss some markets and get back on the weekly market come the new year.  
So I got some local dried mission figs last week with this weeks bread in mind.  I did  fig n fennel back towards the beginning but I didn't even look at my notes and made up another formula.  Just compared and the previous had way too few figs in it (half of this one at 5%) and this one can use a bit more.  Its also a whiter bread than this one which is only 25% whole grain, the previous was 15%.  And the first thing I thought after finishing was to increase the wheat to 40%.  And of course increase the figs up to 15%.  All in all though this was a nice loaf.  Still not as good as Dave Miller's mission loaf but the same flavor profile.
Also continuing on my Volkornbrot with 100% rye and sunflower seeds.  I cut the chocolate malt to see how the flavor changes.  I have the last batch left so I'll be able to taste side by side.  The color is obviously lighter.  I followed the 3 stage detmolder process again and really hit the times and temps the best yet.  But i still have that compressed section at the bottom of the loaf which I really want to get rid of.  I think I may not be doing a long enough final proof.  I may tinker with adding commercial yeast to the final paste to help boost that final fermentation and see if I get rid of that issue.  Otherwise i think I've taken yet another step forward.  It's really an amazing process which with the help of Andy (ananda) and Hamelman's "Bread" has given me a much better understanding of rye in just a few goes at these typesof bread.   
Without further ado:
Fig n Fennel

20% prefermented flour
300 g Ripe White Starter (100% hydration) @ 75-77 deg F
-----------------------------------------------------
412 Malted Artisan Flour (11.5%)
150 Fresh Milled Wheat
 37 Fresh Milled Rye
404 H20
16 Salt
2.25 g Fennel, toasted
15 Vanilla Sugar
90 Dried Figs rough chop
-----------------------------------------------------------
2 loaves
------------------------------------------------------------
Autolyse Flours, h20 and fennel for 1 hour
Add levain, sugar, and salt.
Mix until well combined on low speed (3 minutes)
Turn to medium speed and develop to medium consistency (3 minutes)
Add figs and stir in on speed 1 until well dispersed (1 minute)
Bulk Ferment 2 1/2 hour
Stretch and Folds (2) @ 40 minutes and 80 minuts
Divide @ 700 preshape and rest
Shape to floured bowls and retard immediately (8-12 hours)
Bake 500 with steam for 12 minutes then vented at 460 for 20-25 more.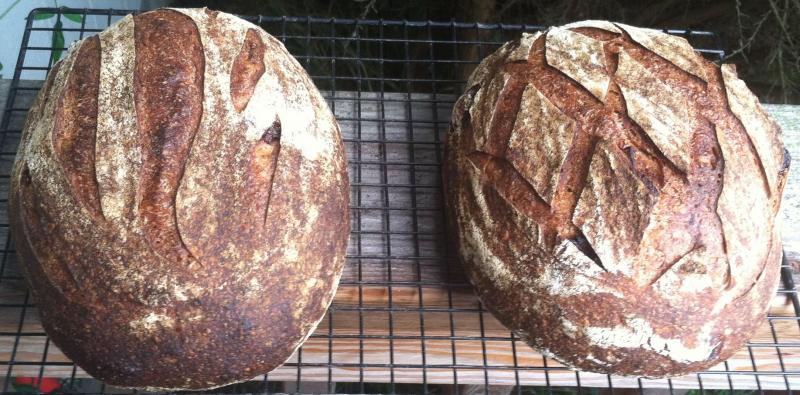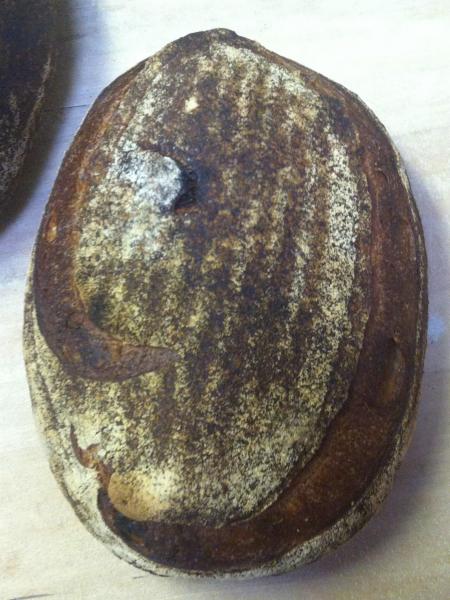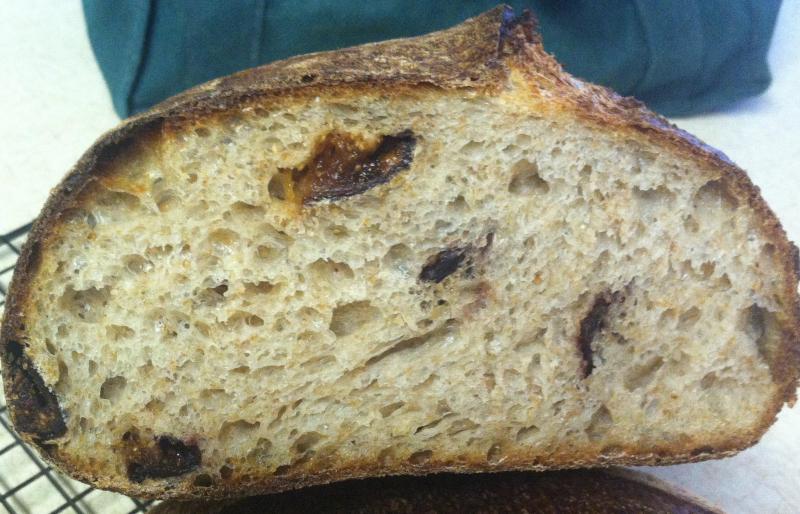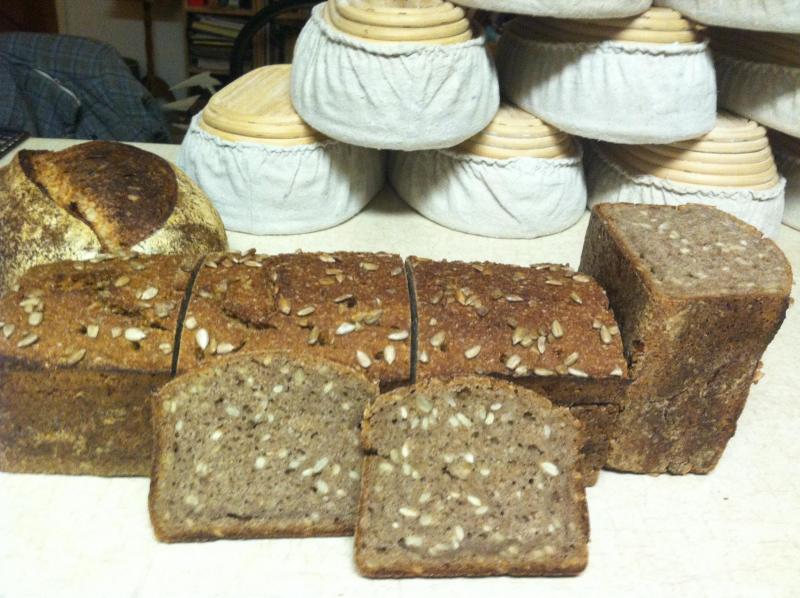 Really don't like that compressed bottom there.  Its bout 40 hours old now.  Tasting will ensue tommorrow
Josh