November 7, 2013 - 1:14am
An onion and seed bread :-)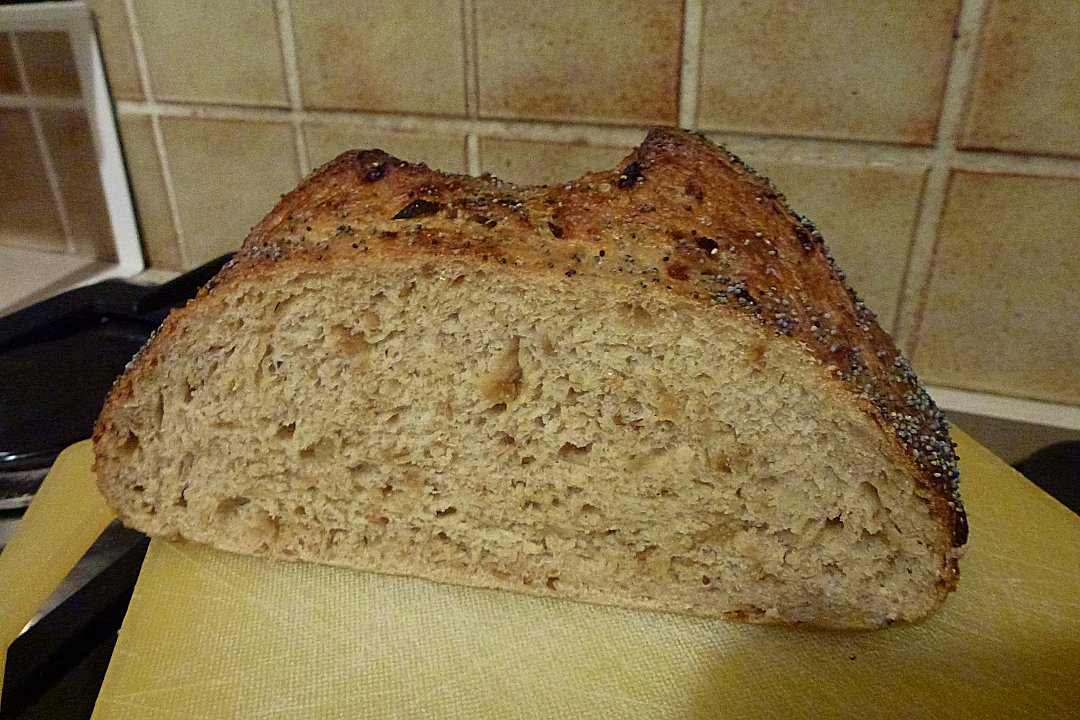 Very happy with how this turned out so I'm sharing it!
I started off with an organic rye starter back in September (The Monster Raving Loony Starter - see http://www.thefreshloaf.com/node/34905/monster-raving-loony-starter [1] ), and I have since switched to plain white organic wheat flour to keep it going nicely and I've settled into a lovely routine with about two bakes a week and no waste. Happy days.
Yesterday I baked a lovely onion-and-seed brown bread that I'm very happy with so I thought I'd share with you how I did it.
Onion mix
Chop one brown onion finely. In a couple of tablespoons of virgin rapeseed oil (or another non acidic oil, but I like the flavour of rapeseed oil), slow fry them until nicely caramelised. Add a good tablespoon full of linseed and another tablespoon full of sesame seeds and fry off until it's all golden brown. Set aside and allow to cool.
Dough base
200g strong white wheat flour
100g strong wholemeal wheat flour
12g salt
At least two Serving Spoons of starter
Add the onion mix and form your dough. I'm not that hot on hydration percentages, but I know I add enough water to make a firm enough dough to form a nice boule that can stand unaided.
Rising and proving times depend on your local circumstances so I'm leaving that up to you.
I scored the boule and glazed it with milk, then added some poppy seeds to the top just for the look of 'em.
Hope it works as well for you if you decide to give it a go!