November 2, 2013 - 12:36pm
YW Sweet levain boule, Forkish style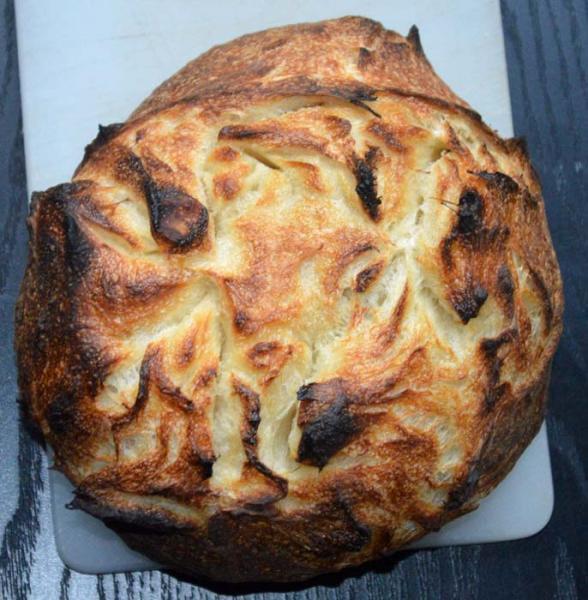 My first YW bake had amazing spring and crumb but was a little bland flavour wise, so I borrowed Josh's idea of using half YW levain and half of my sweet levain. I really like the flavour of my sweet levain and have sunk into a comfortable groove with it. I keep 75g sweet levain and every day or 2 use 50g to bake and refresh @ 1:1:1. I am going on 2 weeks now with a healthy fizzing yeast water culture and after another week after another refresh tomorrow and I can begin refrigerating it, I will try another 100% YW bake.
I proofed this in a SS wire mesh collander lined with 2 layers of well used linen, dusted with rice flour. I didn't score this time as it looked like the seams would open.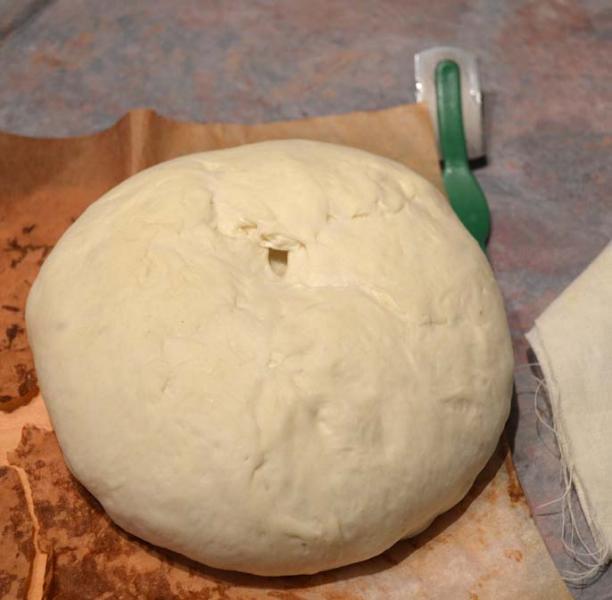 I try very hard in my shaping to ensure I get a tight seam and pinch my seams tight. I also try and get a tight skin on the loaf, gently shaping with my hands ans pulling the loaf across the counter while rotating with my little fingers. Richard Bertinet has an excellent youtube video demonstrating this. Despite my best efforts the seams were already coming apart after proofing.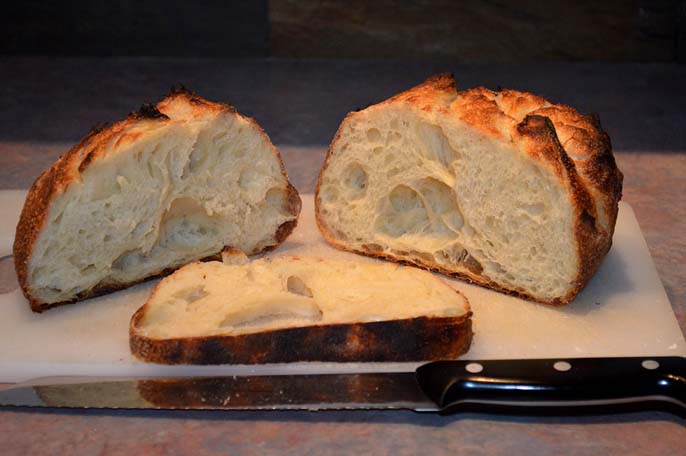 And despite my best shaping and dough handling efforts I still have the 'hole where the baker sleeps.'
Total flour 300 grams
Total water 231 grams 77% hydration
YW levain 25 grams
Sweet levain 25 grams
Coarse sea salt 8 grams, 1 tsp
Thirty minutes autolyse with 90 degree water, filtered and absolutely de-chloriated. Mix in Levains @ a dough temperature of 78 - 80 degrees F. Rest 20 minutes, with salt on top. Mix well, rest 5, then mix again and rest 20 minutes. Four sets of S&F's with 10-15 minutes rest and a final fold after another 30 minutes. I retarded in the fridge immediately and let it finish bulk proofing for about 6 hours the next day after removing from the fridge, pre-shaped, rested for 10 then shaped, proofed as described above for 40 minutes and baked @ 500F in hot Lodge cast iron combo cooker.
I had a real 'skibum' moment yesterday. Two days ago, I had mixed a sweet levain dough enriched with all milk, egg and lots of butter. My plan was to bake off pull apart dinner rolls. Anyhow, yesterday when it came time to pre shape and shape I had my 'skibum' moment. I had forgoten thta I was making dinner rolls and shaped up another Forkish style boule.. The enriched dough baked too hot and too fast and despite being nearly blackened on the outside, not cooked on the inside and of course I didn't bother to check the internal temperature. Definitely a skibum moment. Some would say senior moment . . . So now, rather than just writing out a list of ingredients I am adding SHAPING AND BAKING INSTRUCTIONS DUMB SKIBUM! This is the prettiest loaf I have ever had to throw straight into the trash! :-(