October 26, 2013 - 5:07pm
Hi Everyone,
I keep on baking even though I have been away from TFL for a while. My bakes are mostly the high hydration, crusty, burnished sourdough loaves, and I am really liking the flavors and textures I can get using pre-soaked whole wheat type flours. I am mostly following the Chad Robertson method, which has been working really well, and I just strive for that perfect loaf everytime I bake. For flour, I have been using Bob's Red Mill Organic Whole Wheat flour and the Central Milling AP flour. Great performance and taste... however, I want to switch over to using local grains/flours.
I recently obtained the local Westwind flours as I reside in Southeast Michigan. These flours are freshly stone milled and you can either go to the mill to get them or purchase them at some of the local stores, such as WF... the latter, more of a recent development if I am not wrong. In any case... for my bakes last weekend, I tried making two loaves for comparison purposes.
One loaf using 90% Westwind unbleached organic bread flour (was milled in late May 2013) and 10% BRM organic WW flour @ about 95% hydration. I was told that the Westwind bread flour is about 17% protein.
One loaf using 90% BRM organic WW flour and 10% BRM organic spelt flour @ 100% hydration. As I have been doing, the BRM flour was off the shelf from a local store.
Now, I know that this is not comparing apples to apples, but I would think that I could get very good results with the local Westwind flour that would be comparable to the great loaves that I have been making using the BRM flours.
Other than the flours listed above, I kept all variables the same. I used 2% salt, 20% levain, 4-hr bulk fermentation with approximate 0.5-hr folds, and kept the dough temperature at the 78 - 80 degree range. After a 30-hr bench rest and structural shaping, I retarted both loaves in the fridge for about 10 hours before baking them in combo dutch ovens pre-heated to 500 degrees and then dropped to 450 degrees when I loaded the loaves. I removed the lid of the combo ovens after 0.5 hr to get the crust going. One thing I did differently was that I had a single central slash on the BRM loaf as opposed to 3 slashes on the Westwind loaf.
During the bulk fermentation, the BRM felt like it was developing really well, getting silky and smooth. The Westwind was more sticky and harder to handle but still showed OK signs of fermentation and gluten development. During the initial shaping and final shaping though, I had a really hard time handling the Westwind dough.
Ok, enough said... the results are in the photos. The loaf with the better oven spring (the front loaf) is the BRM loaf. The aromas were distinctly different from the two loaves... the Westwind loaf smelled sweeter, almost like a cinnamon-like aroma. When I cut into it after letting the loaves cool for a few hours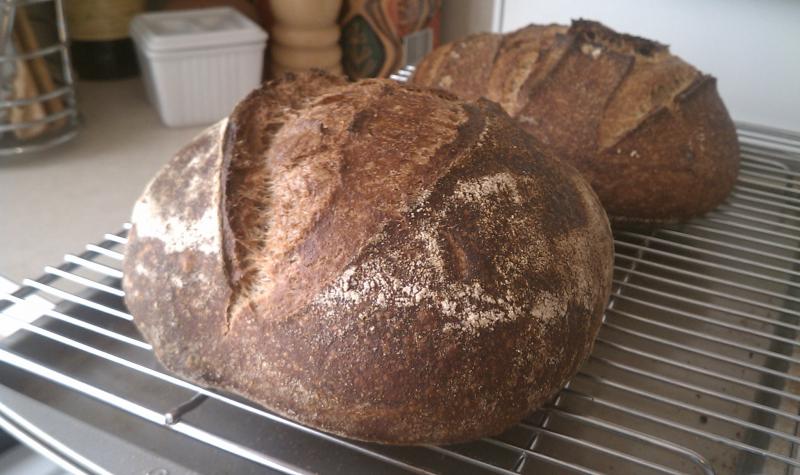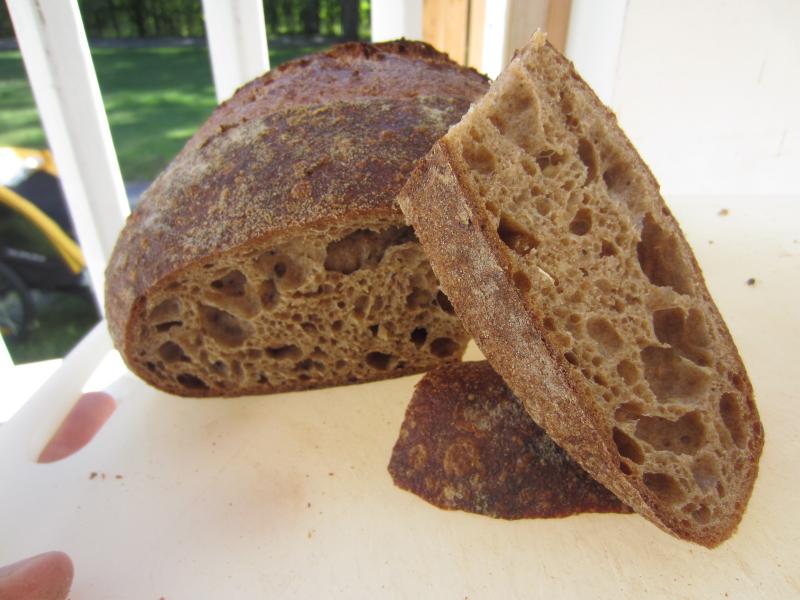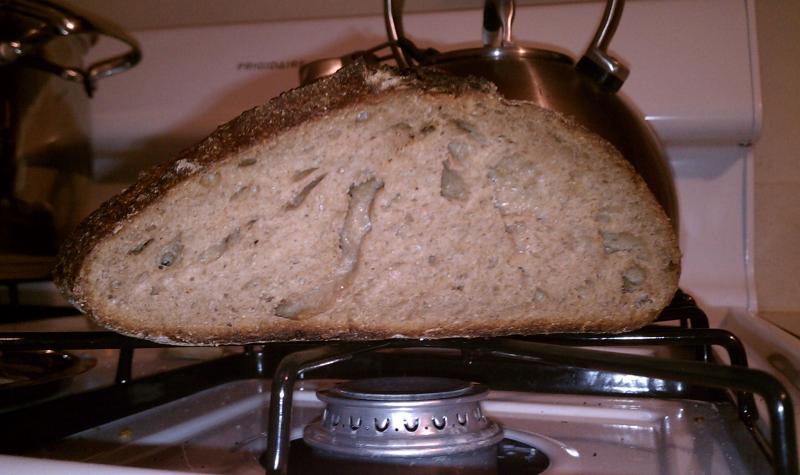 , I got a really sticky crumb, with mostly little holes and a few big ugly holes (my apologies for the ugly photo of the cut loaf over the burner). The BRM crumb and flavor were great, which wasn't surprising to me. You can see the big crumbs in that loaf (the photos with the natural lighting).
I really want to be able to get great loaves using this local flour. I remember having a similar experience when I gave this local flour a shot a couple of years ago and I didn't try any further. This time I don't want to give up, but I feel like I need the wisdom, knowledge and experience of a sourdough master to troubleshoot and adjust accordingly to get that near perfect loaf.
I would very much appreciate any opinions, ideas, suggestions... Thank you!
Hazim