October 22, 2013 - 1:12am
Hamelman's 66% Sourdough rye, and Pastry# 5
Last week end was lesson 5 for me: Yeasted goods. The lesson spanned over 2 exhausting days with so much to bake in so little time. Moreover, we had to mix all doughs by hand; not an easy quest for 90% of the new faces  that have signed up for only those two days. First we had to prepare our laminated dough and refrigerated it for next day. We've used high quality margarine for fat, but for sake of comparison, I chose plain butter. During intermittent refrigeration, we had to make foccacia, baguette, grissini (Italian flavored bread sticks), spelt loaf, and a wholemeal seeded loaf. All bread that was made was enriched with some butter or olive oil. At the end of day one, we mixed up a poolish for next day's Ciabatta dough.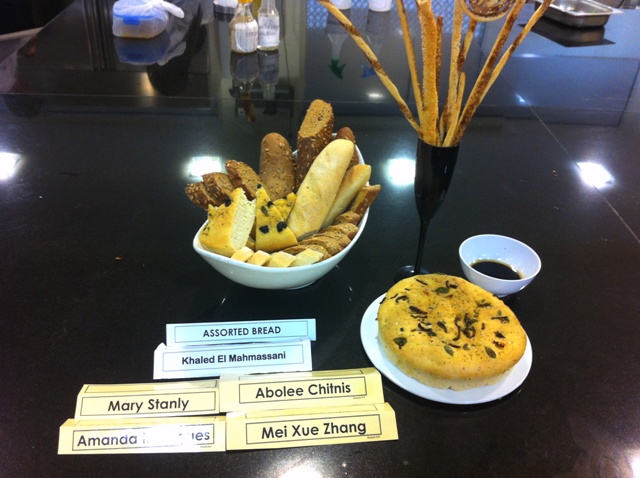 On day two, we began preparing sweet breads/buns. Again, We mixed many similar doughs instead of a single one all by hand. Cinammon rolls, Orange rolls (both not featured in the photos), and soft dinner rolls were all baked during the day. Also, we rolled our laminated doughs, created croissants and Danish pastries and to be fair, there was very little difference in flavor between the margarine croissants and the  butter ones. Texture and volume was substantially better with margarine, though.  Finally there was fatayer (savoury pastry with spinach and cheese filling), Brioche, Savarin, doughnuts, and at last Ciabatta. By the time Ciabatta dough was mixed, the poolish was alcoholic from the 24 hour fermentation at room temperature! I didn't get a chance to sample the Ciabatta, but everyone liked it.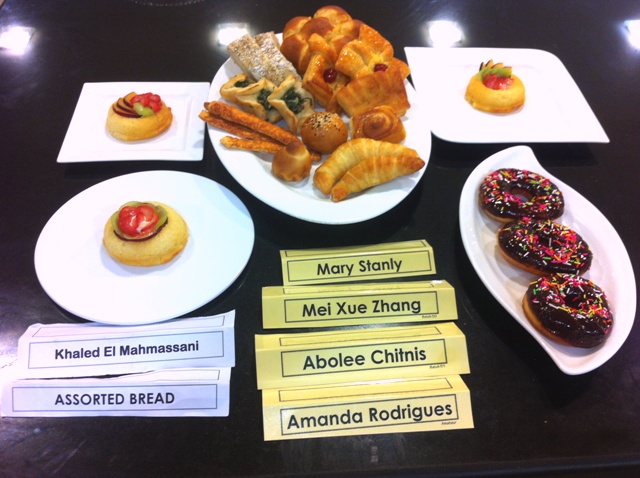 Yesterday, I mixed up a batch of 66% sourdough rye from Hamleman's book: BREAD. I've cut through the batard today, and left the boule to age for another day to develop flavor. It is a very good rye, and I'm glad I baked it.
-Khalid