when I first read "Flour, Water, Salt, Yeast" by Ken Forkish I was amazed to read of a Boule weighing three kilos.
the mighty loaf is mentioned on Page 162 in the Chapter 9 - Hybrid Leavening Doughs.
I began to dream of baking such a monster. I started with scaling up my usual recipe to produce a 2 kilo boule.
this proved very successful, but the 3 kilo version had some production problems for me.
I decided to step away from a levain and would go for a basic recipe using Flour, Water, Salt and Yeast.
I decide to use Marriages Strong White Bread Flour, Marriages Wholemeal Flour and Light Rye Flour.
I magnitude of the volume persuaded me to construct the dough as three pieces of dough.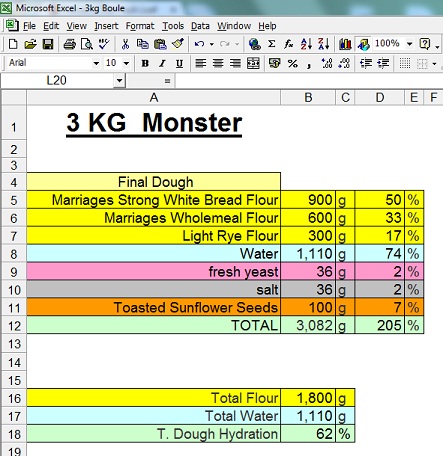 I split the formula in three and mixed them in sequence. The danger of this is that the first ball of dough was more developed than the last. To combat this I took half of each ball of dough and kneaded them together to make two balls of dough.
three S&Fs at ten minute intervals were followed by 30 minutes to complete the bulk development.
I kneaded the two balls together after the bulk proving and produced one large ball of dough that I placed in a banneton until it doubled in size - this took about 30 minutes.
the oven was pre-heated to 230°C with the baking stone and steaming tray of pebbles.
after slashing the top of the loaf and with a tumbler of boiling water was on hand the monster loaf was slid into the oven on the baking stone.
I poured the boiling water onto the stones in the steamer tray and shut the oven.
after minutes I rotated the stone 180 degrees and baked it for a further 30 minutes.
after the total baking time of 60 minutes the internal temperature was 96°C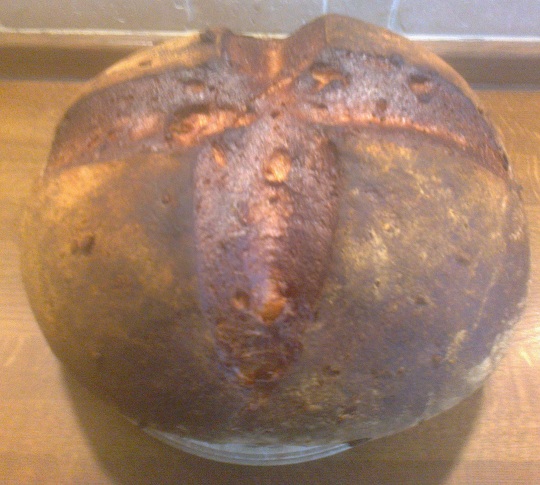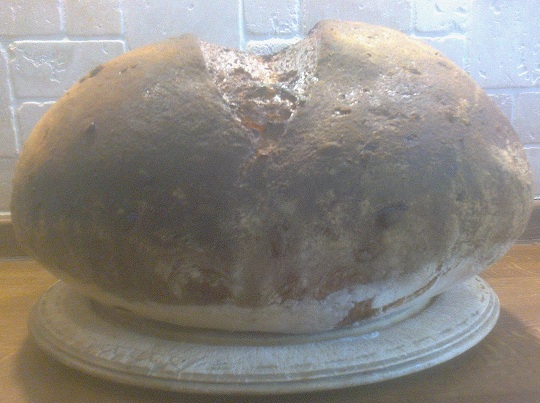 after cooling on a rack the loaf was weighed and slide in half to reveal the crumb and crust.
the loaf ended up 14 inches / 35 cm across and 6 inches / 15 cm tall.
the final weight of the loaf is 2.7kg - some loaf.
I cut the loaf into quarters for ease of storage and distribution.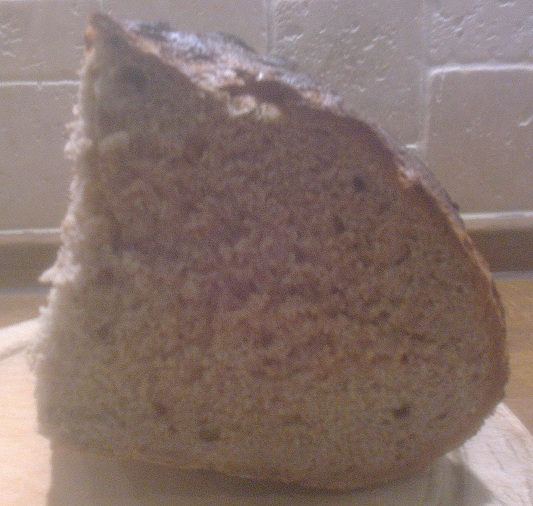 the crust and crumb are superb.
this was well worth the effort.
it would be great to see others bake a 3kg monster loaf.
Cheers.
The Baking Bear